Actor Simbu has got another feather in his cap...He has been conferred with an honorary doctorate by a top varsity in Chennai on Tuesday - January 11, 2022. With the bestowment, the prestigious term 'Doctor' is been prefixed before his name as his fans relish the milestone and began calling him Dr Simbu. The feat has come after a remarkable comeback through the blockbuster hit 'Maanaadu', after a long hiatus in stabilizing his market and fanbase. 
Simbu was awarded the honorary doctorate by Vels University in Chennai and the actor was one among the three recipients of the honour. The University has organized its 11th Annual Convocation on Tuesday and Union Minister of Information and Broadcasting, Anurag Thakur has attended the convocation as the Chief Guest. The event was held in the varsity's campus in Pallavaram, Chennai and Thakur was invited to deliver the convocation address. 
The event was presided by Dr Ishari Ganesh, who is the founder and chancellor of the university. Actor Simbu was awarded the honorary doctorate along with the other two recipients- VG Santhosam, the Chairman of VGP Group of Companies and Padmashri Mariyappan Thangavel, a paralympic athlete from Tamil Nadu who won medals in the 2016 Rio Olympics and the 2021 Tokyo Games. Vels University has decided to honour Simbu with a doctorate for his distinguished excellence in the field of cinema. 
Two days back, the university has made the announcement that it will honour actor Simbu. In a statement, its founder Ishari Ganesh said, "We are immensely delighted in presenting the esteemed actor Silambarasan TR with an honorary doctorate, as an acknowledgement of his outstanding talent and great efforts in the field of cinema. We at Vels University have a panel of committee members that research the achievements of eminent personalities from various fields. This year, the committee members, have unanimously decided that actor Silambarasan TR would be a worthy recipient of this honorary doctorate." 
"I would like to clarify that it has nothing to do with the fact that the actor is a part of movies produced by Vels Film International. Very few actors are acclaimed as destiny's child, and Silambarasan TR is a befitting exemplification. He will be soon turning 39, and he embarked on his journey in the film industry when he was just six months old. It's a rare scenario to see an actor's age and his years of journey, in the film industry being the same. We steadfastly believe that such an accomplishment needs good recognition and hence, we are acknowledging through this honorary doctorate", Ganesh added. 
He further said, "Tamil cinema has been a blessed land of talented actors and technicians, who have unceasingly worked beyond brilliance, thereby bringing honour to the region on Pan-Indian and International platforms. I am glad that actor Silambarasan TR is undoubtedly the amalgamation of actor and technician, for his multi-faceted avatars as an actor, filmmaker, screenwriter, playback singer, music director, and producer is very well known to the world of cinema." 
In the convocation event, Ishari Ganesh has awarded the honorary doctorate to Simbu and the event was attended by Simbu's parents, T Rajender and Usha Rajender. The visuals of the actor receiving a big honour have been going viral on social media with his fans wishing him and celebrating the milestone. They have been trending 'Dr Silambarasan' on social media platforms and the honour has become the latest addition to Simbu's award store. The actor has already been conferred with Tamil Nadu's highest honour for cinema 'Kalaimamani Award' in 2006.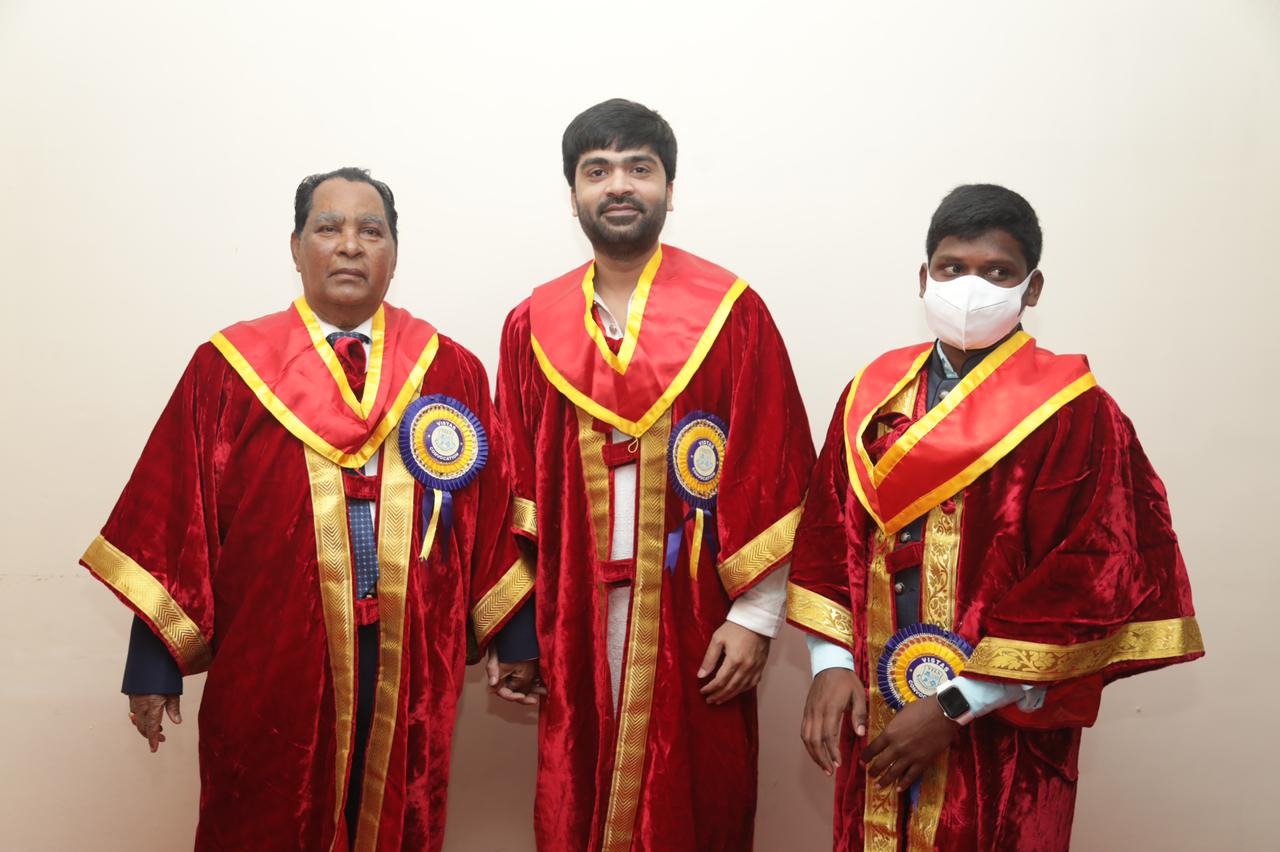 Simbu has won several accolades in his career including the SIIMA Award for the stylish star of South Cinema, SIIMA Award for Best Male Playback singer, ITFA Best Actor Award, and Edison Award for Best Actor for Vinnaithaandi Varuvaaya and Achcham Yenbadhu Madamaiyada. With the doctorate, Simbu has joined the club of Tamil actors who had earlier received such honour from various universities and organizations. Actors like MG Ramachandran, Sivaji Ganesan, Kamal Haasan, Vijay, and Vikram were been conferred with honorary doctorates. 
Proud parents with #SilambarasanTR pic.twitter.com/gVPb26YgPZ

— Ramesh Bala (@rameshlaus) January 11, 2022