Tamil Nadu Chief Minister MK Stalin has been unfolding surprise visits to the government offices and establishments to take stock of its functioning and services and to review grievances faced by the people. Earlier this month, he made a surprise visit to a police station and reviewed the law and order related issues. He sat on the chair of the sub-inspector and his unscheduled inspection had drawn major attention from across the state. 
His visit has also given a sign to the government offices across the state that the Chief Minister is sternly watching their services. Days after unfolding a surprise visit to the police station, MK Stalin had carried out a similar visit to the special cell in the premises of the Chief Secretariat. This special cell is tasked to address the grievances from the people that were directly petitioned to the Chief Minister. Taking everyone into surprise, Stalin has arrived at the cell and held interactions with some people who were waiting to submit their petitions. 
The Chief Minister had also inquired the authorities of the special cell about the actions taken on the petitions moved by the people and instructed the authorities to initiate timely and proper actions on the petitions submitted to the special cell and that the authorities must ensure responding to the petitions without fail. Stalin had made such surprise visits habitual to know the minds of people and there were incidents where he interacted with the people whom he visit during his morning walk.
In line with these surprise visits, MK Stalin has on Saturday - October 23, 2021, made another surprise visit and this time, it's a different one, which has become a first-of-its-kind incident in recent years. On Saturday, MK Stalin had boarded a Chennai city bus and taken every commuter into surprise. According to reports, the Chief Minister had visited the Covid-19 vaccination camp in Kannagi Nagar near the Old Mahabalipuram Road in Chennai. He reviewed the vaccination camp and after completing his visit, he was travelling on the OMR stretch during which he boarded a Chennai City bus.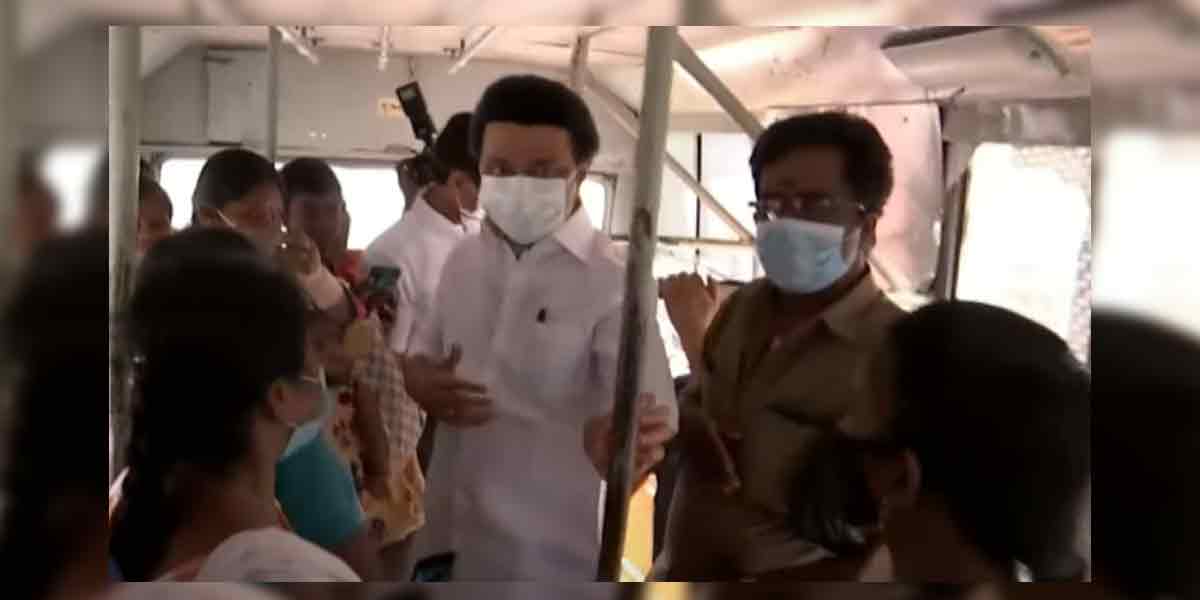 The passengers were surprised to see the Chief Minister riding the bus and during his bus tour, MK Stalin had interacted with the people and enquired about the services. He also asked some women passengers about the free bus service launched by his government. The people had shared their opinions and thanked the Chief Minister for launching the free bus service for women. The city bus was connecting Kannagi Nagar to T Nagar and MK Stalin had also asked about the facilities in the city buses and their time management. He also appealed to the people to wear a face mask and observe physical distancing while travelling on the bus.