After three weeks of hospitalization, legendary director Bharathiraja gets discharged and is back home. He left the hospital in the evening hours of Friday and he is taking a complete rest at his residence in Neelankarai on the outskirts of Chennai. Tamil Nadu Chief Minister MK Stalin has met the director at the latter's residence and inquired about his health condition.
Director Bharathiraja was admitted to a hospital in T Nagar on August 23 after complaining of health comforts. Later, he was taken to MGM Healthcare hospital in Aminjikarai, Chennai for further treatments. He remained under observation and was getting treated at the Intensive Care Unit. Several fans and celebrities have prayed for him and extended their wishes for a swift and lasting recovery. 
Days after his hospitalization, Bharathiraja penned a letter concerning his health condition in which he wrote, "I was admitted to hospital recently due to a health issue and I am recovering due to the excellent treatment and kind care of doctors and medical staff."  He concluded his letter by stating, "See you all soon. With love, Bharathiraja." 
As days passed by, there was a good sign of recovery as Bharathiraja's health was responding to medical treatments. It was even reported that he will join the shooting of his next movie later this month and the director of the movie Suseenthiran had also affirmed it. Bharathiraja was roped in to play an important role in Suseenthiran's movie 'Valli Mayil'. Last week, the director met Bharathiraja in the hospital and inquired about his health condition.
Later, Suseenthiran said that Bharathiraja will attend the shooting later this month. Earlier, the doctors said that Bharathiraja's health condition was on the road to improvement and that he would be shifted to the normal ward as he is getting recovered. Through the development,  the fans exchange a smile that the 80-year-old director is successfully battling his health ailments. 
After nearly three weeks of hospitalization, Bharathiraja has got discharged from the hospital on Friday. He is currently taking a rest at his residence in Neelankarai. After learning that Bharathiraja has got discharged, Chief Minister MK Stalin met the director at his residence and inquired about his health condition. The Chief Minister was accompanied by senior Tamil Nadu Minister KN Nehru and popular lyricist Vairamuthu and the picture has been going viral.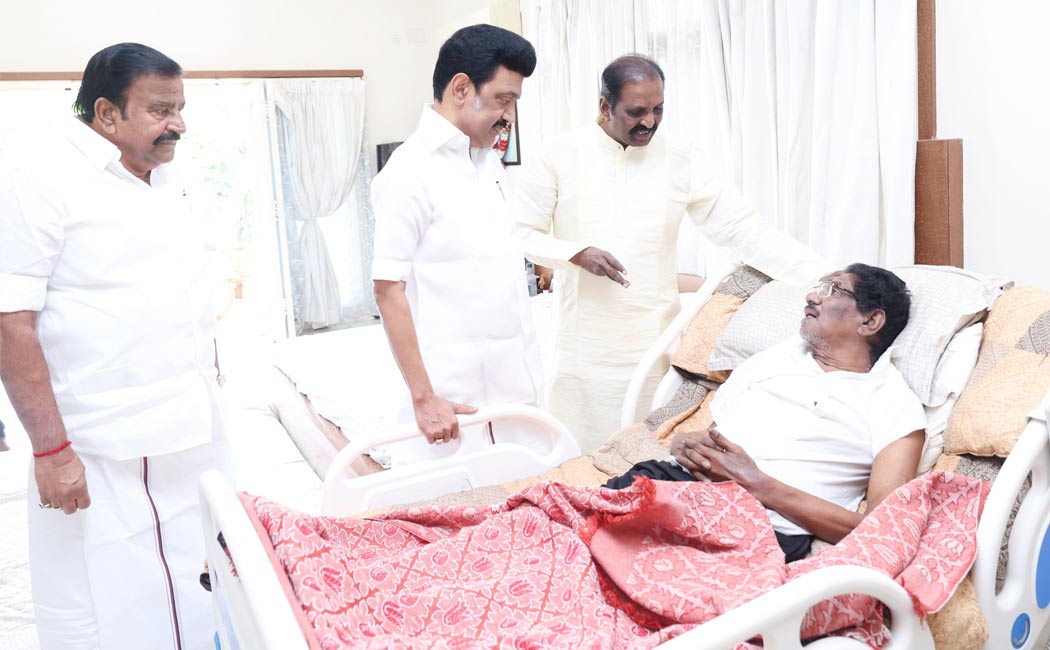 Meanwhile, Bharathiraja's son and actor Manoj addressed the reporters on Friday along with the doctors concerning the director's health condition. During his address, Manoj said, "My father Bharathiraja is doing fine and healthy. His health has recovered in a fashion that you can see Bharathiraja back. He wishes to join the shooting as for him, everything is cinema. As he was not well, the shootings of about four to five films are halted."
Manoj further said, "Several celebrities have met Bharathiraja while he was in the hospital. He will meet everyone after getting a complete recovery." Negating the rumours about Bharathiraja's financial difficulty to get treatment, Manoj said that these information are false. He said, "Please don't spread such kind of information. We are treating him with my own money."