As we reported earlier, former ADMK MLA VC Arukutty joined DMK on Wednesday in the presence of Chief Minister and DMK President MK Stalin in an event that was held at Pollachi, Coimbatore. It has been seen as a big win for Stalin as Arukutty was from the western belt of Tamil Nadu which is ADMK's citadel and where Stalin is concentrating on strengthening DMK.  
Arukutty was one of the notable leaders of ADMK and his political switchover to the DMK is expected to significantly aid the latter in its growth in the ADMK's stronghold. Arukutty served as ADMK's MLA two times in 2011 and 2016 from the Kavundampalayam constituency and in recent times, he has been a critic of the current leadership in the ADMK. 
When both the top leaders of ADMK Edappadi Palaniswami (EPS) and O Panneerselvam (OPS) tussled for unitary leadership, Arukutty urged both EPS and OPS to quit their respective posts. He said that the fight between EPS and OPS over the leadership is not fair. He said, "Both OPS and EPS must resign from the party. They should pave the way for new faces. The ADMK cadres will elect their leader. It is fair that someone is elected as the party's General Secretary instead of OPS and EPS. It is not good to form factions when the party has been facing setbacks." 
Notably, Arukutty was also probed by the authorities in the Kodanad heist and murder case. The incident happened in 2017 in the ADMK regime and it was reported that one of the accused Kanagaraj, who later died, was working with Arukutty as his driver. Arukutty was summoned thrice and was interrogated by the probing team. His inquiry shocked the ADMK as the case was revived after the change of power in the state.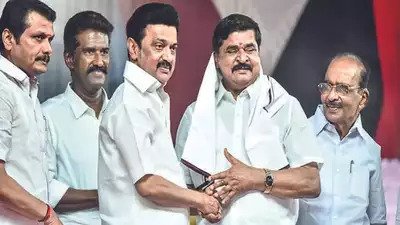 Arukutty wasn't awarded a ticket in the 2021 assembly polls and in the wake of recent events within the party, he has decided to part ways with the ADMK and join the DMK. The reports say that Tamil Nadu Minister and senior DMK leader Senthil Balaji, who is in charge of the party's works in Coimbatore, has played a vital role in bringing Arukutty to the party. It was Balaji's campaign and strategy that helped the DMK to win the local body polls in the western districts.
He has been actively working to develop the party in this region and as part of his campaign, he has brought Arukutty to the DMK. The event has seen the participation of Chief Minister MK Stalin and during the event, Arukutty met the Chief Minister and officially joined the DMK. Arukutty was part of a big political influx where around 55,000 people from various parties joined the ruling DMK on Wednesday. 
Must-read: Major shock to EPS...Is this former ADMK MLA, probed in Kodanad case, going to join DMK?