In a historical event, Dalits in the Tamil Nadu district of Tiruvannamalai had entered a temple for the first time in 80 years and this tale of long wait has several episodes of disparity and struggle. After continuous fight against the discrimination, the Dalits had walked on the corridors of a temple and offered prayers to the deity on Monday - January 30. 
The incident has happened in the village of Thenmudiyanur near Thandrampet in Tiruvannamalai and Dalits entered the 80-year-old Muthumariamman temple, which has been under the control of the Tamil Nadu Hindu Religious and Charitable Endowments Department (HR&CE) for the last three decades. When the scheduled caste people entered the temple, the caste Hindus from different communities like Naidu, Chettiyar, and Vanniyar have protested against their entry. 
It has been reported that the caste Hindus in Thenmudiyanur celebrated the 12-day-long Pongal festival in the temple where Dalits also wanted to take part in the celebrations. However, the dominant caste people had refused the Dalits to take part in the occasion. Against the ban from the dominant caste people, the Dalits decided to fight back and they petitioned the HR&CE department to enter the temple. Based on their petition, the department had conducted an inquiry. 
The local Revenue Divisional Officer (RDO) held a peace committee meeting with village residents on January 25 about the petition from the Dalits. While the caste Hindus were against letting Dalits into the temple, they had finally agreed to let Dalits enter the temple from Monday. However, their commitment went on air as the caste Hindus held protests on Monday morning against the entry of Dalits into the temple. Their protests had warranted another peace meeting where the district administration held talks with them to take back their protests. 
After the meeting, the top district officials including District Collector Murugesh, Superintendent of Police Karthikeyan, and HR&CE Joint Commissioner Ashok Kumar accompanied the Dalits and offered their prayers. As Dalits were let to enter the temple, they walked into the temple with fruits, garlands, and pongal dishes to offer to the deity.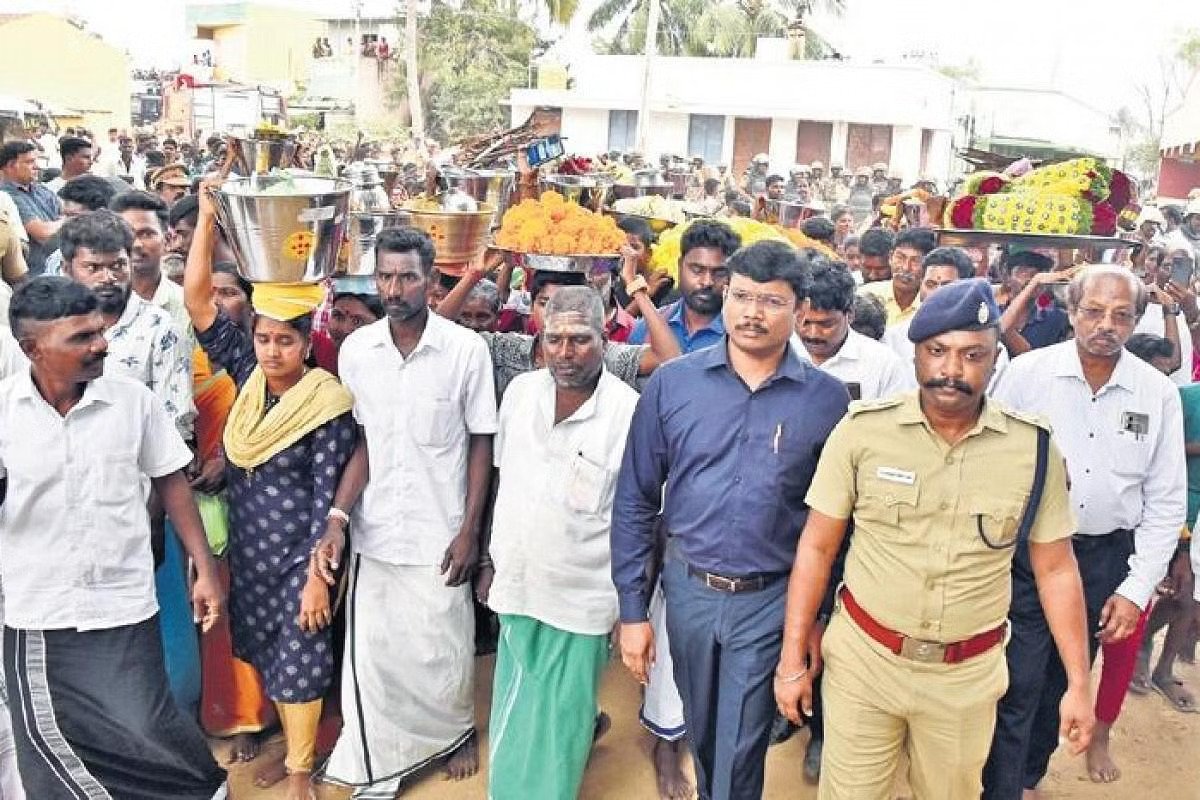 In a press meet, District Collector Murugesh said, "This temple is common for all and it is under HR&CE so that anyone can come and offer their prayers. Security will be given to all the people who are visiting the temple. HR&CE department will take full control of the temple if any problem comes in the future." It is pertinent to note that this is third such incident in Tamil Nadu in a month where the marginalized Dalits enter their village temples for the first time in several decades. Earlier, the Dalits in the Pudukottai and Kallakurichi districts have entered in the temples where they once were denied entry.