Tomatoes have become costlier in major cities in South India, which had added more burden amid the financial distress faced by the middle and backward people. However, such events of soaring prices of essential commodities - particularly perishable goods, would spark unique and peculiar offers in the bid to attract more customers. As Tomatoes are becoming red gold for their growing retail price, a hotel in Tamil Nadu has turned heads through its offer of free tomatoes. 
According to reports, Ambur Biryani hotel at Sothupakkam in the Kancheepuram district has come up with this offer of free tomatoes. As per the offer, if you buy two plates of Biryani, you will get half a kilo of tomato at free of cost and the hotel has also an offer of free biryani. If you could give one kilogram of tomatoes, you can get a pack of biryani in return. The offers have been going viral on social media as soon as they made headlines. 
G Gnanavelu, the owner of this Ambur Biryani hotel, has said that he has announced this offer to raise awareness on the rise of tomato prices. He said that he also wanted to attract the government's attention to this matter. He further said, "Tomatoes are becoming costlier day by day and earlier, the price of onions was also increased so was the cost of chicken. However, we can't increase the price of biryani every day and hotels are bearing the impact. Poor and marginalized are the worst affected." 
It must be noted that Gnanavelu had earlier sold biryani for damaged currency notes and 10-paise coins. Earlier when the price of onions was increased, Tamil Nadu had seen such peculiar offers that one kilo of onion will be provided for free if you buy a mobile phone and helmet. The retail price of tomatoes has been increasing for the past few days. The price hit Rs 140 per kilo of tomato in Chennai.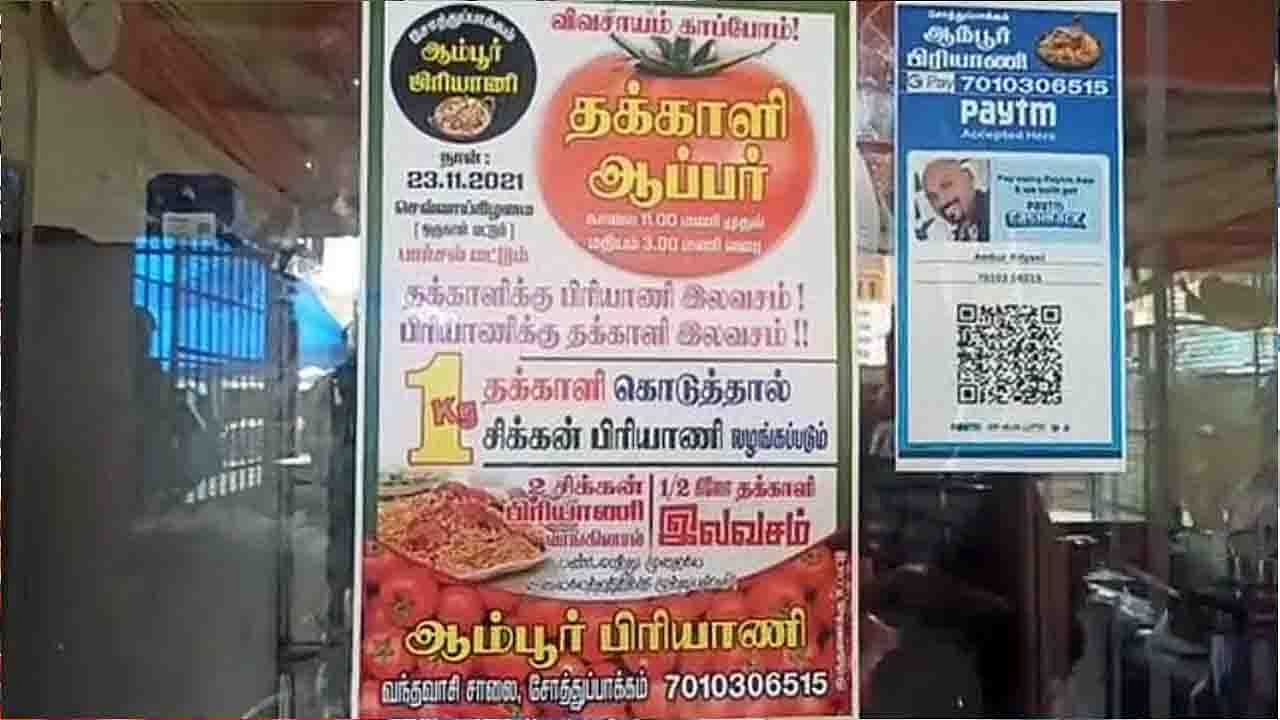 As per the data of the Union government, widespread rains were being spelt as a reason for the surge. According to the data maintained by the Union Ministry of Consumer Affairs, retail tomato prices began to rise from the beginning of October and the trend continues in November. At the end of October, the all India retail price of tomato stood by Rs 50 per kg and the price had further risen to Rs 80 per kg on November 23. Major cities in South India had braced up the price rise and the distressing trend is yet to be mitigated. 
Must-read:  TNS Explainer: Why Tomato is unreachable at the moment and when the prices will plunge?