Chennai is just a day away to begin hosting the 44th Chess Olympiad season in monumental Mahabalipuram, which again comes into a global talk years after its historical hosting of Chinese President Xi Jinping. Chess Olympiad, which is a top event for the chessers across the globe, will begin on July 28 - Thursday and will be held till August 10. Chennai has been welcoming participants from various countries. 
As Chennai is the first Indian city to host the Olympiad, the Tamil Nadu government, along with the Union Sports Ministry, has made top-notch arrangements and held various promotional events to celebrate the status of being a host. From decorating iconic constructions and transport systems to a full-fledged social media promotion, Chennai is witnessing what it takes to be a host of a global event. 
The inaugural event of the Olympiad would be held on Thursday and it will be attended by Prime Minister Narendra Modi. As the BJP is preparing to welcome the Prime Minister, the functionaries of the Tamil Nadu BJP unit had sparked attention by pasting the photos of Prime Minister Modi on the promotional advertisements of the event. The incident has stirred controversy and the photos of the Prime Minister were later blackened by a Dravidian outfit. 
According to reports, the state government has hoarded the Chess Olympiad billboards at bus stops and several places across the city. The billboards carried the photo, not of Modi, but of Tamil Nadu Chief Minister MK Stalin. On Wednesday- July 27, Tamil Nadu BJP leader Amar Prasad Reddy took a handful of Modi's photos and began posting his photo on billboards. Reddy released a video of him pasting Modi's photos on Wednesday. 
Taking to Twitter, Amar Prasad Reddy wrote, "Let me remind CM MK Stalin that our PM Sh. Narendra Modi avl is the sole representative of this nation. Here we begin!!! Chess Olympiad 2022." In the video clip, Reddy said that hoarding the billboards with Modi's photo was a huge mistake. Reddy further said that the Chess event is not a DMK party function. He added, "This is a government event. The Prime Minister's photograph must be featured. "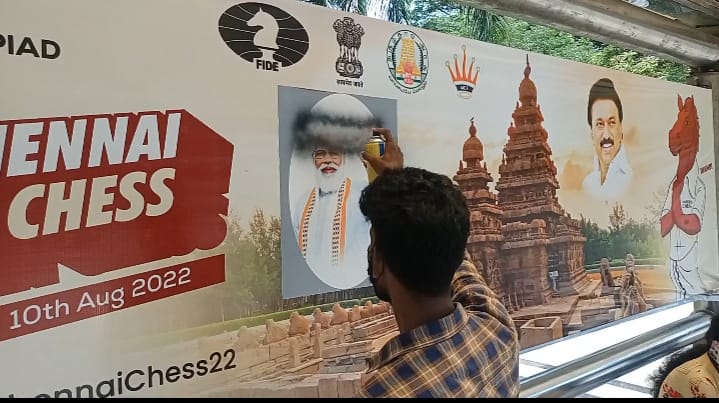 Speaking to PTI, Reddy told that he has not taken permission from authorities to paste Modi's photographs on billboards. He further urged the BJP workers to paste the photo of Modi on the billboards across Tamil Nadu. While his video was going viral, several BJP leaders demanded the Tamil Nadu government paste Modi's photos on the billboards.
However, after some time of pasting Modi's photos on the billboards, the members of a Dravidian outfit - Thanthai Periyar Dravida Kazhagam have begun to blacken Modi's photos on the billboards. The visuals have shown that the members of the Dravidian outfit were blackening Modi's face at the billboard placed at a bus stop in Adyar. 
Let me remind CM @stalin that our PM Sh. @narendramodi Avl is the sole representative of this Nation🔥🔥
Here we begin!!!

Chess Olympiad 2022.@annamalai_k @blsanthosh @JPNadda pic.twitter.com/eKiMW8GmQ9

— Amar Prasad Reddy (@amarprasadreddy) July 27, 2022