The Chennai Super Kings had disappointed its fans by failing to build a winning momentum in the current IPL season with back to back defeats, pushing the team to have a tenacious resurgence to reserve a berth in the playoffs. Amid the disappointment of the fans after the team's defeat against the Kolkata Knight Riders, they have the moments to rejoice as Dhoni and Bravo had set a new milestone. 
If you had seen the match of CSK vs KKR, you wouldn't have missed the splendid catch of MS Dhoni, which indisputably proved that age doesn't matter for the real and finest sportstar. When Bravo was bowling the last over of the innings, KKR's Shivam Mavi was at the receiver end. What was looked like a planned delivery to dismiss Mavi, Bravo bowled a wide fuller length delivery while Dhoni does the rest. 
Before the delivery, Dhoni had removed his right-hand gloves and got ready for the action. When Bravo bowled the ball, Mavi managed an outside edge and Dhoni fisted the ball with his bare hands and dived perfectly to complete what has become a spectacular catch, which has become one of the iconic moments in his career and with the splendid catch, Dhoni had set a record of becoming the wicket-keeper with most catches in the IPL.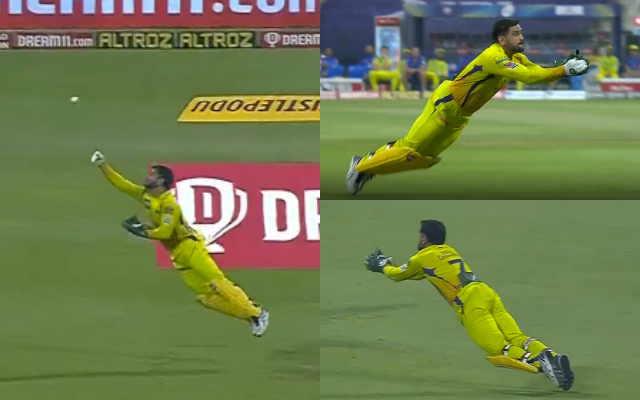 With the record, Dhoni had 104 IPL catches with him and surpassed KKR's Dinesh Karthik, who stands second with 103 catches. Along with Mavi, Dhoni had taken spectacular catches and dismissed Andre Russell, Eoin Morgan, and Shubman Gill. With the efforts to constrain KKR, the Knight Riders ended up putting 167 on board in 20 overs. However, Chennai's batting line-up stumbled for yet-another time and conceded the defeat in ten runs, marking their four defeat out of six matches. 
Along with Dhoni, Bravo has marked one of the important milestones in his IPL career. The Caribbean all-rounder had celebrated his 38th birthday on Wednesday and he was inducted in playing XI amid the wishes and greetings. Though being pretty expensive in bowling, Bravo managed to take three important wickets. While he dismissed Shivam Mavi, Bravo has recorded his 150th wicket in the IPL. 
Through the feat, Bravo has become the second overseas bowler to achieve the milestone of 150 wickets and he is in fifth place in the list of highest wicket-takers in the IPL. Lasith Malinga is in first place with 170 wickets followed by Amit Mishra with 160, Piyush Chawla 156, and Harbhajan Singh with 150 wickets. The fans have been greeting the all-rounder for his record along for his birthday as they have got moments to rejoice amid having been disappointed after the team's comeback has ended up with the setback.