After the Chennai police department had denied its permission to organize the all-party meeting at the party's headquarters, Tamil Nadu Opposition party DMK has held a video-conferencing meet with the other opposition leaders on Thursday during which they discussed the prevailing state of the spread of Coronavirus in Tamil Nadu amid the complete lockdown.
According to the reports, the parties had collectively compiled with the resolutions and urged the state and central governments with its demands. The DMK-led opposition parties have asked the state government to provide Rs 1 crore as a financial relief to the families of the victims who have died due to the virus
Along with that, the parties have also demanded the ruling ADMK government to increase the compensation amount of Rs 1 crore for the families of the medical professionals who have been treating the virus-hit patients and the frontline workers who are curbing the spread. They have called the governments to procure the testing kits, protective and medical equipment, and to increase the capacity in the hospitals.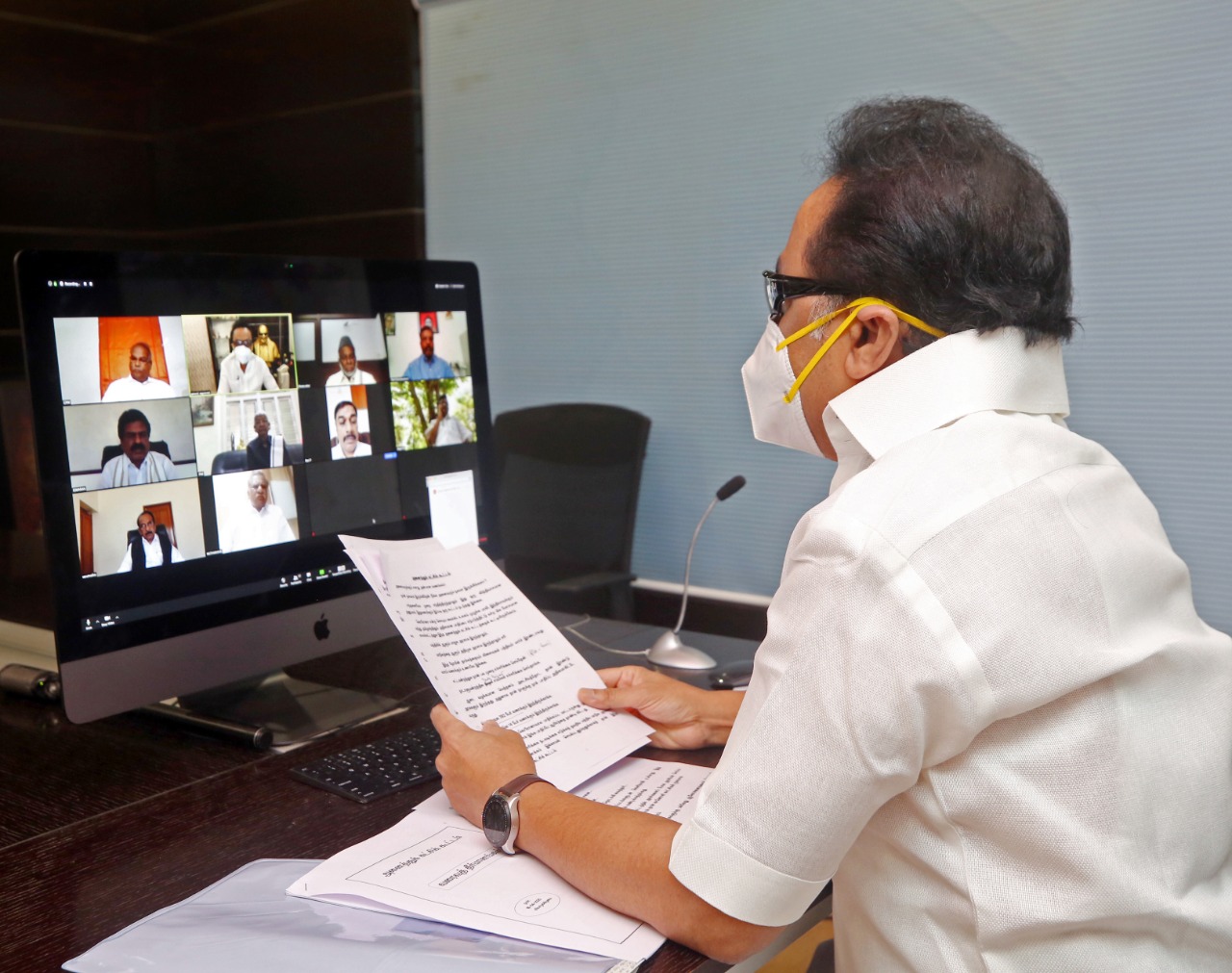 The opposition parties have demanded the state government to provide Rs 5,000 to all ration cardholders in the state as the economic relief and appealed the government mechanism to formulate the scheme for relief and economic welfare at the earliest.  The DMK's faction had urged the Central government to allocate Rs 15,000 crore that was asked by the state government for the relief measures against the spread of the pandemic.
By condemning the state government for denying permission to convene a meet, the opposition parties had passed the obituary resolution and paid condolences to the families in Tamil Nadu and India who lost their loved ones due to the virus. The reports stated that the alliance parties like Congress, MDMK, VCK, and left parties had attended the meeting that was headed by DMK President MK Stalin.
DMK had initially planned to host the all-party meeting at the party's headquarters in Chennai on April 15th. However, the city police department has denied permission to organize the meeting as the state has been imposed with complete lockdown and restrictions.  In the statement issued on Tuesday, Stalin said that the police had denied permission despite the party assured that the meeting would be conducted with accord to the regulations, guidelines, and social distancing would be maintained. He further stated that the all-party meeting has been scheduled on Thursday - April 16th, 2020 and it will be held through video-conferencing.