The shocking developments on the political grounds hadn't gone muted in Tamil Nadu amid the Coronavirus outbreak and while the parties are busy in etching their names through providing the relief measures to the affected and vulnerable people across the state in the wake of the lockdown, one of the top DMK leaders had found time to sit along with the party's rival camp by sending signals and shock to the Dravidian party that he may be switching his side. 
According to the reports, DMK Deputy General Secretary VP Duraisamy has met Tamil Nadu BJP Chief Murugan at the party's state headquarters Kamalalayam in Chennai on Monday and this has been unanticipated meet which had quizzed the DMK leadership unit on what could be the reason for a sudden handshake by the DMK leader to the leader of the opposite camp, which has DMK as one of its strong criticizers. 
The BJP state unit has posted the picture of the meet between the BJP president and the DMK leader on its social media handle through which it came to light. BJP has said that the DMK Deputy General Secretary has met the state president to congratulate him on his work after assuming the office of the state BJP president. After the picture hopped out, it spurred the speculations in the DMK inner and outer circle on the shocking move of the DMK leader.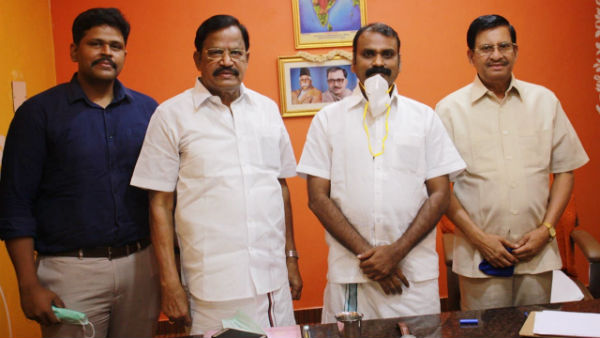 The reports stated that some of the DMK leaders suspect that Duraisamy could have approached the opposite side of the aisle after his candidacy for Rajya Sabha was declined by the party's leadership. The dissent leader has hoped that the party would award him a ticket for Rajya Sabha as the candidate from the Arundathiyar community. 
However, the party has announced Anthiyur Selvaraj as its candidate following which Duraisamy set to have disappointed and it was also speculated that Duraisamy has felt that he has been disrespected by the party as recently, the party's leadership has appointed new district secretary for Namakkal and according to the dissent leader, the party has made the appointment without consulting him as he belongs to Namakkal. 
Duraisamy went unreachable one day prior to the meet and his sudden drive into the saffron camp had angered the DMK leadership and the latest reports revealed that the DMK high command has decided to issue a notice to the dissent leader on his meet with the BJP state president. Duraisamy is one of the party's deputy general secretaries and he had previously served as an MP and as Deputy Speaker of Tamil Nadu Legislative assembly. 
He has met BJP President Murugan, who has also been serving as the Vice-Chairman of National Commission for Scheduled Castes. Murugan had investigated the Murasoli Panchami land issue during which he had issued a notice to DMK President M K Stalin. After the meet came to light, Duraisamy maintained that it was a courtesy call.