Months of efforts by the Union government have culminated to turn the bustling Delhi, even more bustling and resplendent as the nation's capital has welcomed the global leaders for a historical G20 summit, which will be held for two days - September 9 and 10. For the first time after decades, Delhi is on a global watch as it is hosting a cluster of leaders from top countries and they will be discussing to advance the economic cooperation and to tackle the menaces including climate crisis. 
India received the G20 presidency for 2023 last year from the then host country Indonesia and the 'global gavel' was handed over to Prime Minister Narendra Modi. From assuming the presidency for one of the powerful forums in the world, the Indian government began to build infrastructure in Delhi to host global leaders. G20 is a group of 19 countries and the European Union.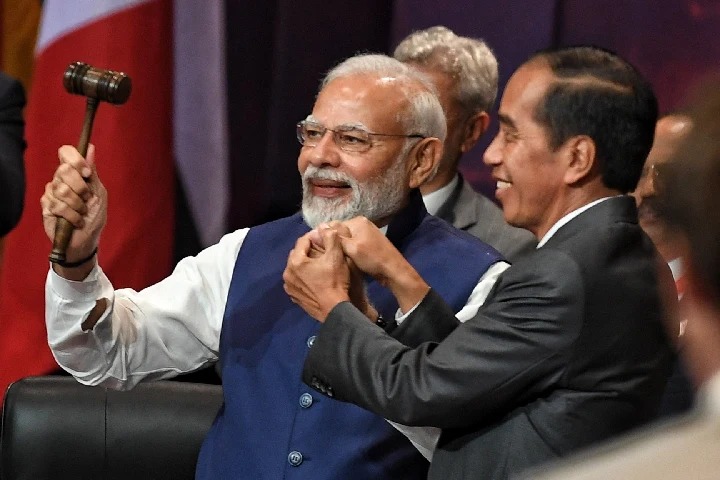 Formed in 1999 and gained prominence in the initial years of 21st century, G20 (Group of Twenty) summit aims to addressing major issues related to the global economy, international financial stability,  climate change mitigation, and sustainable development. The 18th round of the G20 summit is now hosted by India, with Narendra Modi as the current chairman.
As it is regarded as a key grouping of world leaders for the first time in Modi's tenure, the ruling BJP regime had made arrangements to pour an Indian-styled welcome for the world leaders, to pamper them with the traditional hospitality and feast of Indian cuisine, and to conclude the summit with no flaws. Prior to the peak of gathering of the world leaders on September 9 and 10, India had hosted number of meetings attended by the ministers of various countries. 
When the dates for the summit neared, Delhi had round-the-clock preparations from showcasing India's unique identities and culture. The newly inaugurated Bharat Mandapam was arranged to host the world leaders. An unprecedented scale of security was deployed in and around Delhi and several restrictions have been imposed by the government. On Friday- September 8, a day ahead of the summit, several world leaders have landed in Delhi. 
From US President Joe Biden, British Prime Minister Rishi Sunak, Argentine President Alberto Fernandez , Brazilian President Luiz Inacio Lula da Silva, Canadian Prime Minister Justin Trudeau, French President Emmanuel Macron, German Chancellor Olaf Scholz, Italian Prime Minister Giorgia Meloni, Japanese Prime Minister Fumio Kishida, South African President Cyril Ramaphosa, Indonesian President Joko Widodo, Turkish President Recep Tayyip Erdogan, Australian Prime Minister Anthony Albanese, Bangladesh Prime Minister Sheikh Hasina, to Mauritius Prime Minister Pravind Jugnauth have arrived in Delhi and they were received by Union Ministers. 
Besides those leaders, the heads of states of the Gulf countries from Saudi Arabia, United Arab Emirates, to Oman have also arrived in India. UN Secretary General Antonio Guterres, the heads of World Bank and International Monetary Fund (IMF) will also be attending the G20 summit. Upon their arrival at the Delhi airport, each leader was welcomed by India's traditional dance and during the evening hours of Friday, Prime Minister Narendra Modi held bilateral meetings with Mauritius Prime Minister Pravind Jugnauth, Bangladesh Prime Minister Sheikh Hasina, and US President Joe Biden. 
Notably, the leaders of top two countries, Russian President Vladimir Putin and Chinese President Xi Jinping, who never missed the G20 summits, would miss this Indian summit. While Russian delegation would be led by Russia's Foreign Minister Sergei Lavrov, Chinese Premier Li Qiang will be filling in for his boss, Xi Jinping. As Delhi would be watched closely like never before for the next two days, let's take a look at highlights of this G20 summit and what would be the top discussions, 
The member countries of G20 account for 85% of the world's economic output and conducting 75% of global trade. The G20 countries also comprise two-thirds of the world's total population. 
Though the global economy would always be the top agenda in the G20 summits, India will be using its presidency as a prospect to advocate inducting more countries as the members. 
It has been reported that Prime Minister Narendra Modi will urge to induct the African Union and some Gulf countries into the G20. Under its presidency. India has key benefits in hosting the G20 summit. 
As the fifth largest economy, India would get an opportunity to expand its trade and to further its  power in the geopolitical landscape. According to CII (Confederation of Indian Industry), the G20 Presidency gives India the opportunity to share success stories with the world and at the same time to bring global businesses to India at a time when they are looking to diversify investment destinations. 
It also presents an opportunity for India to represent the developing world on the global stage and fulfil its domestic aspirations. It is pertinent to note that after his bilateral meeting with Modi, US President Joe Biden pledged to invest $400 million in India. 
 There will also be discussions to increase loans to developing nations through multilateral institutions. Some of the other agendas that would be discussed include reforming international debt structures, regulating cryptocurrencies, and impact of geopolitical uncertainities. 
India will be specifically focusing on the areas like green development, climate finance, inclusive and resilient growth.
 India will also be pitching to accelerate progress on the Sustainable Development Goals, with a specific focus on mitigating the impact of the Covid pandemic, technological transformation, digital public infrastructure, multilateral and inclusive institutions for the 21st century, and women's empowerment to further socio-economic progress and achieve Sustainable Development Goals. 
In the sidelines of the G20 summit, Prime Minister Modi will hold bilateral meetings with several heads of states. In particular, India, United States, and Saudi Arabia will be discussing rail deal, which involves connecting Middle Eastern countries through railways and linking them to India through ports. 
Speaking about the deal, US National Security Adviser Jake Sullivan said, "This is an initiative that we have invested effort into with our partners. We believe that connectivity from India, across the Middle East, to Europe is incredibly important and will bring a significant number of economic benefits, as well as strategic benefits." 
#WATCH | G 20 in India: Prime Minister Narendra Modi reaches Bharat Mandapam, the venue for G 20 Summit in Delhi's Pragati Maidan. pic.twitter.com/jT1aFytKi4

— ANI (@ANI) September 9, 2023
G 20 in India | The welcome handshake of all leaders with PM Modi will showcase the Konark Wheel from Odisha. The Konark Wheel was built during the 13th century under the reign of King Narasimhadeva-I. The wheel with 24 spokes is also adapted into India's national flag and… pic.twitter.com/g8wrTpsmZM

— ANI (@ANI) September 9, 2023
#WATCH | G 20 in India: Canadian PM Justin Trudeau arrives at Bharat Mandapam, the venue for G 20 Summit in Delhi's Pragati Maidan. pic.twitter.com/IkqI7YDgcM

— ANI (@ANI) September 9, 2023
#WATCH | G 20 in India: Australian PM Anthony Albanese arrives at Bharat Mandapam, the venue for G 20 Summit in Delhi's Pragati Maidan. pic.twitter.com/GCzYgBogjl

— ANI (@ANI) September 9, 2023
#WATCH | G 20 in India: Japanese PM Fumio Kishida arrives at Bharat Mandapam, the venue for G 20 Summit in Delhi's Pragati Maidan. pic.twitter.com/V2pkp7VlJK

— ANI (@ANI) September 9, 2023
#WATCH | G 20 in India: President of South Africa Cyril Ramaphosa arrives at Bharat Mandapam, the venue for G 20 Summit in Delhi's Pragati Maidan. pic.twitter.com/OM5J5KCGWV

— ANI (@ANI) September 9, 2023
#WATCH | G 20 in India: United Kingdom PM Rishi Sunak arrives at Bharat Mandapam, arrives at the venue for G 20 Summit in Delhi's Pragati Maidan. pic.twitter.com/EUVAtTTBIm

— ANI (@ANI) September 9, 2023
#WATCH | G 20 in India: Russian Foreign Minister Sergey Lavrov arrives at Bharat Mandapam, the venue for G 20 Summit in Delhi's Pragati Maidan. pic.twitter.com/GOexlnYHzA

— ANI (@ANI) September 9, 2023
#WATCH | G 20 in India: US President Joe Biden reaches Bharat Mandapam, the venue for G 20 Summit in Delhi's Pragati Maidan. pic.twitter.com/flyjEvBDMv

— ANI (@ANI) September 9, 2023