Expelled ADMK General Secretary VK Sasikala has on Saturday - February 19 cast her vote in Chennai as Tamil Nadu votes to elect representatives for the local government institutions. It is the first time that Tamil Nadu is hosting the urban local body polls in eleven years. Millions of people have been queued up before their polling stations to decide the fate of thousands of people.
The voting was commenced at 7 am on Saturday and several leaders, notable people, and celebrities have been joining the line with the general public to cast their votes. Likewise, VK Sasikala has arrived at the polling station installed in Vidyodaya School in T Nagar, Chennai to cast her vote. After casting her vote, Sasikala, who was the close aide of the late Tamil Nadu Chief Minister J Jayalalithaa, said that she has cast her vote for the first time without Jayalalithaa. 
Speaking to the reporters, Sasikala said, "I am voting for the first time without Jayalalithaa. This is a difficult situation and the ruling party must maintain the integrity and it should not exercise anarchy." It must be noted that VK Sasikala is not active in politics after getting released from the Karnataka prison last year. She neither campaigned nor endorsed any party in the local body polls.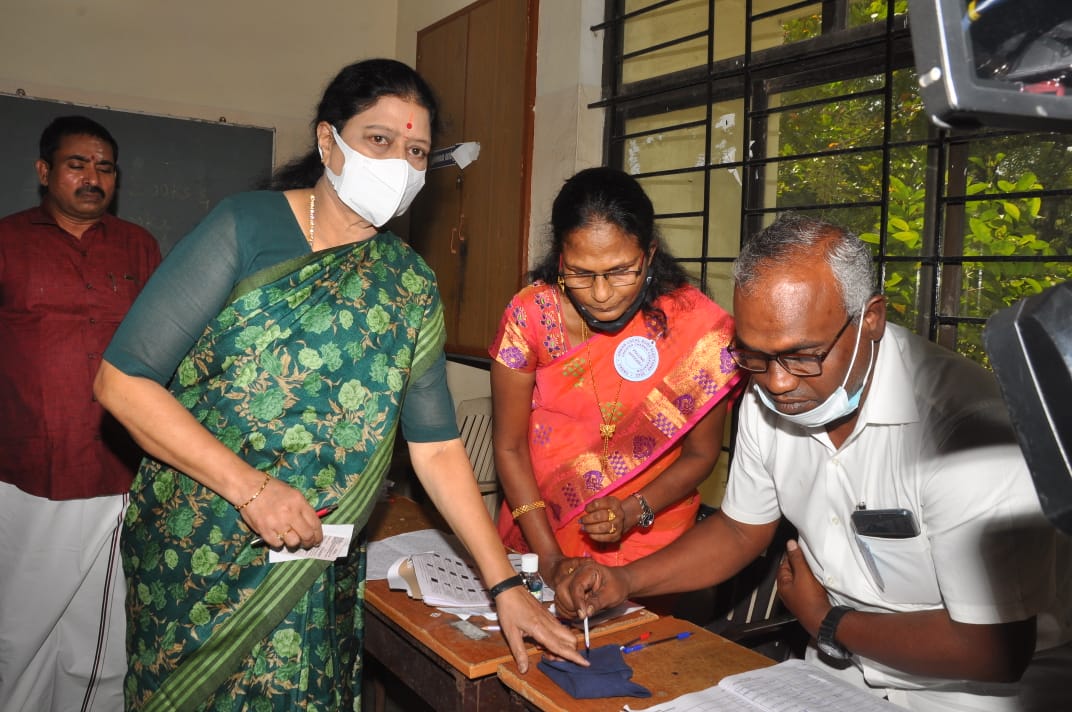 The crucial local body polls in Tamil Nadu are underway as the people are casting their votes to elect the captains to run the local government institutions in urban areas. The weeks of hectic campaigns and tours by the leaders and independent candidates have come to the showdown with voters are now been queuing up to cast their ballots. 
The voting began at 7 am on Saturday - February 19 and it will be held till 6 pm, with the last one hour has been reserved for the voters who have been affected by the Covid-19 pandemic. Urban areas across 38 districts have been polling to elect the representatives and the Tamil Nadu Election Commission had installed surveillance cameras to monitor the polling stations and the state government had deployed over 1 lakh police personnel for security purposes. 
As the pollings happen amid the spread of Covid-19, the Election Commission has rolled out adequate measures and instructions and appealed to the people to adhere to them. Voting is taking place in 31,150 polling stations and following the voting, the voting machines will be escorted to the respective counting centres and the votes will be counted on February 22.