Legendary dancer Pandit Birju Maharaj has passed away in late Sunday hours at the age of 83 in Delhi due to cardiac arrest. Reputedly known for his Kathak dancing, Maharaj has earned a legion of fans and followers across and beyond the country and has left behind an immense contribution and legacy to the Indian art culture. His loss has come as a shock to the nation and millions have been grieving after learning about his demise and remembering his remarkable journey. 
According to reports, Birju Maharaj was playing with his grandsons late on Sunday night when he suffered a heart attack and went unconscious. He was rushed to a hospital where he was declared dead. Speaking to ANI, Ragini Maharaj, Birju Maharaj's granddaughter, said, "He was under treatment for the past month. He had sudden breathlessness at around 12.15 -12.30 am last night. We brought him to the hospital within ten minutes, but he passed away." 
"Two of his disciples and his two granddaughters, my younger sister Yasyashashwini and me, were with him when this happened. He was laughing and smiling in his last moments", she added. The legendary dancer had been suffering from a kidney ailment and was receiving dialysis treatment. After his demise hit headlines, several leaders and the general public have been paying tribute to the deceased soul and expressing their condolences to his family.  
President of India Ram Nath Kovind took to Twitter and wrote, "The demise of legendary Pandit Birju Maharaj marks the end of an era. It leaves a deep void in the Indian music and cultural space. He became an icon, making unparalleled contribution to popularise Kathak globally. Condolences to his family and admirers." Vice President Venkaiah Naidu wrote, "Deeply saddened by the passing away of the legendary Kathak dancer, Pandit Birju Maharaj. The world renowned Kathak exponent with his unique style was an institution and an inspiration across the globe. His death is a huge loss to the world of performing arts." 
In his tribute note, Prime Minister Narendra Modi said, "Deeply saddened by the demise of Pandit Birju Maharaj Ji, who gave Indian dance a special recognition world over. His passing is an irreparable loss to the entire art world. My condolences to his family and fans in this hour of grief." Congress leader Rahul Gandhi said, "Received the sad news of the demise of Kathak maestro Shri Birju Maharaj. My condolences to his family, friends and fans. His contribution to the field of Indian classical dance is unparalleled and he will be remembered for it." 
Birju Maharaj was a recipient of the country's second-highest civilian honour, Padma Vibhushan and he was dearly called Pandit ji and Maharaj ji by his fans and disciples. As a prominent Kathak exponent, Maharaj was a descendant of the Maharaj scion of Kathak dancers including his father and guru Acchan Maharaj and his uncles Shambhu Maharaj and Lachhu Maharaj. Besides being a Kathak dancer, Birju Maharaj was also known for his expertise as a drummer and storyteller. 
The doyen of dancing was about to turn 84 on February 4. He was born on 4th February 1938 in British India and when he was nine, his father has died. Birju Maharaj has started teaching the dance at the age of thirteen at the Sangeet Bharti in New Delhi. He then taught at the Bharatiya Kala Kendra in Delhi and then at the Kathak Kendra, where he was Head of Faculty and Director. He got retired from Kathak Kendra in 1998 following which, he opened his own dance school, Kalashram, in Delhi.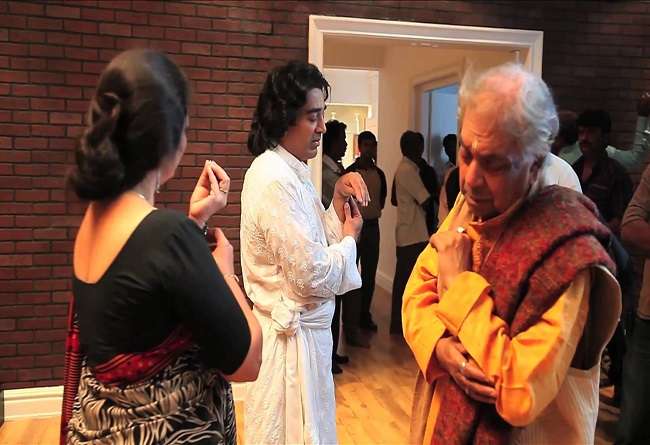 He had composed the music, and sang for two dance sequences in the Satyajit Ray's 'Shatranj Ke Khilari', and choreographed the song Kaahe Chhed Mohe from the 2002 film version of Devdas. In 1964, he was bestowed with Sangeet Natak Akademi Award and he received Padma Vibhushan in 1986. In 2012, Birju Maharaj has received National Film Award for Best Choreography for the song 'Unnai Kaanaathu' in the movie Vishwaroopam, starring Kamal Haasan. He was also conferred with the Filmfare Award for Best Choreography in 2016. As the Maharaj of Kathak, Birju Maharaj has left a legacy that was built through his career spanning six decades from the age of 13 to 78. 
The demise of legendary Pandit Birju Maharaj marks the end of an era. It leaves a deep void in the Indian music and cultural space. He became an icon, making unparalleled contribution to popularise Kathak globally. Condolences to his family and admirers.

— President of India (@rashtrapatibhvn) January 17, 2022
My heartfelt condolences to the bereaved family members. Om Shanti!

— Vice President of India (@VPSecretariat) January 17, 2022
Received the sad news of the demise of Kathak maestro Shri Birju Maharaj.
My condolences to his family, friends and fans.
His contribution to the field of Indian classical dance is unparalleled and he will be remembered for it. pic.twitter.com/Em7S3RFre6

— Rahul Gandhi (@RahulGandhi) January 17, 2022