Have you checked Google Doodle today? Wondered who was in the sketch? She is none other than the first Malayalam woman actor, who has a dismaying story behind her. Yes, she is PK Rosy, the actor who was forced to leave the state of Kerala for portraying the role of an upper caste woman, as she belonged to a community that is categorized as a Scheduled Caste. 
Friday - February 10 marked Rosy's 120th birthday and with the view of honouring her, Google has dedicated its doodle for her. Though she is the first female actor in Malayalam, Rosy's melancholy over the caste discrimination has become the way of remembering her. She broke the barriers through her acting but the communities across and beyond the borders took decades to watch out her life. 
Rosy belonged to the Pulaya community that comes under Scheduled Caste and she played the role of an upper caste Nair woman in the 1930 movie 'Vigathakumaran', directed by JC Daniel, who is considered as the father of Malayalam Cinema. Her appearance as a Nair woman had put an end to her cinema career, that was barely lasted for two years.  
Rosy was born as Rajamma on February 10, 1903, at Nandankode, Thiruvananthapuram, Kerala. She spend her younger years as a grass-cutter. When women weren't allowed to pursue acting in those times, Rosy put an end to that stereotype and with the help of her uncle, she regularly went to the local school of performing arts to learn Kakkirasi Nattakam, which was a form of Tamil folk theatre, revolving around stories of Siva and Parvati arriving on Earth as nomads Kakkalan and Kakkathi respectively. 
How she changed her name as Rosy or Rosamma is a subject of divide. While some claim that she changed her name after converting to Christianity, others claim that it was director Daniel who named her as Rosy and that her mother had lived as a Hindu. Daniel had inducted Rosy in his movie 'Vigathakumaran' through which Rosy became the first female actor in Malayalam.  
In the movie, she played the role of Sarojini, a Nair woman. When the movie was released, the people who belong to the Nair community outraged to witness a Dalit woman playing a Nair. Several popular artists of the Malayalam industry at that time had refused to come and inaugurate the movie's opening if Rosy was attending the event. The audience from the Nair community hurled stones at the screen after watching Rosy as a Nair woman.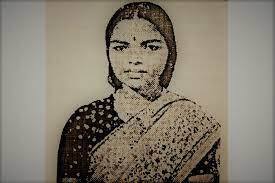 After a backlash, Rosy faced harassment and was forced to leave Thiruvananthapuram, she eventually left Kerala. It has also been reported that she married a truck driver, Kesava Pillai, and moved to Tamil Nadu by changing her name as 'Rajammal'. In 2013, during a making of a video about Rosy, Kerala-based Asianet News tracked Rosy's daughter Padma to Goripalayam, Madurai. Rosy had two children - son Nagappan and daughter Padma and all of her family members were trapped into poverty.  
Rosy was active in acting from 1928 to 1930 and her story was revived decades later. In the late 1960s, Chelangatt Gopalakrishnan had first discovered about the story of 'Vigathakumaran'. In 1971, journalist Kuunukuzhi Mani traced JC Daniel to Nagercoil and published his first article on Rosy in Kalapremi, a newspaper based in Thiruvananthapuram. In 2013, Malayalam director Kamal had helmed the movie 'Celluloid, based on the life of JC Daniel. The movie was conferred with seven Kerala State Awards and for playing the lead role, actor Prithviraj was one of the recipients.
On the other hand, Celluloid was slammed by Dalit activists for undermining Rosy. Two other movies were also made about Rosy - i) The Lost Child and ii) Ithu Rosiyude Katha (This is Rosy's story). In an effort to revive Rosy's name, the Women in Cinema Collective (WCC) in 2019 had launched a film society in her name. In a statement, WCC said, "This act of naming our film society, a PK Rosy Film Society, is a humble attempt to be sensitive and to take note of all those who have been excluded from dominant cinema histories through their gender, caste, religious, or class locations and our own imagination, and have been brought to light by many scholars, historians, and activists." 
PK Rosy had died in 1988 at the age of 85. Though the caste dominancy ruined her life, the Dalit Community is still celebrating her and there is an award in her name, given by the PK Rosy Smraka Samithi to women actors in theatre, cinema, and television. As Friday has marked her 120th birth anniversary, Google has now  honoured her by dedicating a doodle, which had certainly revived her story.