Hours after the Supreme Court's judgment that awarded him a full acquittal from the assassination case of former Prime Minister Rajiv Gandhi, Perarivalan has met Tamil Nadu Chief Minister MK Stalin in Chennai during which they had what resembled a friendly chat. Perarivalan has met the Chief Minister with his mother Arputhammal at the Chennai airport and the pictures from the meeting have been going viral. 
MK Stalin has gone to the airport to embark on his tour to Coimbatore and ahead of his departure, he met Perarivalan in the presence of senior officials. MK Stalin has welcomed Perarivalan through a warm hug and their meeting lasted for several minutes and Perarivalan sat near MK Stalin throughout the meeting. After meeting the Chief Minister, Perarivalan addressed the media during which he had said that the Tamil Nadu government had taken several efforts for his acquittal.  
Perarivalan's mother Arputhammal said that the Chief Minister happily welcomed them. Earlier, MK Stalin spoke with Arputhammal over the phone and the video was going viral. MK Stalin was one of the first in line leaders to react to the Supreme Court's verdict of releasing Perarivalan. The apex court has on Wednesday- May 18 released Perarivalan after he underwent incarceration for 31 years. The Chief Minister has said the Supreme Court's verdict is a historic judgement.
In his statement, MK Stalin said, "The Supreme Court has accepted the arguments made by the state government. The DMK has promised that we would put in all efforts to secure the release of seven Tamils. The Supreme Court judges have said that the Governor has no role to interfere in the affairs of the government. The man who spent 32 years behind the bars, now is breathing freedom. I convey my regards and welcome him. This judgement is a victory for state autonomy and federalism."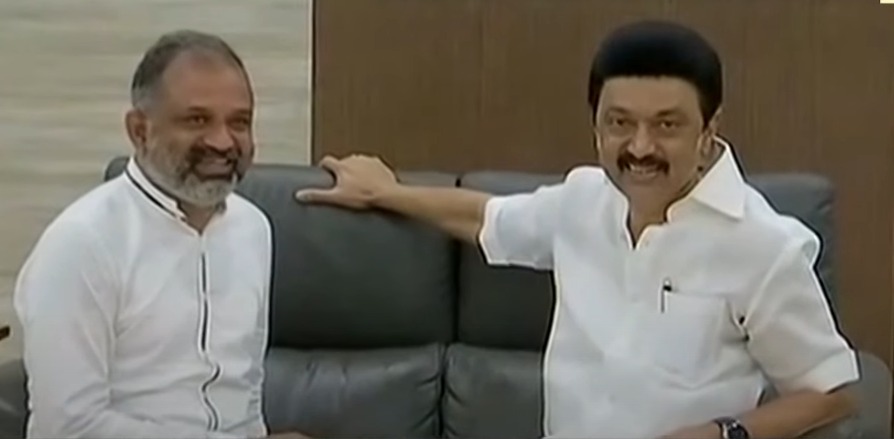 "Along with the human rights, state rights have also been protected. The state government will take efforts to secure the release of six others convicted in the case as well", he added. Stalin has also praised Arputhammal for her 30-year struggle to secure his son's release. MK Stalin had recalled that after the DMK came to power, his government has written to the President, urged the Governor and the Union government and debated very strongly in the Supreme Court. 
He stated that these efforts from his government were the foundation for Supreme Court's verdict. Earlier on Wednesday, Perarivalan had addressed the media for the first time in three decades during which he said, "Tamil people across the world stood in solidarity with me. They thought of me as their own family. My mother is responsible for the support that I have received. She fought for me for thirty years, despite facing humiliations and obstacles, particularly during the early years of my incarceration. I was saddened that I was taking away her (Arupthammal) life and draining her of her strength. I always hoped that I would be freed while they are alive." 
He further said that it was the love of his sisters, father, and brother-in-law that had kept him going and added that he was afraid to face his mother, each time they lost a legal battle. "There are many people who have worked hard to help me and I hope to thank them all one day", he added. As Perarivalan enters a new life with his parents, he has a lot of people to thank including then 20-year-old Senkodi, who had sacrificed her life by immortalising herself to protest the death penalty awarded to Perarivalan and others. To honour his sacrifice, Perarivalan has named his house after Senkodi. 
Perarivalan has cited that Senkodi has played a huge role in my long journey. He said, "I have to thank former CBI officer V Thiagarajan for his admittance of not having recorded the entirety of my confession, Justice Krishna Iyer for writing several letters to the former Prime Ministers for me. He had written to the then Prime Minister Manmohan Singh saying he kneeled before him on my behalf as he believed in my innocence. Retired Justice KT Thomas has fought hard for me and advocate Gopal Sankaranarayanan has stood by me without even expecting a fee." 
"The current Tamil Nadu government has consulted legal experts on my behalf. If the media had not been supportive, this day could not have happened. Jail officials have also given me their support", he added. Speaking about his future plans, he said, "I have just got released. I have only been able to think of this legal fight for the past 30 years. Let me take a little breather and then I will decide on the future course of my life." Responding to the remaining convicts, Perarivalan said, "I have maintained that I am against capital punishment. This is not just for humanity. Even legal experts have spoken out against it." 
மாண்புமிகு முதலமைச்சர் @mkstalin அவர்களை சென்னை விமான நிலையத்தில், பேரறிவாளன் அவர்கள் சந்தித்து தனது விடுதலைக்காக தமிழ்நாடு அரசு மேற்கொண்ட நடவடிக்கைகளுக்கு நன்றி தெரிவித்து வாழ்த்துப் பெற்றார். pic.twitter.com/uSongSaHH3

— CMOTamilNadu (@CMOTamilnadu) May 18, 2022