Girish Mathrubootham - this is the name that has recently become global after opening up a frontier of possibilities and hope by transforming what had been started in a warehouse to a prospective global giant. Behind this name was a face from a humble beginning, that aspired to do something phenomenal and amid facing several debacles, that face had never settled for ordinary and it was visible when it rang the bell at Nasdaq stock market in New York City. While it acknowledged that the dream has been accomplished, it also has conveyed that there is more to come. 
Girish Mathrubootham was born in Trichy, Tamil Nadu on March 29, 1975. Girish (46) has studied engineering at Sastra University and did his MBA from Madras University. He is an ardent fan of superstar Rajinikanth and besides being a fan of a star, Girish has now become a sparkling star for more and more young aspirants. He has now been doing wonders in the United States with a successful business story. Girish had worked at Zoho Corporation for close to a decade and he was the Vice President of Product Management of their ManageEngine division.
He has managed several cross-functional teams and in 2010, Girish has founded 'Freshdesk' after he had come through an awful customer experience from his personal life that involved shipping a TV from the US to India. In October 2010, Girish had quitted Zoho and along with his then Technical Architect Shan Krishnasamy, he founded Freshdesk in Chennai. Freshdesk was started from a 700-square-foot warehouse in Chennai, with an idea to create a fresh helpdesk in response to the poor customer service eco-system. 
Girish was from a humble background and his father was a bank officer in Trichy. When Girish was just 7, his father had divorced his mother and remarried three years later and before joining Zoho, Girish had worked at a number of companies including HCL Cisco, AdventNetInc, and eForce. In his warehouse office of Freshdesk, two things were visible around Girish, one was his love for Rajinikanth, and the other was his idea to develop flawless customer service using social media. In the midst of the growth of social media, Girish has sowed a seed of revolutionising the way customers interact with the companies. 
Freshdesk had offered companies ways to address the complaints and grievances raised by the customers across different channels. After a year of its establishment, Freshdesk has earned its first global customer - Atwell College in Australia. In seven years, Freshdesk's revenue has touched $100 million and with a glorious milestone, Freshdesk has got renamed as 'Freshworks' and moved to the United States. It has set up its headquarters in San Mateo, California with global offices in India, Australia, Germany, and the United Kingdom. In four years, Freshworks had rapidly grown through the aplomb of Girish and its employees that now it has become a global brand. 
Freshworks today is worth Rs 95,000 crore with over 50,000 customers across the globe, including major brands like Honda, Toshiba, Hugo Boss, and Cisco. Freshworks had emerged as a significant rival to Salesforce, the global giant with the expertise of providing customer relationship management services. More importantly, Girish has recently added more prominence to his face and firm after Freshworks had made it to the New York Stock Exchange. Freshworks is the third Chennai-established firm to get placed in the Nasdaq stock market in New York City after Cognizant and Sify Technologies. 
After Freshworks had made into the IPO in Nasdaq, Girish had on Wednesday proudly rung the bell at Nasdaq for the Freshworks IPO. He took to Twitter and wrote, "Today is a dream come true for me - from humble beginnings in #Trichy to ringing the bell at @Nasdaq for the FreshWorks IPO. Thank you to our employees, customers, partners, and investors for believing in this dream. #Freshworks #IPO #NASDAQ." Freshworks had also become the first-ever Indian SaaS startup to have been listed on the prestigious Nasdaq. After the global feat, Girish wrote in a blog post about the journey and said that his company wasn't supposed to win.
He wrote, "Freshworks is the company that wasn't supposed to win. Whether we could differentiate ourselves in crowded markets or compete with larger players, or build a global SaaS company from India, the doubts were always there. And people were not shy about telling me." He said that in the albeit of having doubts, his team had focused on executing and he stated, "We realized the profound meaning of what Steve Jobs once said, "Stay hungry, stay foolish." By citing that Freshworks was unconventional from the beginning, Girish has penned, "Not for its own sake, but because we saw an opening in the market for a unique approach. We weren't founded in Silicon Valley. We didn't target large enterprises. We didn't have access to a been-there-done-that talent pool." 
Girish has used the Tamil word "Kudumba" to describe the firm's culture and it means "family" in Tamil. He added, "Kudumba is what binds us together. It celebrates our roots and reminds us of where we started. By creating a sense of family, Kudumba, we have been able to scale and grow." He has affirmed that the success of Freshworks has been possible because of the dedication and commitment of its employees, customers, partners, and investors. He penned, "To all of you I say: Thank you. Thank you for believing in us and everything we could accomplish. This is a proud moment for us, today, I feel really good." 
On the future plans, Girish said, "Our dream is to be a disruptive player in the CRM market by breaking down the silos of marketing, sales, and customer support with a unified customer cloud. And in the future, we dream of breaking the silos of IT and HR, building a unified employee cloud." The plans may change in upcoming years, but Girish is committed that the company's mantra - happy employees create happy customers, won't change. Girish has noted that the Freshworks IPO is an important milestone on the company's journey to deliver modern, intuitive, and delightful products to customers worldwide.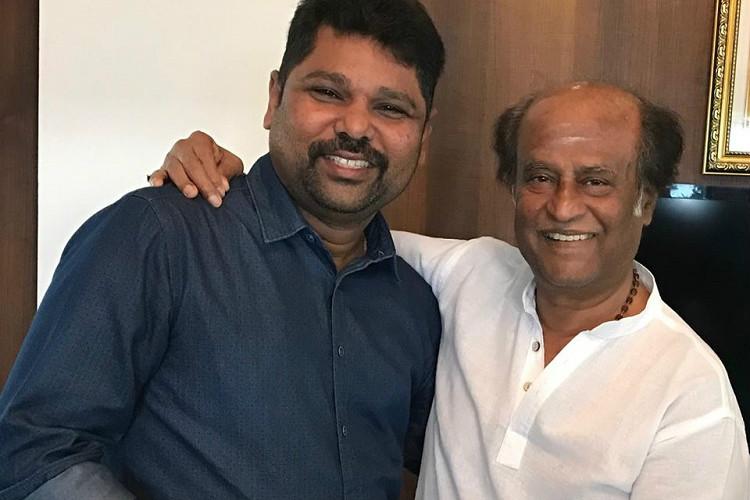 Though Freshworks had moved to the United States, Girish's love and admiration for superstar Rajinikanth is perennial and last month, Freshworks had filed for an Initial Public Offering in the New York Stock Exchange and the company went by the code name 'Project Superstar'. In a touching note last month, Girish said, "I want to express my love and gratitude to him (Rajinikanth) for being my 'Maanaseega Guru'. There is no comparable English word to express what this means. It is a mentor, a role model that lives in your mind, from whom you learn a lot by watching from afar. Superstar is a man who is loved and worshipped by millions of fans globally.He is immensely successful yet humble and down to earth. Thank you, Thalaivaa".
"From the beginning, I wanted to build a company optimized for employee happiness. We want our employees to have the best experience of their life at Freshworks and for us, the journey will always be more important than the destination", Girish added. Girish once said to his wife after quitting a well-paying job to start his own enterprise in a warehouse, "This is not for me a buy a BMW, but for every employee to buy a BMW." Freshworks was valued at $12.2 billion in its Nasdaq debut on Wednesday after shares opened 21% above the initial offering price. 
Today is a dream come true for me - from humble beginnings in #Trichy to ringing the bell at @Nasdaq for the FreshWorks IPO. Thank you to our employees, customers, partners, and investors for believing in this dream. #Freshworks #IPO #NASDAQ pic.twitter.com/fXz73YxXXR

— Girish Mathrubootham (@mrgirish) September 22, 2021