The sea shore of the traditional and coastal town of Mamallapuram had carpeted potential and pivotal talks between Indian Prime minister Narendra Modi and Chinese President Xi Jinping as they had sat down for their second informal summit that had seen the spectrum of the topics lies in the bilateral relations including trade, terrorism and culture.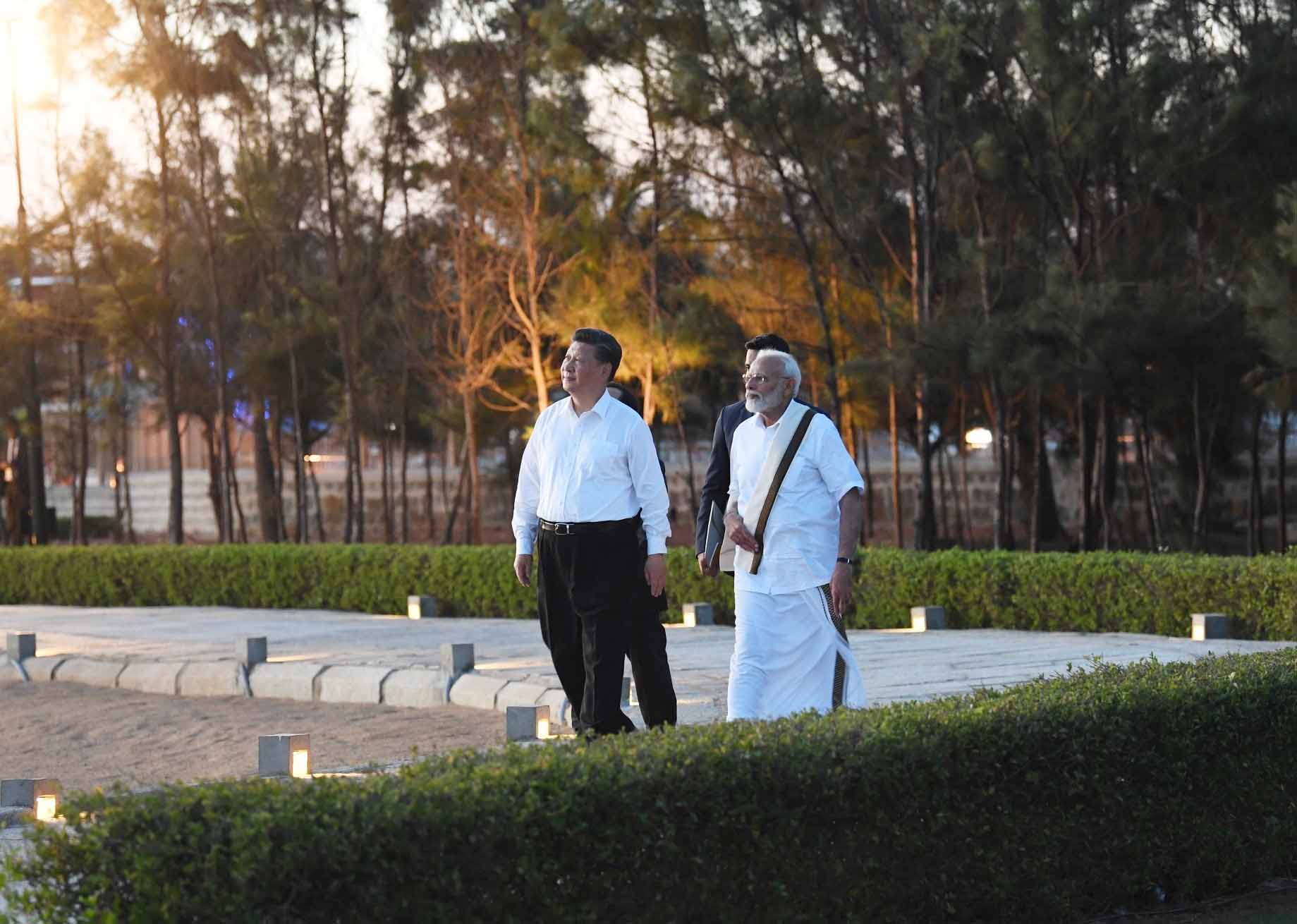 The second direct informal meet between the leaders lasted for about two and half hours yesterday that had crossed the scheduled time over state dinner as their meet went with open and friendly talk that had tabled the exchanges of promises towards flagging Confidence Building Measures between the countries. Their day one meet was began at 7 pm after concluding their tour to the historical and heritage sites of Mamallapuram and ended after 9.30 pm. During their meet, both the leaders had brought in the potential discussions without their aides and delegations.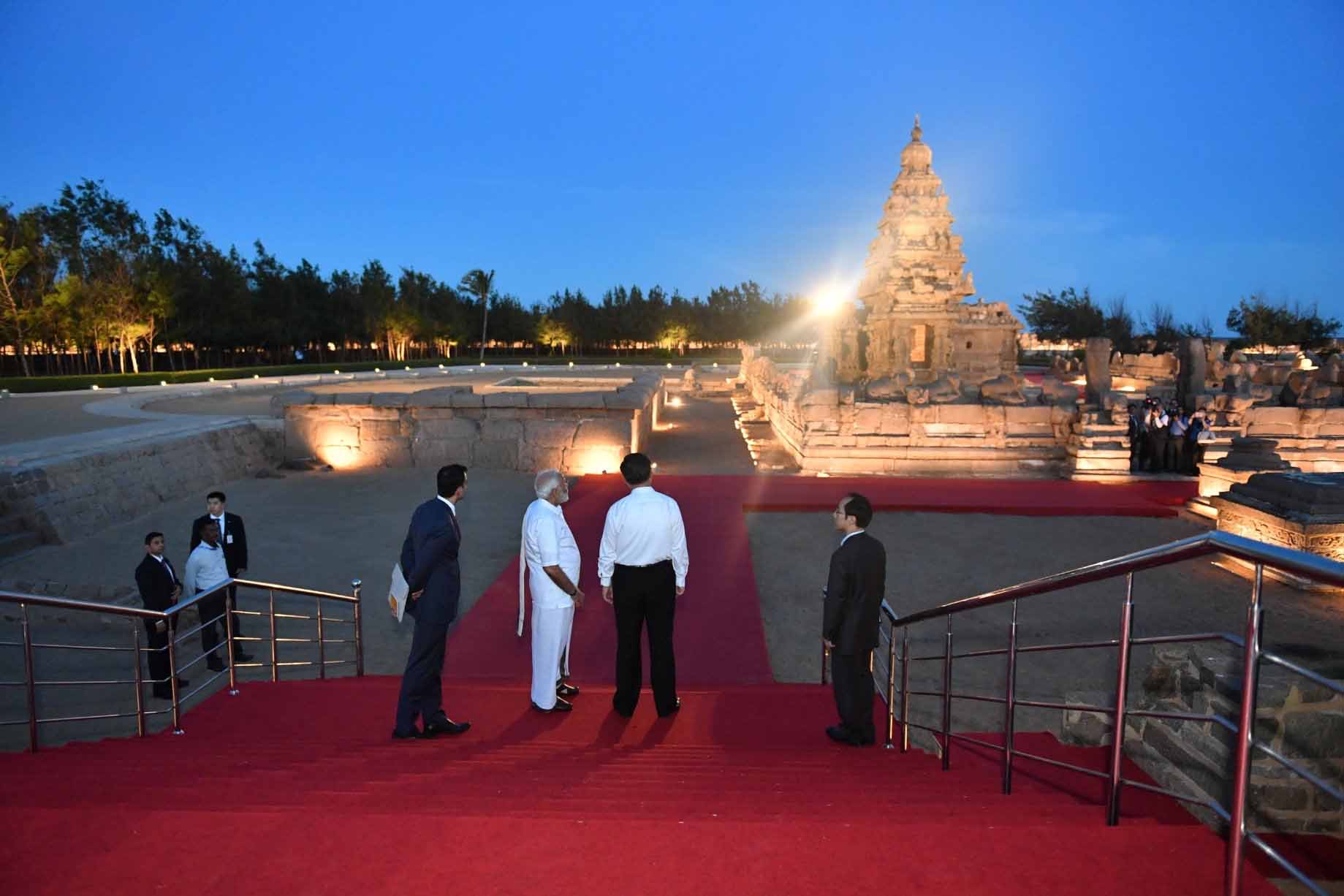 In a statement, the Foreign Secretary Vijay Gokhale had said that Prime minister Modi and President Xi Jinping had tabled their one on one discussions separately while their respective delegations had dinner at another location. Modi had flagged grand welcome to the Chinese leader in Mamallapuram with the traditional attire of Tamil Nadu after which they had visited the heritage sites of Arjunan's Penance, Five Rathas and Shore temple as their visit had added privilege to Mamallapuram which stands high with the tag of UNESCO's World heritage site.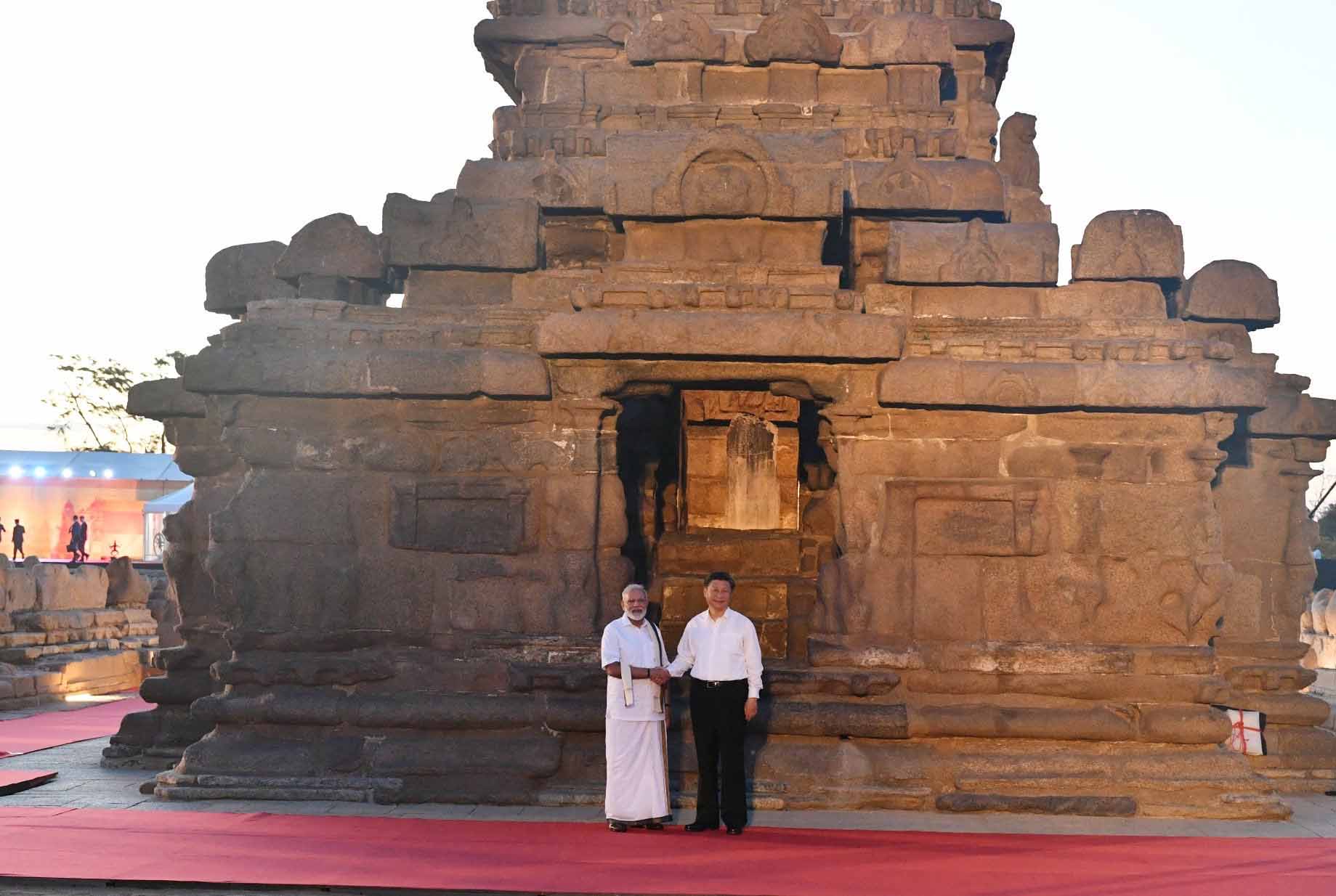 Gokhale had stated that the two leaders had spent five hours of quality time together that had seen one on one conversation and further added that the talks will resume on Saturday. It has been reported that they had platformed their national visions and the priorities where Modi had explained the formation of government for the second consecutive term with huge mandate that driven through the economic development while President Xi Jinping had endorsed the mandate by claiming that China is looking forward to work closely with India on various issues for the next five years. Their discussions had possible talks on trade related issues, cross border and economic discrepancies and locating the grounds for investments and on tackling, countering the challenges the both countries face on terrorism.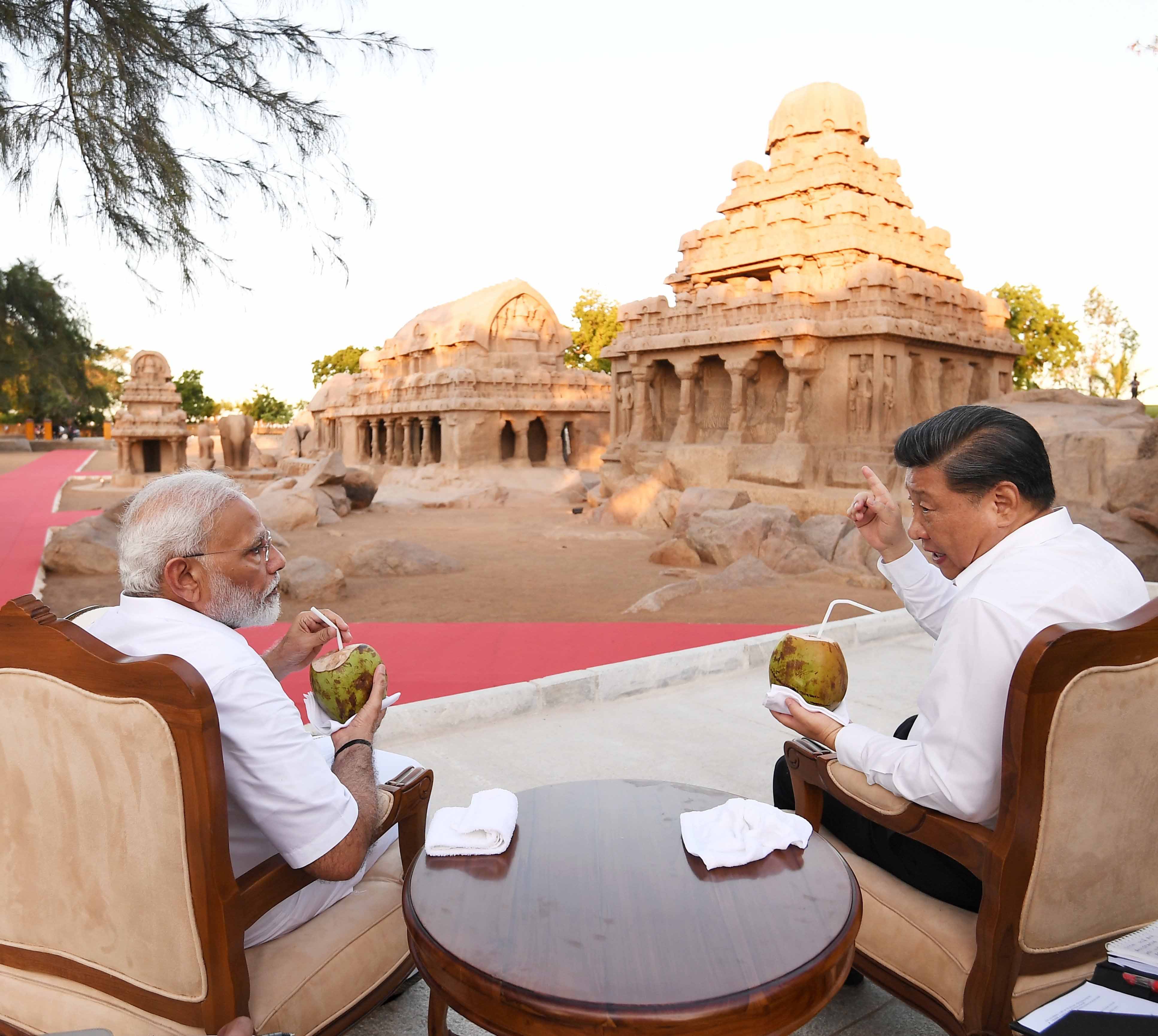 After their day one friendly summit that had lasted over scheduled time, Chinese leader had left Mamallapuram and drove back to Chennai while Modi had stationed in the coastal town as Chennai has been under the hands of tight security like never before. As the sea shore has been preparing to host their second day of summit, it had witnessed Prime minister Modi in morning walk as he took to sea shore that lies behind his hotel for a morning walk that lasted for about an hour where during his walk, he cleared and cleaned the trashes that banked from the sea on the shore that includes the handful of plastics after which he tweeted about plogging at beach in which he urged to keep the public places clean and tidy.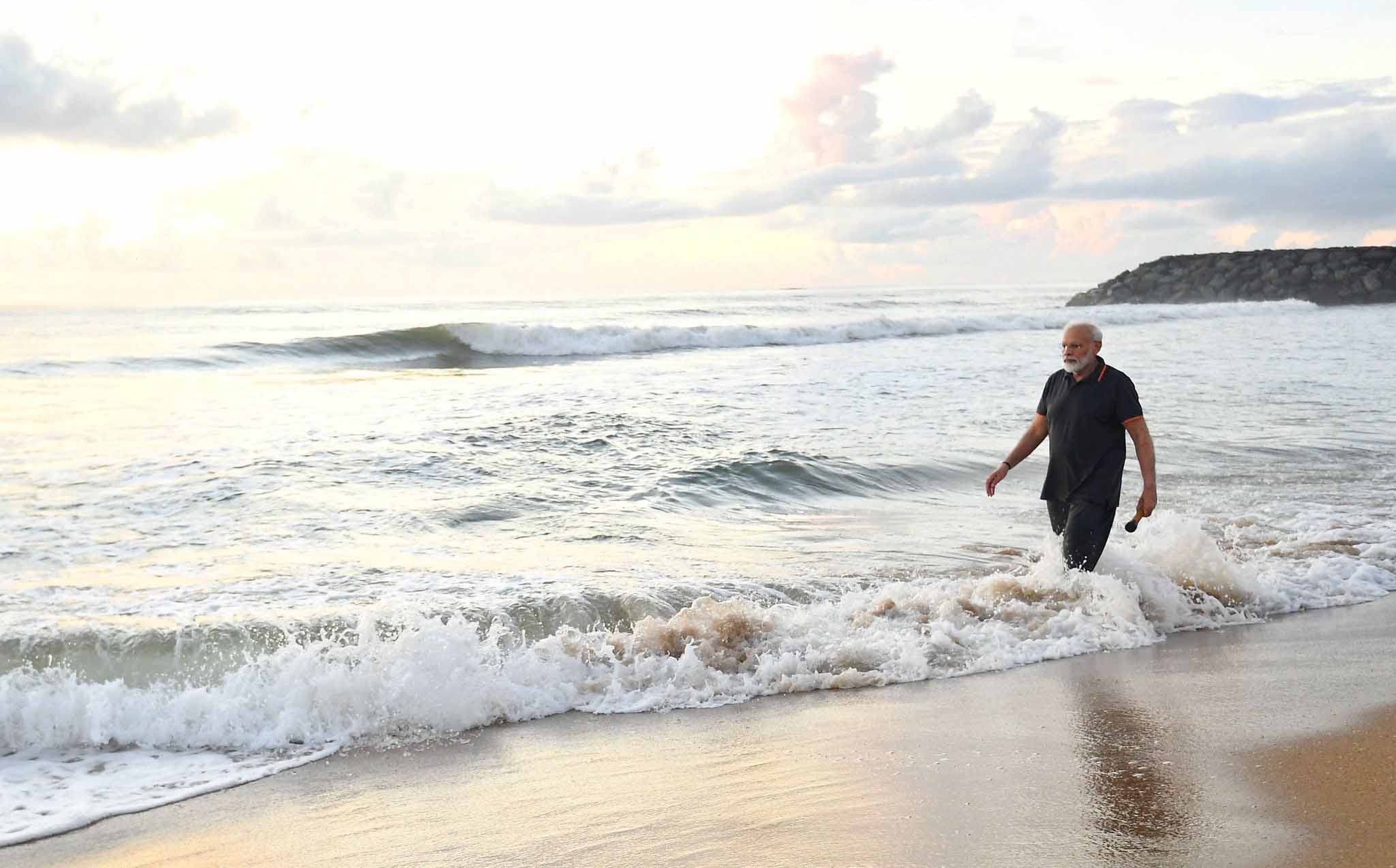 Plogging at a beach in Mamallapuram this morning. It lasted for over 30 minutes.

Also handed over my 'collection' to Jeyaraj, who is a part of the hotel staff.

Let us ensure our public places are clean and tidy!

Let us also ensure we remain fit and healthy. pic.twitter.com/qBHLTxtM9y

— Narendra Modi (@narendramodi) October 12, 2019
Moments ago, Chinese leader left Chennai and reached Mamallapuram where he was welcomed by the Prime minister following which they will table their second day of talks that will resume their first day talks where Modi will host state lunch for Xi Jinping and his delegation after which the summit will officially wrap up from the coastal town and later noon, Chinese President will depart from Chennai.