Veteran actor and Tamil Nadu BJP leader Radha Ravi took the party leaders and functionaries into shock after he turned heads through his remarks by claiming that Prime Minister Narendra Modi and Union Home Minister Amit Shah are the two big accused in India. His comments have become the talk of the town as it has been going viral on social media. 
On Tuesday- July 5, the Tamil Nadu BJP has organized a hunger strike across the state to protest against the DMK government. The party's hunger strike in Chennai's Valluvar Kottam was presided by Tamil Nadu BJP President Annamalai and senior BJP leader Radha Ravi took part in the event and during the protest, Radha Ravi has addressed the party cadres and cited that Annamalai was rose to fame due to the DMK members. 
Radha Ravi said, "DMK members had raised the fame of Annamalai today and we (BJP) have to be indebted to them (DMK). They (DMK) know that they would lose power at any time. We have done it (toppling the government) in Maharashtra. Though we have more MLAs, we wholeheartedly accepted the post of Deputy Chief Minister. In India, there are only two big accused- one is Modi and the other is Amit Shah." 
Radha Ravi further said, "You can say 'Union government' and 'Dravidian model' even for ten thousand times, we won't listen to it. In both the next Lok Sabha and assembly polls, the fight would be between DMK and BJP. BJP will win the 2024 Lok Sabha polls and will form the new government and the DMK would lose its rule in Tamil Nadu like in Maharashtra."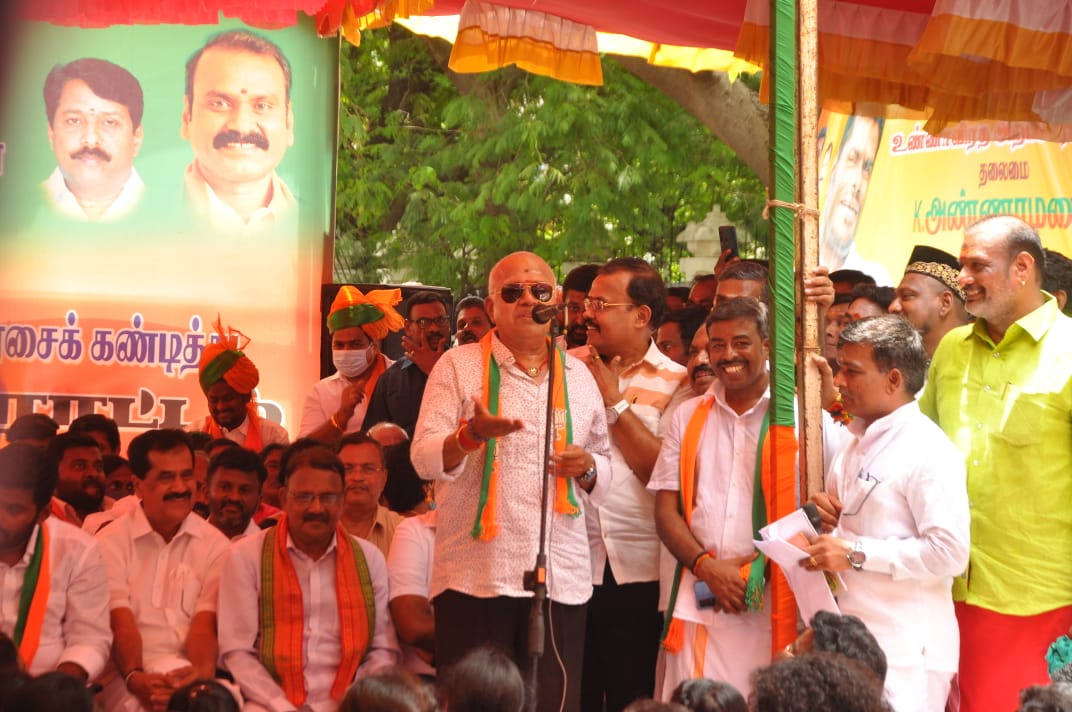 "I have listened to the speeches of Anna, Karunanidhi, and Jayalalithaa. But, I have never seen someone like Annamalai with such an orating skill. DMK is thinking that it is going towards victory but it is going towards defeat. Annamalai is the next Chief Minister. BJP won't gather the crowds by giving money. If the BJP is contesting 160 seats in the upcoming assembly polls, it will win 140 seats and by hearing this, ADMK shouldn't get agitated", Radha Ravi added. 
While Radha Ravi's remarks have been trolled by the opposition parties, the BJP cadres are perplexed on why Radha Ravi has attacked Modi and Shah and called them India's biggest accused. The remarks had sent shockwaves across the party and several cadres are lamenting that the party, which launched the hunger strike against the DMK, was finally got into tension as the senior leader himself has labelled Modi and Amit Shah as the biggest accused.