Chennai has on Friday - May 13 added another feather to its cap of pride, thanks to the various stakeholders involved in erecting and presenting an iconic construction to the city that would provide a hassle-free journey. Chief Minister MK Stalin has on Friday inaugurated what has become Chennai's longest flyover in Medavakkam near Velachery.  
The visuals of the flyover have been going viral for its python-stretch construction and majestic appearance. The longest flyover was built at the cost of Rs 95.21 crore by the state ministry of highways. Being constructed for 2.03 kilometres long, the flyover would give easy connectivity between Tambaram and Velachery and it will also connect Sholinganallur, Mambakkam, and Madipakkam.  
The inauguration event was attended by ministers EV Velu, Ma Subramanian, and TM Anbarasan. MK Stalin rode on the flying highway and inaugurated the flyover on Friday after which it has been dedicated for the use of the people. MK Stalin took to Twitter and shared the pictures of the inauguration and he wrote, "Inaugurated the flyover in Medavakkam that was built at Rs 95.21 crore."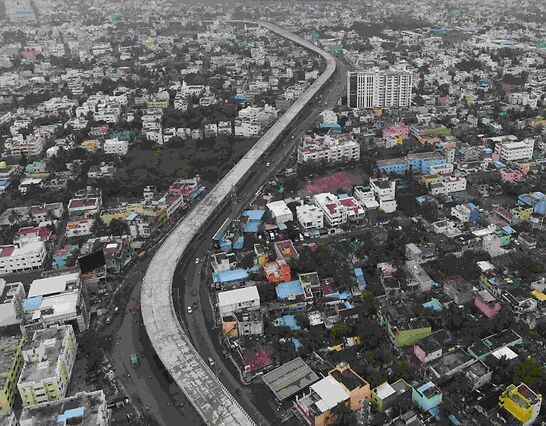 "This is the third flyover that I am inaugurating after Koyambedu and Velachery. Our work toward infrastructure development would continue by constructing more flyovers in Chennai", he added. The state government authorities have said that as the flyover has come for its service, it will largely reduce the disruptions caused by the traffic and snailing movements of the vehicle. The flyover would be connecting major areas near Velachery in a short span of time. Earlier, the Gemini flyover was the longest in the city and now the current one has broken the record. 
மேடவாக்கத்தில் ரூ.95.21 கோடியில் கட்டப்பட்டுள்ள பாலத்தைத் திறந்து வைத்தேன்.

கோயம்பேடு, வேளச்சேரியைத் தொடர்ந்து நான் திறந்து வைக்கும் மூன்றாவது பாலம் இது!

சென்னை முழுதும் மேம்பாலங்களைக் கட்டியெழுப்பி உட்கட்டமைப்பு வளர்ச்சிக்கு வித்திடும் நமது பணி தொடரும்! pic.twitter.com/yGtU1BsL3M

— M.K.Stalin (@mkstalin) May 13, 2022
LIVE: மேடவாக்கம் மேம்பாலத்தின் தாம்பரம் - வேளச்சேரி பகுதி திறப்பு https://t.co/xRhsCaMPr6

— M.K.Stalin (@mkstalin) May 13, 2022