Tamil Nadu Chief Minister MK Stalin and several political leaders in the state have paid their last respects to N Sankaraiah, a veteran Marxist Communist Party leader and towering politician, who passed away on Wednesday - November 15 at the age of 102 in Chennai. Sankaraiah was a freedom fighter and a political architect and the entire state is mourning his loss and expressing condolences to the bereaving family. 
Sankaraiah is a senior most Communist leader and one of the founder members of the Marxist Communist Party. Earlier this week, he was admitted to the Apollo Hospitals in Greams Road, Chennai after he developed fever and cold and he also experienced a drop in oxygen saturation levels. Amidst getting treatment, he developed health complications and breathed his last at around 10 am on Wednesday. 
A freedom fighter and veteran Marxist Communist Party leader, Sankaraiah is regarded and celebrated as one of the architects behind establishing Communist Party in Tamil Nadu. Sankaraiah has a long political career spanning over seven decades and he was also incarcerated for eight years. Sankaraiah had also served as a Tamil Nadu MLA thrice - representing the Madurai West constituency in 1967 and from the Madurai East constituency in 1977 and in 1980. 
Sankaraiah had also served as Tamil Nadu's Secretary of Marxist Communist Party from 1995 to 2002. Born in 1921 in Kovilpatti, Sankaraiah began his public service during his college days in Madurai and as a student, he participated in the freedom struggle of India. He was one of the founders of Madras Students organization and was elected Secretary of Madurai Students Union. 
Sankaraiah has two sons - Chandrasekar and Narasimman and they are also the functionaries of Marxist Communist Party. In July 2021, he turned 100 and Tamil Nadu Chief Minister MK Stalin and senior leaders met him and conveyed their wishes. After learning that Sankaraiah has passed away, political leaders and fraternities of Communist party are expressing condolences to the family of a tall leader. 
After learning about his demise, Chief Minister MK Stalin, along with senior ministers, had visited the hospital and paid his respects to the deceased leader. As Sankaraiah's death has come when there has been a friction between the Tamil Nadu government and Governor RN Ravi over the latter's delay to consent the proposal of conferring honorary doctorate on Sankaraiah, the Chief Minister expressed that he is pained that the doctorate couldn't be conferred on Sankaraiah.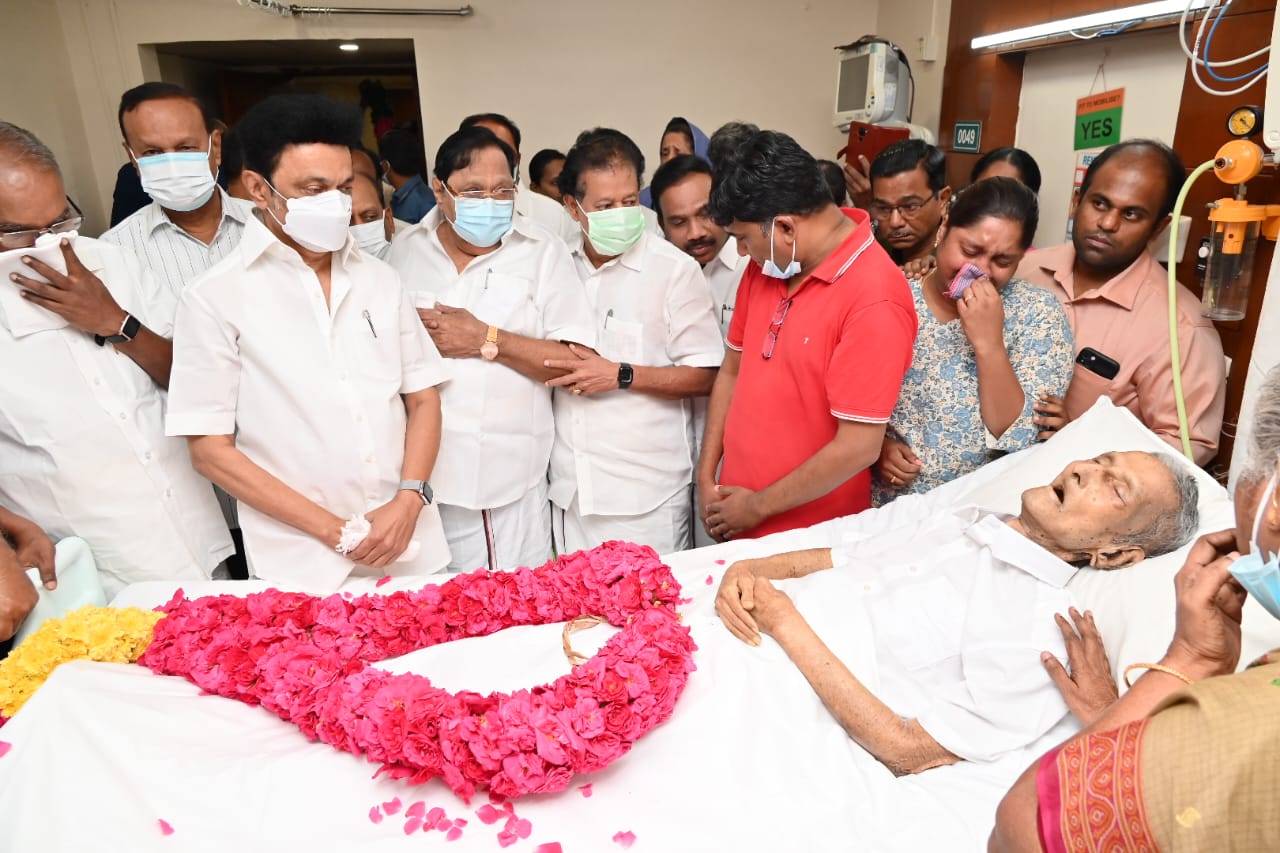 Chief Minister MK Stalin has also announced that a state funeral will be held for the veteran leader. In a statement, MK Stalin said that it was a privilege of lifetime to bestow Thagaisal Tamizhar Award on Sankaraiah and that he was moved by Sankaraiah's gesture of donating the prize money for COVID-19 relief works. In a statement, MK Stalin said, "When I hoped that he would get a speedy recovery, the news of his death had shocked and pained me." 
Senior Marxist Communist Party leader and Kerala Chief Minister Pinarayi Vijayan has also paid his last respects to the deceased comrade. Vijayan took to social media and wrote, "The passing of Comrade N. Sankariah is a huge loss for the worker-peasant movement in India. His glorious legacy, as a freedom fighter, one of the founding leaders of the CPI(M) and a doyen of the peasant movement, inspires all of us to stand firm in building struggles to realise a socialist society. Farewell and Lal Salaam, Comrade!"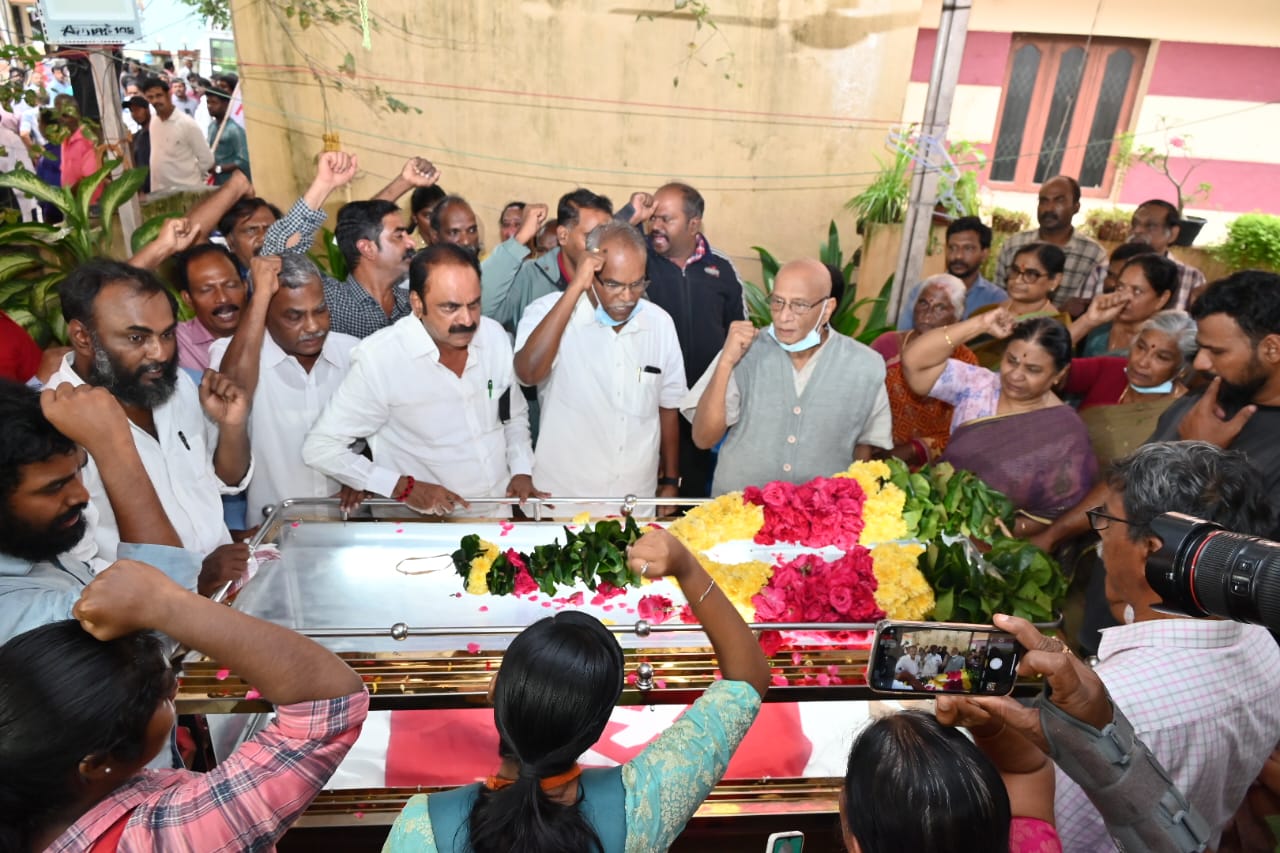 Sankaraiah's mortal remain has been kept at his residence in Chrompet, Chennai and later, it will be taken to Marxist Communist Party office in Chennai. The last rites will be held at 11 am on Thursday - November 16. Several political leaders from MDMK chief Vaiko, Congress leader Thirunavukkarasu, Marxist Communist Party's state secretary Balakrishnan, and hundreds of Communist functionaries had paid their last respects to one of the architects who was instrumental in establishing and disseminating Communist principles in India. 
The passing of Comrade N. Sankariah is a huge loss for the worker-peasant movement in India. His glorious legacy, as a freedom fighter, one of the founding leaders of the CPI(M) and a doyen of the peasant movement, inspires all of us to stand firm in building struggles to realise… pic.twitter.com/9hdPKEDEEF

— Pinarayi Vijayan (@pinarayivijayan) November 15, 2023