Sujatha - The name gives immediate pleasure to readers. This man is a phenomenon for giving a different dimension to writing, not only in literature but also for films. The late 70s and early 80s had popular movies like Gayathri, Priya, Ninaithale Inikkum, Karaiyellam Shenbagapoo extracted from Sujatha's novels, and short stories. Sujatha formally came into film writing much later than expected as he was very reluctant in the beginning to write for an industry which he was not much aware of. He was somehow convinced and brought into the industry. And the rest is history.
Science is a very difficult subject and taking it to various sections of the cinema audience is a Himalayan task. People come to the cinema halls to get entertained and not to get educated. Sujatha, the master in technical writing knew this very well and had reworked on scientific topics when it comes to cinema. He presented science and technology in simple terms, through dialogues in common man's language. "Don't blame the audience. Give anything in a simple form and they will grab it with both hands" is Sujatha's strong belief. He made even a layman understand genetic science and robotics.
Some of the most impressive dialogues of Sujatha...
"Kadavul irukkaaraa illayaa?
Kadavul na yaaru?
Nammala ellaam padaichavaru.
Enna padaichavaru, Dr.Vaseegaran. Kadavul irukkaaru"
(Does God exist?
Who is God?
The one who created us all.
Then here is Dr.Vaseegaran, the one who created me. God does exist) - Enthiran
"Neenga sattathai meeralaam. Naan sattathai kaiyyila eduthukka koodaadhaa?" (When you can disobey the law, what's wrong if I take law in my hands?) - Anniyan
"Un uyir unakku sondham illa. Innoruthan uyir maela unakku urimai illa" (You don't own your life. You don't have any right with others' life) - Roja
"Anga lam Kadamaiya meeruradhukku dhaan da lanjam. Inga Kadamaiya seiyyuradhukkae lanjam" (In foreign countries, they take a bribe to work against the law but here you ask for a bribe to even do your basic duties) - Indian
"Indha kaadhal, keedhal, kanneer, paattu, oviyam ellaamae iruttulayum hotel la yum park la yum bed la mudiyuradhukkaaga" (All these kinds of stuff called love, tears, songs, paintings end ultimately in a hotel or park in bed) - Ayutha Ezhuthu
"Kadaisila ennaiyum arasiyalvaadhi aakkittaangalae" (Finally, they made me behave like a typical politician too) - Mudhalvan
"Saagura naal therinju poachu na vaazhra naal naragam aaidum" (If you know your death day, your living day will become a hell) - Sivaji
How can someone convey the essence of a whole movie in a single dialogue? "That was a good interview" - This famous dialogue from 'Mudhalvan' summarizes the entire rivalry between the hero and villain. Sujatha's relationship with director Shankar is very special. Shankar is known for making socially conscious films on a monumental scale with the help of ever-growing technology. Sujatha's crisp dialogues effortlessly conveyed many complex ideas of Shankar to the audience. "Not only in dialogues, but Sujatha sir's contribution to my films are also huge. Whenever I get stuck at any point while writing the screenplay, Sujatha sir would break the barrier through his valuable suggestions. I would then easily cross that bridge and continue writing. His loss affects me more than anyone else" says Shankar.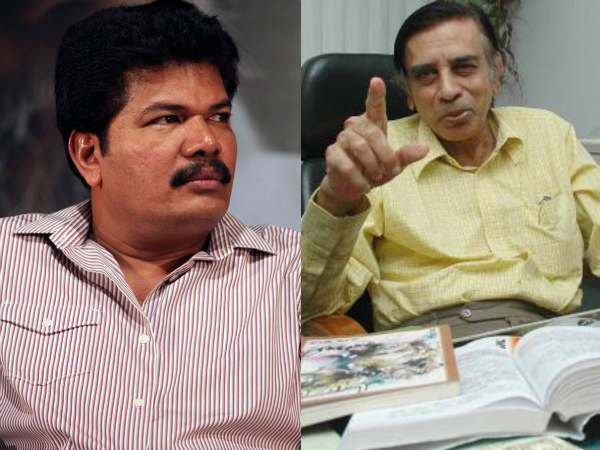 Sujatha had a great bonding with Maniratnam. Sujatha began his 'dialogue writer' journey from Maniratnam's 'Roja'. The duo went on to associate in numerous classics like Thiruda Thiruda, Uyire, Kannathil Muthamittal, Aayutha Ezhuthu. Maniratnam's films are known for short but powerful dialogues. With Sujatha, it became more effectual as his style is all about writing meaningful dialogues in brief. When they worked together, it was like two like-minded lovers generating love through the medium called cinema.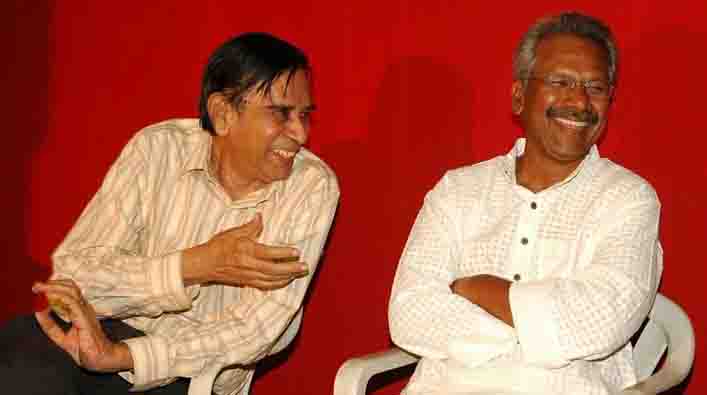 Sujatha's role as a screenplay and dialogue writer in Tamil Cinema lasted for almost two decades until he passed away when half of the work for 'Enthiran' was completed. When Tamil Cinema, in recent times, is feeling the importance of collaborating with writers, the need for people like Sujatha is inevitable.