With having one day left for the consecration in Brihadeeswara Temple in Tanjore, the city has been brought under tight security grid as the state police of Tamil Nadu had deployed thousands of police personnel across the city to enhance the security and surveillance with the expectation around 5 lakh devotees would participate in the consecration ceremony that would finally take place on February 5th, after the legal battles.
On Monday, Tamil Nadu Director of Police JK Tripathy has reviewed security arrangements for the ceremony and he inspected the security in the city's new and old bus stands, Tilakar Thidal, temple entrance, and railway station. While addressing the reporters, Tripathy said that around 5 lakh devotees are expected to visit the temple on Wednesday and he stated the police department had installed adequate security arrangements throughout the ceremony and he also held a review meeting with the district police officers during which the Director-General issued directives and instructions.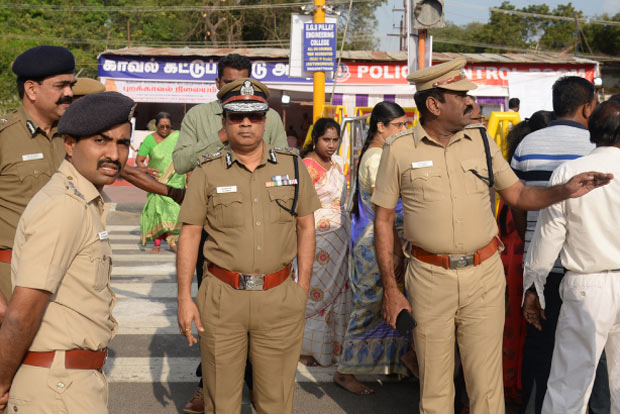 Deputy Inspector General of Tanjore range Loganathan told reporters that the city has been under surveillance through CCTV cameras and apart from already existing cameras, he added that over 190 new cameras have been procured and installed with the view of enhancing the security and he further stated that the police personnel would be monitoring the movements of the public through 300 cameras.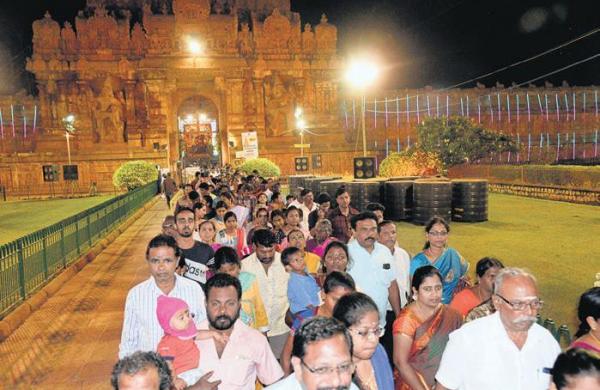 He pointed out that about twelve temporary police stations have been set up and 5,500 police personnel have been on duty. In the security grid, about fifteen crime prevention teams, fifteen bomb detection, and disposal squads have been installed. In the evening hours of Monday, hundreds of people have gathered at the temple to witness the shining lighting arrangements. The reports say dozens of venues have been set up for the cultural programmes.
As per the directive from the Madras High Court, the consecration ceremony at one of the oldest temples in the state would take place both in Tamil and Sanskrit languages. Earlier, Tamil groups and opposition parties had urged the state government to conduct the ceremony in the Tamil language for the temples in Tamil Nadu.