The Chennai police have apprehended Tamil Nadu BJP President Annamalai for organizing a protest without the consent of the law enforcement agency. Annamalai and dozens of BJP functionaries staged a protest at Valluvar Kottam on Tuesday and later, they were arrested and detained by the police. 
According to our sources, the protest was called by the women's wing of the BJP to demonstrate against the derogatory remarks made by DMK functionary Saidai Sadiq. The BJP alleged that Sadiq made remarks against the women leaders of the party and besides slamming the state ruling party, the women's wing of the BJP has approached the Chennai Police Commissioner and lodged a complaint against Sadiq. 
With the view of condemning Sadiq's remarks, BJP women's wing called for a protest at Valluvar Kottam on Tuesday and it was led by Tamil Nadu BJP President Annamalai. However, the party has failed to acquire prior permission from the police for the protest. On Tuesday, hundreds of BJP cadres assembled at Valluvar Kottam and raised slogans against the DMK functionary.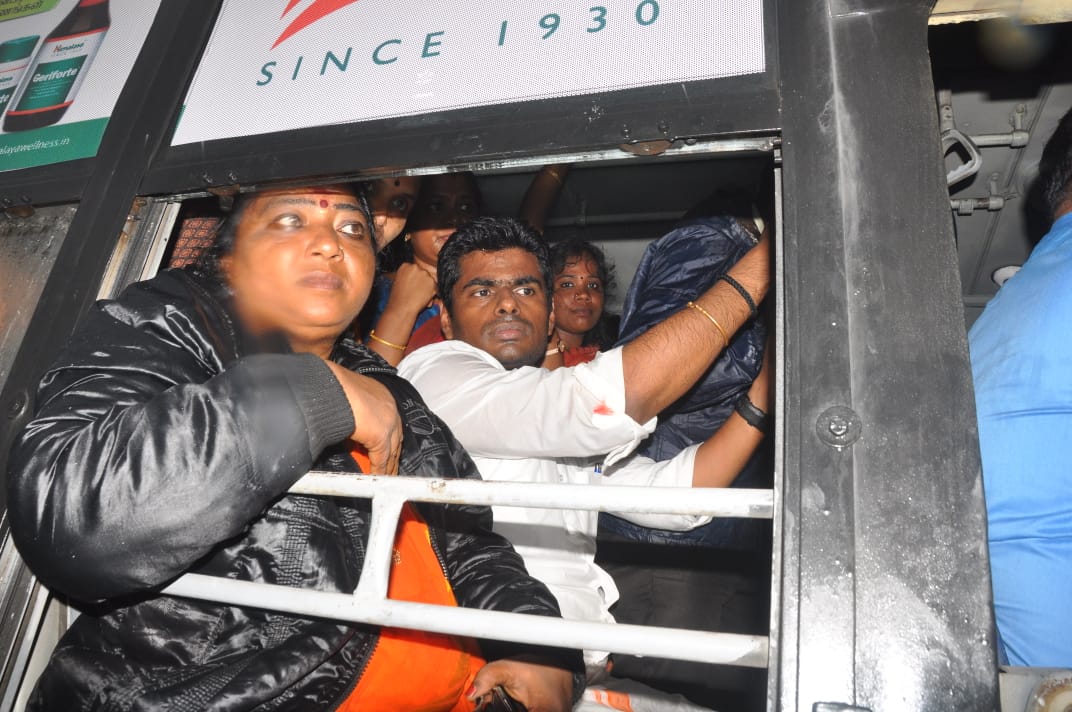 As the protest has no consent from the police, several police personnel were deployed and the officials arrested Annamalai and the cadres of the women's wing. The BJP leaders were later put on a government bus and taken under detention. On the other hand, the Madurai police have filed an FIR against Saidai Sadiq for his derogatory remarks against BJP's women leaders Khushbu, Gowthami, Namitha, and Gayathri Raghuraman.
An FIR was filed by the Madurai police based on a complaint filed by the BJP's women's wing. Sadiq made the controversial remarks while he was addressing a party event at Chennai's RK Nagar last week. It has been reported that a case has been registered against Sadiq under sections 153- promoting enmity, 294(b)- obscenity, 505(1)(b)- incitement, 509 - insulting modesty of women of the Indian Penal Code, and section 4 of the Tamil Nadu Prohibition of Women Harassment Act.