18-year-old Sahana, a native of Tamil Nadu, has now crossed the biggest barrier in chasing her dream of becoming a doctor, and her teachers and some contributors were her driving force to deal and get past the barrier successfully. One among such people is actor Sivakarthikeyan, who came forward and took care of Sahana's NEET coaching in clearing the entrance exam. 
Sahana is a native of Pookollai village in Thanjavur and she belongs to a backward family that faces a struggle in winning bread. Her father is a part-time tailor while her mother is an agriculture laborer. Amid the financial distress, she has been chasing her dream of becoming a doctor. 
In 2018, her battle endured more challenges after Cyclone Gaja had struck her village without baring her home. With the greater damage caused by the calamity, Sahana's family had lost their residence and they were pushed to raise a hut as their temporary residence. Sahana had kept her determination in chasing the dream amid lack of power supply. She performed well in the class 12 board exams and she was the topper in her school by scoring 524 out of 600 marks. 
She finished Class 12 with 87.3% in 2019 from the local government school. While she failed in NEET in her first attempt, she had gone for the second attempt which she cleared by scoring 272 marks in the national entrance exam. Thanks to the Tamil Nadu government's 7.5% reservation bill for the government school students in the government medical colleges as Sahana has secured a medical seat in KAP Viswanatham Government Medical College in Trichy and she is on her way to accomplish her dream. 
Her journey to clear the NEET was made possible by the goodwill of some people who wished she should secure the medical seat. Actor Sivakarthikeyan is one of the people who supported her in her medical studies. Sivakarthikeyan had funded Sahana's private coaching in clearing the NEET this year. 
Speaking to a news agency, Sahana said that since her house didn't have a proper power supply, she used to finish her studies in her school and her teachers helped. She stated that when she topped the school, she realized that she could do well in the NEET. Many people had come forward to help her including her teachers and actor Sivakarthikeyan. 
According to reports, besides taking care of her private coaching for NEET, Sivakarthikeyan will also be bearing the entire expenses in college and the medical aspirant had thanked the actor and others who were driving forces in chasing her dream. Along with Sivakarthikeyan, Thanjavur Collector Annadurai had helped her in securing the seat.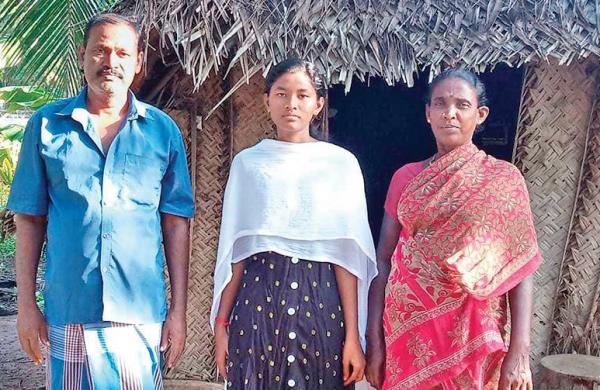 Annadurai had arranged for solar lamps and installed the lamps at her residence at his own expense and the collector has donated Rs 10,000 for her education. The reports say that Sahana had also received free training from one of the residents in the village. On the work front, Sivakarthikeyan has been eagerly waiting for the release of movies 'Doctor' and 'Ayalan'. While he is playing as a doctor in the reel movie, he has now played a significant role in making a student become a doctor in real life.