Tamil Nadu Health Secretary J Radhakrishnan IAS has in the morning hours of Thursday - December 2, met with an accident in Madurai while he was en route for an inspection. The front portion of his car had incurred damage but the bureaucrat and others inside the car didn't face any injury. Following the mishap, Radhakrishnan had boarded another vehicle and continued his journey. 
According to reports, the accident had happened at Madurai airport where Radhakrishnan's car was part of Tamil Nadu Health Minister Ma Subramanian's convoy to inspect a government hospital. The health minister and Radhakrishnan had inspected screening facilities installed at the Madurai airport following the international outbreak of the new Covid-19 variant, Omicron. 
The inspection was part of the state government's recent guidelines over battling the new variant and all the airports in the state were directed to strictly adhere to the guidelines and monitor the passengers who arrive from the countries that are at risk. After the inspection at the Madurai airport, the health minister was proceeding to Government Rajaji Hospital in Madurai for an inspection and Radhakrishnan was also part of the health minister's convoy to the hospital.
As the convoy started from the airport, the vehicle in which Radhakrishnan was travelling met with an accident after hitting a steel barricade. The reports say that the driver had failed to notice the last barricade in the row of seven steel pipes and the front portion of the car was damaged. No one was injured and following the accident, Radhakrishnan had joined the health minister's convoy in another vehicle.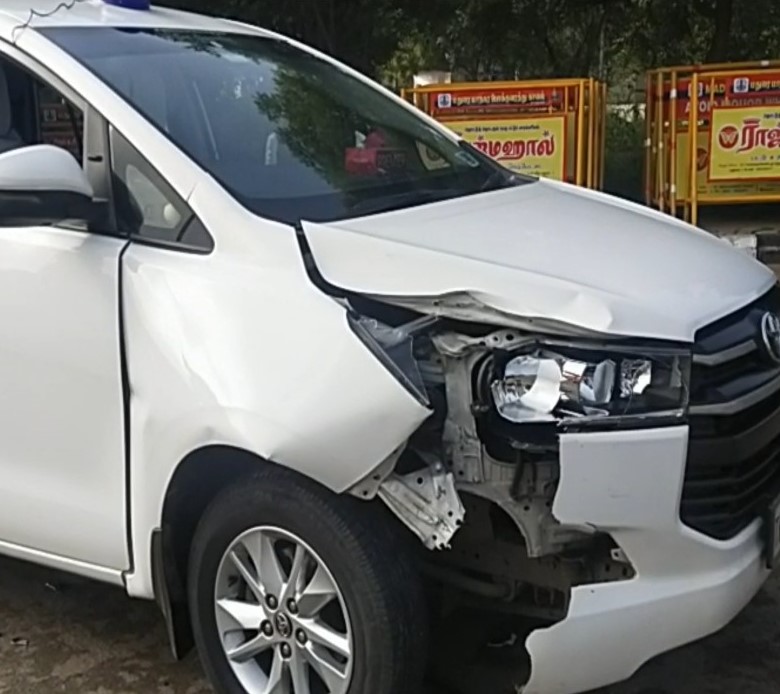 Meanwhile, Health Minister Ma Subramanian had addressed the reporters at Madurai airport concerning the Omicron outbreak. He said no cases of Omicron Covid-19 variant has been detected so far in Tamil Nadu and 477 international passengers were tested at the airport on Wednesday and no one had tested positive for Omicron. He appealed to the people to wear masks and get vaccinated to avoid another complete lockdown. 
All 477 people who travelled from 11 countries to Tamil Nadu tested negative for #Omicron. Separate wards have been set up at 4 Medical College Hospitals in Chennai,Trichy, Coimbatore,Madurai. RT-PCR fee of Rs 600 won't be charged for underprivileged: TN Health Min Ma Subramanian pic.twitter.com/fM99VbFFEP

— ANI (@ANI) December 2, 2021