Days after MK Stalin's son Udhayanidhi Stalin's name was echoed in the Rajya Sabha, a top Tamil Nadu minister has now come up with a demand that Udhayanidhi must become a minister as his dedication to serving people shouldn't be contained to a particular constituency and it must reach the whole state. Udhayanidhi Stalin is a first time MLA, getting elected from the DMK's stronghold of Chepauk- Triplicane constituency in Chennai.
The demand from the DMK Minister has come when celebrating Udhayanidhi's birthday. According to reports, an event was organized on Wednesday in Chepauk to provide welfare assistance to 1000 people in wake of Udhayanidhi's birthday. The event was presided by Tamil Nadu Minister for School Education, Anbil Mahesh Poyyamozhi, who is a close friend of the actor-turned-politician. Poyyamozhi had provided welfare assistance and express his wish that Udhayanidhi should become a minister. 
Speaking at the event, Poyyamozhi said that it's not only his desire to see Udhayanidhi as a minister but it is also the wish from everyone including the voters in the Chepauk constituency. He said that Udhayanidhi's talent and dedication to serving people shouldn't be contained to a particular constituency, rather it should be used for the entire Tamil Nadu. He said, "Udhayanidhi should get a post that will be celebrated by all the 234 constituencies." 
Poyyamozhi had provided relief materials to the people of Chepauk who were affected by the heavy rains in the city and he further said that steps are being taken to identify the schools across the state that face inundation due to heavy rainfall and to fix them. He added that the government had initiated several safety measures for the students in schools.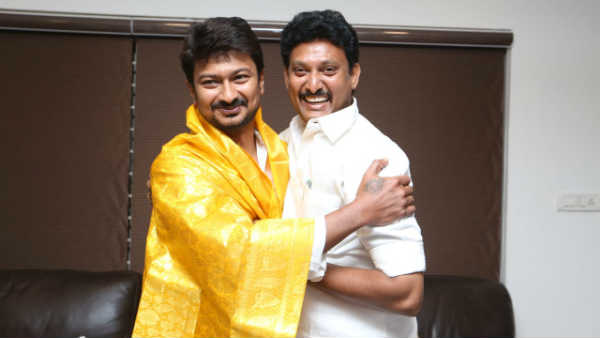 Earlier this week, Rajeshkumar, who was elected as a Rajya Sabha MP from Tamil Nadu in the DMK's ticket, was sworn-in in Rajya Sabha on the first day of the Winter Session. It was for the first time that Udhayanidhi's name was echoed in the Upper House. Rajeshkumar was administered the oath by Vice President and Rajya Sabha Chairman Venkaiah Naidu and after sworn-in, Rajeshkumar had hailed MK Stalin and Udhayanidhi Stalin for giving him the opportunity to serve in the upper house. 
The incident had stirred controversy with several DMK veterans and political activists reacting against it by stating that Rajeshkumar should have avoided mentioning Udhayanidhi's name in the Parliament when the party's rule is welcomed by the Tamil Nadu people. His allegiance to Udhayanidhi Stalin from a national stage had invited trouble to the party nationally over its heir politics. On the other hand, Venkaiah Naidu had told Rajeshkumar that such allegiance won't be recorded by the Parliament and asked him to express it outside the premises.