Veteran Congress leader and former Union Minister Pandit Sukh Ram has passed away in the night hours of Tuesday - May 10 at the age of 94 in Delhi due to brain complications. He was getting treated at AIIMS, Delhi, where he breathed his last. He was hospitalized after he suffered a brain stroke.
Sukh Ram was a native of Himachal Pradesh and his grandson Aashray Sharma has announced the news of his demise. In a Facebook post, Sharma wrote, "Adieu Grandfather, now the phone will not ring." There was no mention of the time when the veteran leader died. Sharma had also shared his childhood photo with Sukh Ram in his post and after learning about his demise, several political leaders have been paying tribute to the deceased.
According to reports, Sukh Ram had suffered a brain stroke in Manali, Himachal Pradesh, on May 4. He was rushed to the regional hospital in Mandi and for higher treatments, he was airlifted to Delhi on May 7 and admitted to AIIMS. Himachal Pradesh Chief Minister Jai Ram Thakur had provided a state helicopter for transporting Sukh Ram from Mandi to Delhi. 
Amid the treatments, Sukh Ram had breathed his last on Tuesday - May 10. Born on July 27, 1927, Sukh Ram served as the Union Minister of State, Communications (Independent Charge) from 1993 to 1996 under the PV Narasimha Rao government. He was a member of Lok Sabha from the Mandi constituency and got elected to the Lower house of the Parliament three times. He also had got elected to the state's Vidhan Sabha five times. 
He was an MLA of Mandi from 1963 to 1984 and during his tenure as the Minister of Animal Husbandry in Himachal Pradesh, Sukh Ram had pioneered the efforts of increasing the income of state farmers' and as part of it, he had brought cows from Germany. In 1984, he was elected to the Lok Sabha and had served as the Minister of State for defence production and supplies, planning and food and civil supplies under the Rajiv Gandhi government. 
However, after winning the 1996 Lok Sabha polls from Mandi, Sukh Ram and his son Anil Sharma, who was Congress MLA from Mandi, were expelled from the party as the son and duo were alleged to have committed a telecom scam. Following the expulsion, they had started their own party - the Himachal Vikas Congress party and joined the Central government by allying with the BJP. In 1998, Sukh Ram has won from Mandi Sadar assembly seat as a BJP candidate by a huge margin while his son was elected to the Rajya Sabha in the same year. 
He had retained the Mandi assembly seat in the 2003 Himachal Pradesh Assembly polls but he had decided to join the Congress ahead of the 2004 Lok Sabha polls. In 2011, Sukh Ram was sentenced to five years of incarceration after he was convicted of the charges of corruption when he was the Union Communications Minister in 1996. Ahead of the 2017 assembly polls in Himachal Pradesh, Sukh Ram had joined the BJP again with his son Anil Sharma and his grandson Aashray Sharma. 
In two years, there was a switchover as Sukh Ram had again joined the Congress ahead of the 2019 Lok Sabha polls with his grandson Aashray Sharma while his son Anil Sharma remained with the BJP. In the 2019 Lok Sabha polls, Sukh Ram had got a ticket from the Congress party for his grandson Aashray Sharma to contest in the polls. However, he didn't make it through and conceded the defeat to the opposition candidate.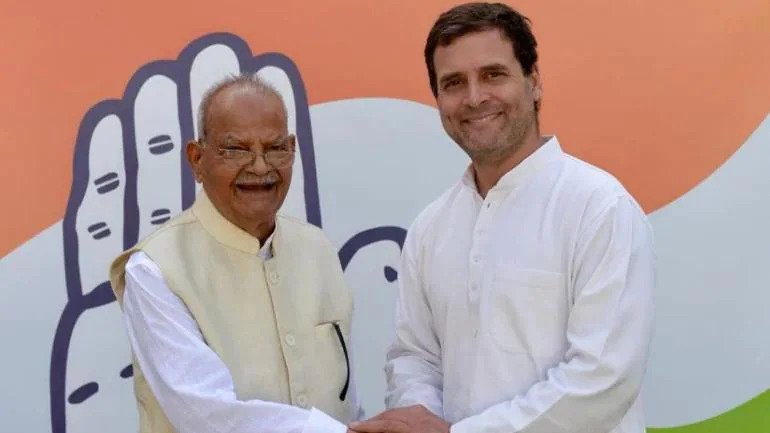 While Sukh Ram was not active in politics for the past few years, his son Anil Sharma has been serving as the BJP MLA from Mandi. Sukh Ram's other grandson Aayush Sharma is an actor and he is married to the sister of popular Bollywood star Salman Khan. Taking to Twitter, Congress leader Rahul Gandhi wrote, "The news of the passing away of senior Congress leader and former Union Minister Pandit Sukh Ram Ji is extremely sad. I express my deepest sympathies to his family."
In his tribute note, Congress spokesperson Randeep Surjewala said, "Deeply shocked to hear the news of the passing away of senior Congress leader, Pandit Sukh Ram Ji. His simple nature, friendly image, hard work spirit, and association with the grassroots workers will always be a guiding path for the next generation. My condolences to the family members."