At a high time when actor Vijay has been in a spotlight with the speculations of his political entry, the actor's outfit Thalapathy Vijay Makkal Iyakkam (TVMI) has triggered a controversy after its flags were spotted at the padayatra conducted by Tamil Nadu BJP chief Annamalai.
Annamalai has been spearheading a statewide padayatra with the an objective of boosting Prime Minister Narendra Modi's image in Tamil Nadu and strengthening the party's base in the state ahead of the 2024 Lok Sabha polls. Named as 'En Mann, En Makkal' (My soil, My people), the yatra was inaugurated by Union Home Minister Amit Shah last month in Rameswaram and the IPS officer-turned-politician will be travelling across the state for the next six months before concluding the yatra in Chennai.
Last week, when Annamalai reached Theppakulam in Madurai as part of the yatra, several BJP functionaries had welcomed him and among the people who had gathered in the area were a few persons who had held the flags of Thalapathy Vijay Makkal Iyakkam. Furthermore, they went on to welcome Annamalai dearly. The visuals of the incident went viral and sparked talks whether Vijay, who vowed to follow the leaders like Periyar and Kamarajar, is drawing a political equation with the BJP. 
As the incident sparked controversy, TVMI leadership had cleared the air by asserting that the people those who had held the outfit's flags at Annamalai's padayatra have no connection with the outfit. On August 5, TVMI's general secretary Bussy Anand took to social media and wrote, "Those people who were reported to have taken the TVMI flag to another party's rally do not hold any positions in TVMI. Further, there is no connection between TVMI and those people."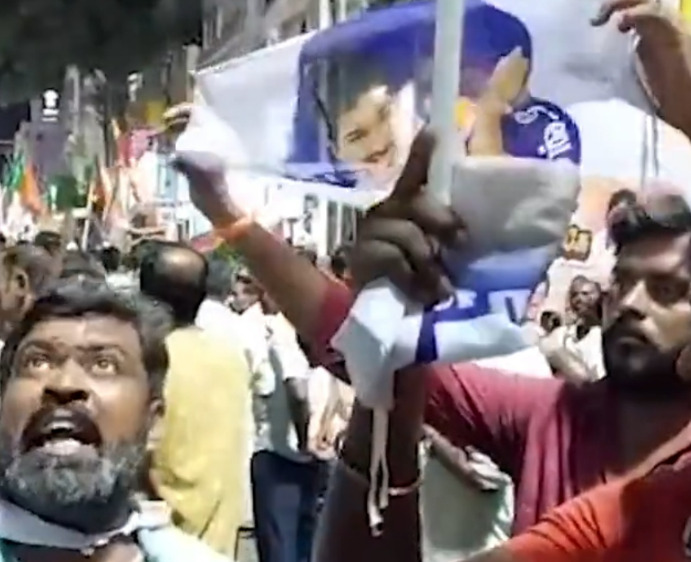 For the past few months, actor Vijay has been busy chalking out the plans to enter politics as he has been enhancing his social connect with the people. From felicitating the district toppers of Classes 10 and 12 board exams to asserting that he will quit acting if he enters politics, Vijay's actions and remarks have been a debate across the state. He has also been meeting with the district secretaries of TVMI.
Last week, his outfit had held talks with the advocates wing and the TVMI has also been conducting several social outreach programmes like serving food to street dwellers and providing free tuitions to the backward students. TVMI has had a successful electoral run before as in the 2021 local body polls, the outfit had contested in the 169 seats across the state and won 115 seats. When it has been speculated that Vijay will enter politics ahead of the 2026 Tamil Nadu assembly polls, this incident of outfit's flags at BJP's Annamalai padayatra has become a setback due to which the outfit had quickly reacted to clear the air.