A 35-year-old man in Madhya Pradesh has become the talk of the town after marrying his three girlfriends at the same time after 15-year of live-in relationship with them during which he had become a father to six children. The man, Samrath Maurya, belongs to a tribal community so are his wives, which had legality for polygamy as per the constitution. 
The wedding took place on April 30 in the Alirajpur district of Madhya Pradesh. This district is known for its huge population of tribal communities. Maurya was the former head of the Nanpur village and the wedding was attended by the family members including his six children. After a 15-year of live-in relationship, Maurya had decided to marry his girlfriends, through which they can be able to take part in the community rituals.
According to reports, Maurya had married Nan Bai Mujalda (33), Mela Solanki (29), and Sakri Chaungad (28). The ceremony had happened for three days from April 29 to May 1 and the main marriage ritual has taken place on April 30. It has been reported that Maurya had fallen in love with these three women at different times and during the live-in relationship with them for 15 years, he had four children with Nan Bai and a son each with Mela Solanki and Sakri Chaungad.
All of his children had attended his marriage. While Maurya fell in love with three women, he couldn't able to marry them owing to his bad economic condition as the ceremony had required larger spending on rituals. He was then living with them at the same residence. However, his girlfriends and children were restricted from attending the traditional rituals of their Bhilala tribal community as the women weren't married.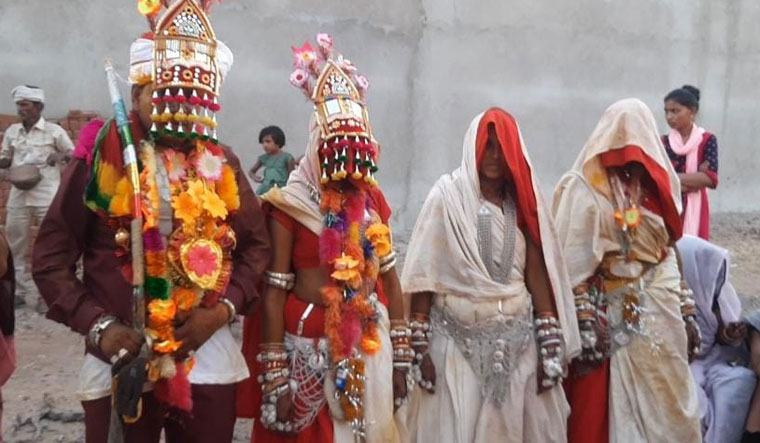 Following such restrictions, Maurya had decided to marry them legally and his economic condition was also good to meet the expenses and requirements. He had arranged the ceremony and officially married his three girlfriends at the same time and the ceremony was attended by the local leaders, community members, and his relatives. It is pertinent to note that polygamy and live-in relationships are long-prevailing across the tribal communities in Madhya Pradesh and as per the constitution, polygamy is legal for the tribal communities.