Prominent Indian businessman Anand Mahindra, who is the Chairman of the Mahindra Group, has kept his promise of gifting a new home for 85-year-old Kamalathal, who is fondly known as 'Idli Amma', in Tamil Nadu. A native of Vadivelampalayam in the Coimbatore district, Kamalathal has instilled herself with a zeal for serving the people across and beyond her neighbourhood. For decades, she has been selling idli for Re 1, despite the surge in the prices of the ingredients.
Her impeccable service to serving her community by providing an ultra-low-cost meal has come to light across the nation after Anand Mahindra had tweeted about Kamalathal in April 2021. Sharing her story of selling idli for Re 1, Mahindra had cited that he will be gifting a home to the octagenarian. Idli Amma has reached rampantly and praises and help were pouring to her, which lubricated her to continue feeding more people at the same price. 
Kamalathal had a small kitchen in which she would prepare hundreds of idli with a hearty smile and taste. Her idlis had a huge fan base among the migrant workers and the daily wage workers in her neighbourhood. Idli has been a popular food in Tamil Nadu and she had soon become popular by selling idli at Re 1. As Anand Mahindra promised her a new home, the construction of the home began on January 28 this year and it was completed on May 5.
On Sunday - May 8, on the occasion of Mothers' Day, Kamalathal had got the keys and entered her new home with a great breather that she no more has to cook in a modest kitchen. Mahindra took to Twitter on Sunday and released a visual of Kamalathal cutting the ribbon of her new home. The businessman wrote, "Immense gratitude to our team for completing the construction of the house in time to gift it to Idli Amma on #MothersDay She's the embodiment of a Mother's virtues: nurturing, caring & selfless. A privilege to be able to support her & her work. Happy Mother's Day to you all!"
Kamalathal said, "I made a request for a house. As promised, Anand Mahindra built me one with a special kitchen and handed over the keys to me. I am very happy."  In the video, Mahindra had thanked Idli Amma for giving this opportunity and said, "May you continue to rise and shine through the noble work of feeding the hungry." The businessman has also released the video by captioning it in Tamil. The visuals have been going viral across social media with Kamalathal becoming the talk of the town yet again.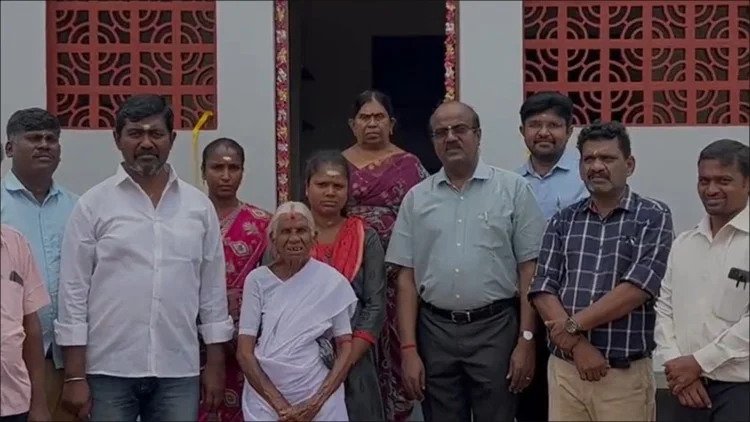 According to reports, Kamalathal's new home is built in 300 square feet and it has a special kitchen, dining hall, living hall, a single bedroom and attached bathroom. Kamalathal said that she is very healthy and can serve people for the next ten years. She has promised that she won't increase the price of idli till her last breath. She further added that she has applied for a drinking water connection and has been awaiting approval from the Pooluvapatti village panchayat. 
Kamalathal was initially selling idli for just 25 paise. Later, she had hiked the price to 50 paise and the last hike was made a decade ago during which she had decided to sell idli at Re 1, which stands till now. While the Covid-19 pandemic had distressed millions financially, Kamalathal didn't increase the cost of her idli and during the lockdown, she had served food for many migrant workers in Coimbatore. It was when she got the attention of Anand Mahindra and in a year, she is now the owner of a home. It must be noted that earlier, Bharath Gas and Hindustan Petroleum Ltd had donated her gas cylinders to free her from cooking in front of the firewood. 
Immense gratitude to our team for completing the construction of the house in time to gift it to Idli Amma on #MothersDay She's the embodiment of a Mother's virtues: nurturing, caring & selfless. A privilege to be able to support her & her work. Happy Mother's Day to you all! pic.twitter.com/LgfR2UIfnm

— anand mahindra (@anandmahindra) May 8, 2022