A day after finding 31-year-old Kiran Kumar guilty of abetting his wife Vismaya to commit suicide after tormenting her for more dowry, a Kerala court has on Tuesday- May 24 delivered the quantum of sentence to him in what has become a prominent case across the nation. The conviction and the sentence have come nearly a year after Vismaya has died, which showcased the patriarchal culture of nurturing dowry. 
In the midst of huge attention, the Kollam Additional Sessions Court has sentenced Kiran Kumar to ten years of incarceration under the Dowry Prohibition Act. The quantum of the sentence was dictated by Justice KN Sujith and though the accused was also sentenced under two different sections for six and two years respectively in addition, he has to serve only 10-year imprisonment and the sentence has been welcomed by the scores of people. 
When the final leg of proceedings had begun on Tuesday, Kiran's lawyers had requested the court to avoid giving him a life sentence considering his age. The accused had requested a minimum sentence as he was the lone support of his elderly parents. When the court had asked Kiran if he has anything to share, he said that his father has been suffering from memory loss and that his mother would be left without a support if he was sentenced. 
On the other hand, the prosecution and Vismaya's family had demanded maximum punishment for Kiran Kumar. On Tuesday, the prosecution had argued that the suicide was almost akin to murder and demanded the maximum punishment for the convict. However, the Justice has awarded a 10-year prison sentence and a fine of Rs 12.55 lakh to Kiran Kumar. His entire fine amount will be paid to Vismaya's parents as compensation. 
According to reports, Kiran has been sentenced to ten years in jail for the offence of dowry death, six years in jail and a two lakh fine for abetting Vismaya's suicide, and two years in jail and a Rs 50,000 fine under the offence of criminal intimidation. He has also been sentenced to six years in jail and a Rs 10 lakh fine under the Dowry Prohibition Act and one year in jail plus a Rs 5,000 fine under the offence of demanding dowry. 
On Monday - May 23, the Kollam court has found Kiran Kumar guilty of his wife's death. 22-year-old Vismaya had committed suicide after facing harassment and torture for dowry from her husband Kiran Kumar. The death of Vismaya has strongly fueled the urge to invoke stringent legal measures towards punishing the accused and the measures to curb the mental trauma of the victims. The incident happened last year and a year later, the court has delivered its verdict. On Monday, the Kollam Additional Sessions Court Judge Sujith has held Vismaya's husband Kiran Kumar guilty under sections 306 - abetment of suicide, 498A - cruelty by husband or a relative, and 506- punishment for criminal intimidation of the Indian Penal Code. 
According to reports, his bail, which was awarded by the Supreme Court, has also been revoked and he will be arrested in connection with the suicide of his wife. 22-year-old Vismaya was found hanging in the bathroom of Kiran Kumar's house at Sasthamkotta in the Kollam district on June 21, 2021. She was a fourth-year undergraduate student in Ayurveda Medicine and Surgery at Mannam Ayurveda College in Pandalam. She got married to Kiran Kumar on May 31, 2020. Kiran Kumar was working as the Assistant Motor Vehicle Inspector and he was fired from the role by the Kerala Government after he was accused of abetting Vismaya's suicide.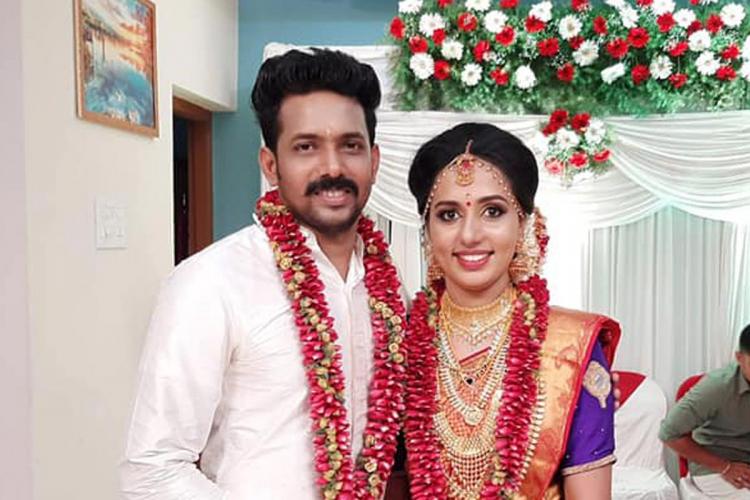 Vismaya's death had shocked the entire state of Kerala and beyond. A day after her death, the police had arrested Kumar on June 22. A case was booked against him under sections 498A -subjecting a woman to cruelty for dowry, 306- abetment of suicide, 323- punishment for voluntarily causing hurt, 506 - criminal intimidation, and 304B - dowry death of the Indian Penal Code. However, Kumar was awarded bail by the Supreme Court in March 2022. Vismaya's parents and brothers had alleged that she was a victim of dowry harassment. 
They had produced digital evidence, which had played a vital role in convicting Kiran Kumar in the case. Though Vismaya's family had provided a new car and a set of gold jewellery to Kiran Kumar after their marriage, the latter wasn't happy about the dowry and he had tormented Vismaya asking for more dowry. He went to beat and harass her incessantly. Vismaya had got no respite from her husband's family and embraced more such abuses.
During the investigation of the case, it has come to the revelation that Vismaya had sent a voice message to her father nine days after the marriage. In the audio clip, Vismaya told her father that if she continued to live at her husband's house, she might commit suicide and she further told him that she can't be able to live there anymore. Similar voice messages were also spread after her death, following which her family had submitted such messages to the police as evidence that Kiran had tortured Vismaya. 
Vismaya was a native of Nilamel, near Kadakkal of the Kollam district. Two days before her death, she has sent messages to her cousin telling him that her husband had brutally beaten her many times. It must be noted that just a day before the verdict, a new and shocking voice recording between Vismaya and her father had come to light. In the recording, Vismaya had told her father that he will see her again if she was made to live at her husband's house. 
Though her father consoles her, Vismaya was heard saying that she is in fear. Last year, she had shared some photos with her cousin in which she was seen with injuries on her face, hands, and shoulder. The photos that Kiran Kumar had tortured her had become huge evidence in the case. After her death, Vismaya's father had told the police that his family had given 100 sovereigns of jewellery, one acre of land and a Toyota car, worth Rs 10 lakh, as dowry. However, Kiran had tortured Vismaya asking for a different car model and more cash. 
Based on the complaint from Vismaya's family, Kiran Kumar was arrested by the police. In August 2021, the state government had fired him from the role of Assistant Motor Vehicle Inspector. In September 2021, the Kerala police had filed a 500-page charge sheet naming Kiran as the main accused in Vismaya's death, saying that Vismaya had died by suicide, but she was driven to death by constant dowry harassment and mental harassment by her husband Kiran Kumar. 
Rajkumar, the DSP of Sasthamkotta, had led the probe. During the trial, 42 witnesses, 102 documents, and several call records were examined in the court. The prosecution had argued that Kiran had harassed Vismaya, demanding more dowry under his belief that he deserved more as he was a government employee. The trial had lasted for four months and the Kollam Court has delivered the verdict eleven months after Vismaya's death. In the verdict, Justice Sujith had held Kiran guilty of three charges including dowry death while two other charges 323- punishment for voluntarily causing hurt and 506- criminal intimidation were not included in the verdict. 
As the judgement and quantum of the sentence have been pronounced against Kiran Kumar, Vismaya's father Trivikraman Nair has said that he was satisfied with the verdict. However, though the family feels that Vismaya has gotten justice, her mother Sajitha has said that Kiran Kumar deserved life imprisonment. The reports say that the family is consulting with their legal team to appeal to the High Court with the view of awarding life imprisonment to the accused.