In what has become a surprise meeting of the day, ADMK's expelled General Secretary VK Sasikala has on Monday- December 6, met superstar Rajinikanth in Chennai, five days ahead of the latter's birthday. The meeting has come when tensions have been brewing in the ADMK over the party's leadership crisis. It has become Sasikala's first meeting with the superstar in nearly five years and it has drawn a quick spotlight across the state with several speculations on what they had discussed. 
The unanticipated meeting was held at Rajinikanth's residence in Poes Garden, Chennai and Rajinikanth's wife Latha Rajinikanth was also part of the discussion that lasted for over 30 minutes. Though the meeting was held on Monday, it has come to light on Tuesday after Sasikala had issued an official statement in which she has tagged herself as the General Secretary of the ADMK. 
In a statement dated December 7, the statement revealed that Sasikala had met Rajinikanth to congratulate him on being conferred with Dadasaheb Phalke Award recently. She also had inquired about his health condition and he had undergone a brief hospitalization recently. The statement said, "Puratchithai Chinamma (Sasikala) has met Superstar Thiru Rajinikanth at his residence yesterday evening. His wife Latha Rajinikanth was also present during the meeting."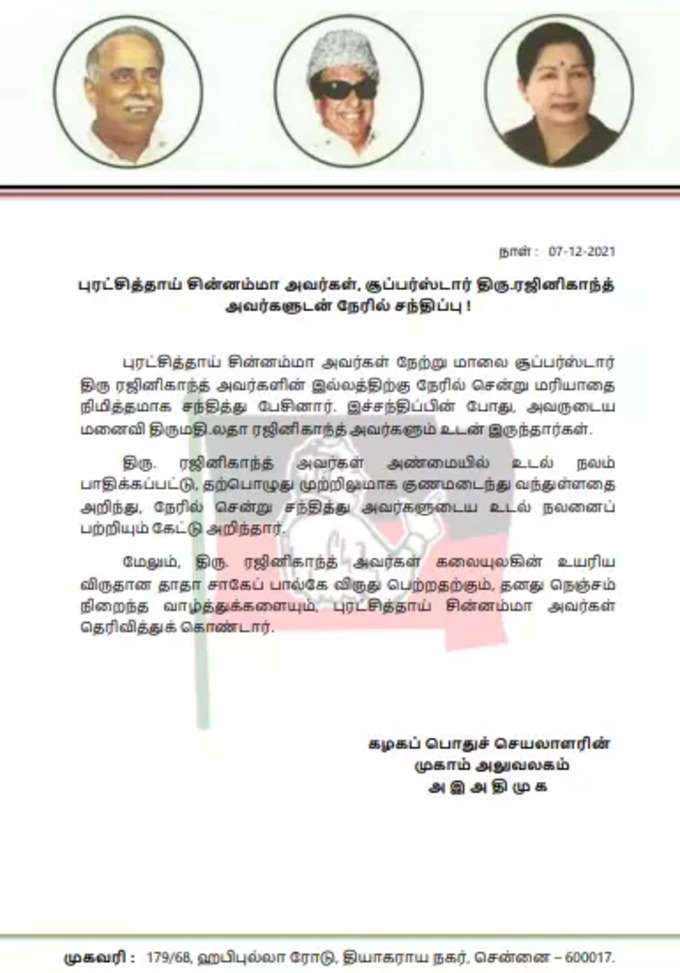 It further said, "After knowing that Rajinikanth was hospitalized recently and he has recovered currently, she met him in person and inquired about his health condition. " "Furthermore, Puratchithai Chinamma has expressed her heartfelt congratulations to Rajinikanth for receiving Dadasaheb Phalke Award, the highest honour of cinema", the statement added. 
The picture of the meeting was released and it has been going viral on social media, which has stirred major attention. After four years of incarceration, VK Sasikala has been displaying to be active in politics in her bid to make a political comeback and take over the ADMK under her control. Amid the leadership crisis in the ADMK, the current leaders of the party are attempting to close the doors for Sasikala by removing the post of General Secretary to retain their reign. However, Sasikala claims to be the party's General Secretary and continues her political drama with more spotlight. 
Former AIADMK leader VK Sasikala met with actor Rajinikanth and his wife Latha at his residence in Chennai. pic.twitter.com/8SGNT2y8M1

— ANI (@ANI) December 7, 2021