In what has become a weird fest in Tamil Nadu, the BJP workers in the state had held a feast in the Madurai district in which they had slaughtered a goat after naming it after the Congress party. The event has happened at the Pandi temple in Madurai and the saffron functionaries had conducted it to pray for Prime Minister Narendra Modi's good health and to condemn the Congress party, which rules Punjab where the Prime Minister had endured a massive security breach recently. 
According to our sources, the fest took place on Friday - January 7 and had become the talk of the town for its eccentric nature. It was organized by the Tamil Nadu BJP Youth Wing and the event had the presence of Sankarapandian, the secretary of the youth wing and other functionaries. As per the recent restrictions from the state government, the places of worship will be closed on Friday, Saturday, and Sunday in light of the Covid spread. 
As the temple was closed, the BJP functionaries had gathered before its entrance, offered prayers from the gate, and slaughtered the goat.  They had brought the goat with the placard placed on its head which read 'Indian National Congress'. It had also carried the election symbol of the Congress party and after offering the prayers, they slaughtered it and served it for the feast. The visuals of their weird fest have been going viral on social media.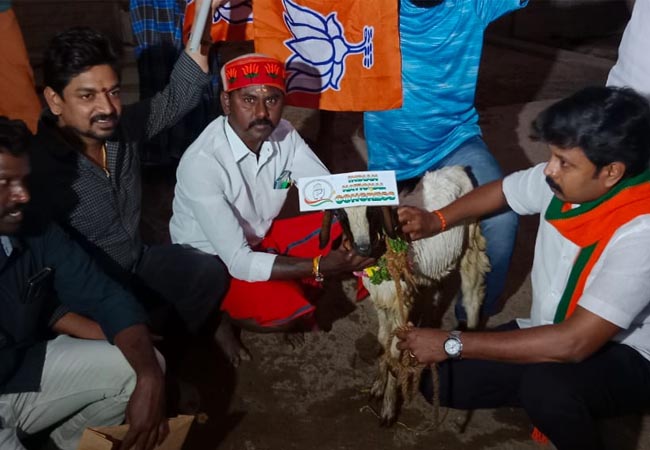 Speaking about the fest, BJP Youth Wing Secretary Sankarapandian said, "We killed the goat with the placard that carried the name and symbol of the Congress party to reiterate that the Congress party, which failed to provide adequate security to the Prime Minister, shouldn't be present anywhere in India." The BJP functionaries had also prayed for the good health of Prime Minister Modi.