In a weird event that turned heads from across the nation, a 70-year-old father-in-law has married his 28-year-old daughter-in-law in the state of Uttar Pradesh. The strange wedding has come after the death of septuagenarian's son. 
70-year-old Kailash Yadav is a resident of Chhapia Umaro village of Gorakhpur, Uttar Pradesh. Yadav works as a watchman at the Barhalganj police station. He lost his wife 12 years ago and his son has also died recently. Following his son's demise, Kailash Yadav made arrangements to get his daughter-in-law, 28-year-old Pooja, married to another guy. 
However, this marriage didn't last for long and Pooja returned to Kailash Yadav's home. As Pooja was living as a widow, Kailash Yadav decided to marry her. According to reports, Kailash has quietly married Pooja in a temple without informing anyone in the neighbourhood or the village. The locals came to know about the covert wedding after the picture of the newly-wed couple went viral on social media.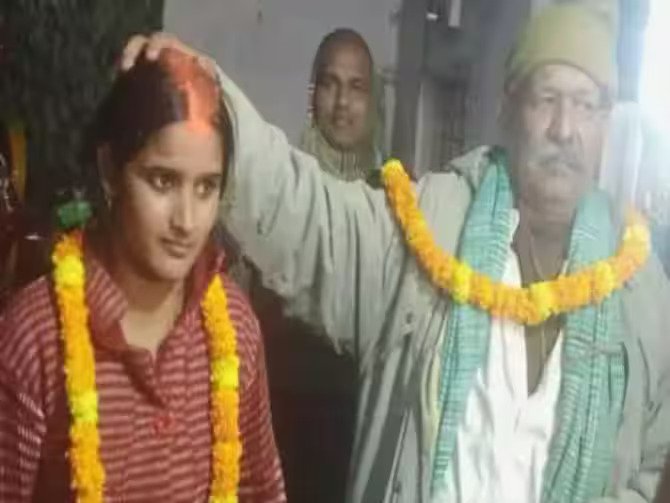 Responding to the event, Inspector JN Shukla of Barhalganj police said that he had seen the photograph on social media and would launch an inquiry into it. While there has been no official complaint filed in this regard, the questions are rampant over Kailash Yadav's intention to marry a woman who is a 42 years younger than him. 
Kailash Yadav had four kids and the deceased son is his last son. It has been reported that Yadav and Pooja have married with a mutual consent and Pooja has expressed that she is very happy with her new relationship. Their marriage has become the talk of the town.