The Chennai police have apprehended ADMK's interim general Secretary and Tamil Nadu's Opposition leader Edappadi Palaniswami for staging a protest by defying the ban imposed by the law enforcement agency. Along with Edappadi Palaniswami, hundreds of ADMK cadres including the party MLAs were arrested during the morning hours of Wednesday - October 19. 
Edappadi Palaniswami and the ADMK functionaries were staging a protest in Valluvar Kottam in Chennai for condemning what they called a murder of democracy in the state. Palaniswami announced that the party would hold a hunger strike on Wednesday against the conduct of the Speaker in evicting the ADMK MLAs from the assembly on Tuesday. 
The party has petitioned the police and sought the permission of the law enforcement agency to hold the hunger strike. However, the Chennai police denied permission citing the law and order issues. Defying the ban to protest, the ADMK members gathered for the hunger strike at Valluvar Kottam and they all were dressed in black. 
In the wake of the illegal gathering, hundreds of police officials were deployed to the spot to clear the protesters. The police officials arrested Edappadi Palaniswami and his supporters and the detained members were taken under custody. They were taken to Rajarathinam stadium in Egmore. The ADMK announced the protest against Assembly Speaker Appavu after he expelled Palaniswami and several ADMK MLAs from the assembly on Tuesday.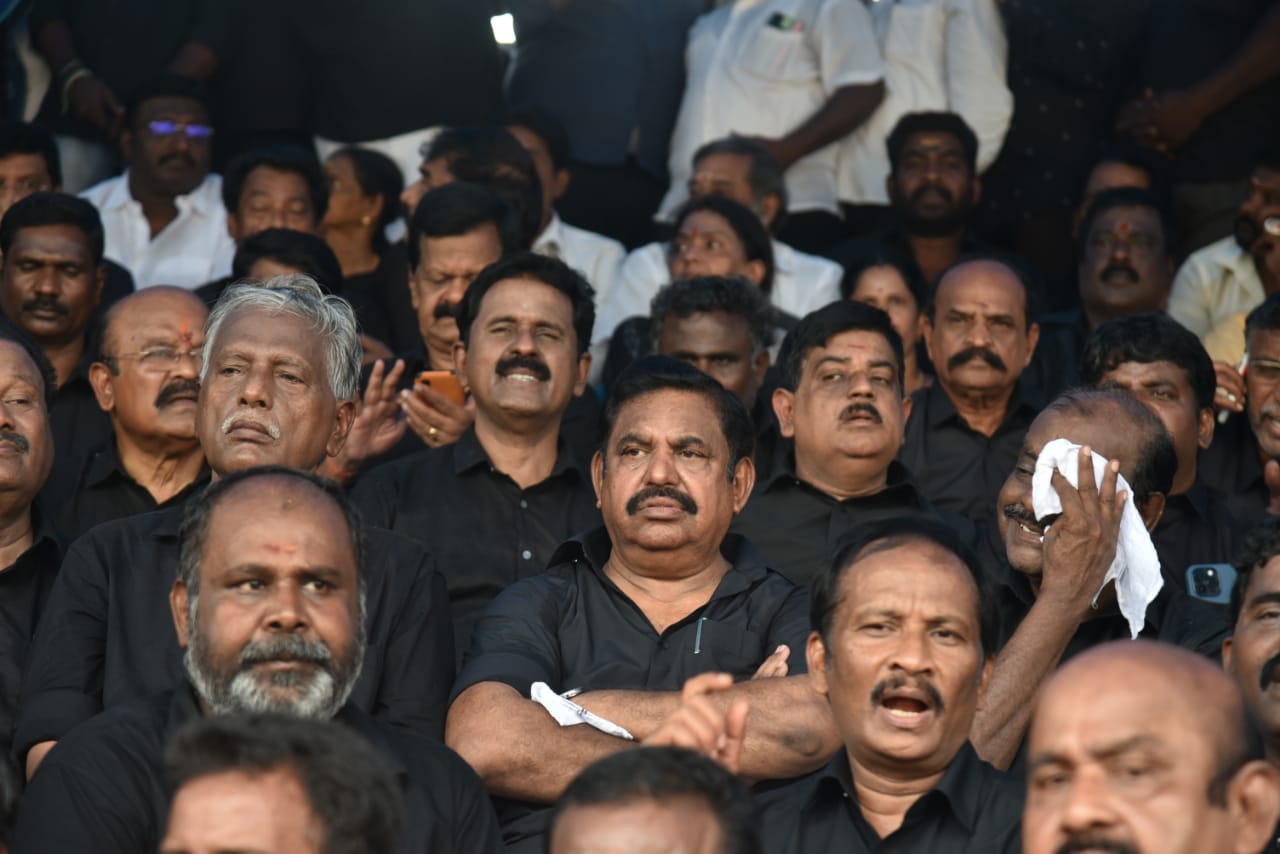 In the assembly session on Tuesday, Edappadi Palaniswami and his faction had demanded the Speaker recognize senior ADMK leader R B Udhayakumar as the Deputy Leader of the Opposition in place of Palaniswami's rival O Panneerselvam. However, Speaker Appavu said that there is no such role as the Deputy Leader of the Opposition in the assembly and he then evicted Palaniswami and several ADMK MLAs from the assembly. 
Condemning the eviction, the party announced a hunger strike which was later banned by the police. Speaking to the reporters on Wednesday, Edappadi Palaniswami said, "Speaker (Appavu) mentioned that there was no space to replace Deputy LoP in the Assembly rules but it's a wrong argument. The Speaker didn't obey the Supreme Court order."
Several ADMK leaders led the protests on Wednesday across the state and the ADMK cadres displayed a sense of fury after the police arrested Edappadi Palaniswami. In a press release on Tuesday, ADMK announced that it will stage a protest against the murder of democracy and the biased act of Speaker Appavu in the assembly. 
Earlier, ADMK urged the Speaker not to allot the Deputy Leader of the Opposition chair in the Assembly to ADMK MLA O Panneerselvam. The Palaniswami's camp asked the Speaker to allot the seat to RB Udhayakumar. However, O Pannerselvam continued to sit on the chair allotted to the Deputy Leader of the Opposition.