In the midst of growing feudatory over reigning the party, ADMK leaders Edappadi Palaniswami (EPS) and O Panneerselvam (OPS) were seen rubbing shoulders in the Tamil Nadu assembly on Monday - January 9 as the house convened for the first time in this year with the Governor's customary address. 
Tensions unfolded in the assembly since the Governor began his address and the rivals EPS and OPS grabbed a sharp attention from across the state as they were seen together, in a hand reach, for the first time in recent months as their ties are deeply souring in taking over the party and their years-long feudatory entered a new year when the parties are stepping up their preparations for the 2024 Lok Sabha polls. 
As visuals shown, though EPS and OPS were too close physically, their far-flung politics had kept the place rigid as they neither exchanged greetings nor exchanged words, and as the assembly session would run for the next three days, they would rub shoulders and would more likely will remain tight-lipped. ADMK's political battle is before the Supreme Court, both the leaders are legally fighting to win the party's leadership. 
As ADMK elected Edappadi Palaniswami as the party's interim general secretary last year, his election was challenged by OPS while the former expelled the latter from the party. Both of them have been inducting and firing functionaries to display that they command the party against each other while being on the same page when it comes to acquiring the support from the Central BJP. 
After ADMK lost the 2021 assembly polls, the party became the Opposition in the assembly. While EPS became the Leader of Opposition, OPS took charge as the Deputy leader and their posts warranted them to sit together in the assembly. While the tussle between them got widenened, EPS, as the Opposition leader, went on to fire OPS from the post of the Deputy leader. Later, EPS appointed senior ADMK leader from his faction, RB Udhayakumar as the Deputy leader of the party in the assembly.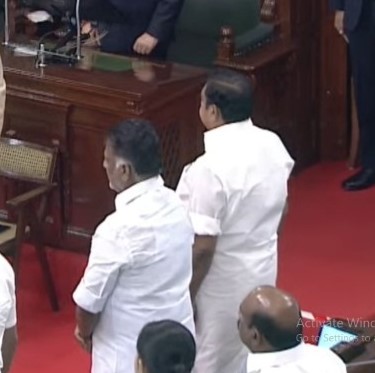 Changing the post would put OPS behind and EPS petitioned Assembly Speaker M Appavu to make seating arrangement changes so that Udhayakumar would sit together with EPS as the Deputy Opposition leader. However, Udhayakumar's nomination and new seating arrangements are yet to be introduced in the assembly and with that same trend, the assembly convened on Monday. 
In the absence of new seating arrangements, EPS and OPS came to the assembly on Monday and sat together and left no hint of any possible consensus. In a closely-watched session, the floor remained tensed and witnessed ruckus from the legislators of the allied parties of DMK as they raised slogans against Tamil Nadu Governor RN Ravi over his recent controversial remarks and his fragile relationship with the state government.