Tamil Nadu BJP unit has been beleaguering with the back-to-back political turmoil and troubling events and some of them are directly tumulting state president Annamalai's leadership. While the recent audio gate controversy has poured a national setback, a cheating case that happened in the Virudhunagar district had put the party to have egg on its face. 
In a weird heist, two BJP leaders in Virudhunagar had cheated a fellow BJP functionary by using the name of a senior BJP leader. The two accused BJP leaders have cheated to the tune of Rs 11 lakh by issuing fake job offers. As the incident has made headlines in Tamil Nadu with the police arresting one of the accused, we bring you an exclusive report on how they have courted a scam. 
According to our sources, Virudhunagar West district BJP chief Suresh Kumar and west district BJP deputy secretary Kalaiyarasan are native of Thiruthangal near Sivakasi. Both of them teamed up and approached Sivakasi BJP deputy president Pandian with the promise of offering a job at Tuticorin port and in Southern Railways for Pandian's two sons Karthick and Murugadoss. 
Both the BJP leaders approached Pandian with this offer in 2017 and received Rs 11 lakh from Pandian to secure the jobs for his sons. However, even after five years of receiving money, Suresh Kumar and Kalaiyarasan neither lived up to the offer nor gave the received money back to Pandian. As he waited for five years, Pandian finally took the issue to Tamil Nadu BJP President Annamalai and appealed to him about the heist done by two BJP leaders.
Our sources say after the matter went to Annamalai, Suresh Kumar and Kalaiyarasan gave five cheque leaves with Rs 2 lakh each and one cheque leaf for Rs 1 lakh to Pandian. Later, both the BJP leaders took back one cheque leaf with Rs 2 lakh and gave Pandian a cash of Rs 2 lakh. Pandian then took the remaining cheque leaves and deposited them in the bank, only to endure a shocking fact that they got bounced due to insufficient funds.
After being cheated for another time, Pandian lodged a complaint with the Virudhunagar district's Crime Branch police. In his complaint, Pandian revealed that Suresh Kumar and Kalaiyarasan have used the name of Tamil Nadu BJP's general secretary Raama Srinivasan to cheat him. The accused assured him that they will get a job at Tuticorin Port and Southern Railways through the influence of Raama Srinivasan. As Pandian believed it, he gave Rs 11 lakh to both the leaders. 
Now, after being cheated, he approached the police and based on his complaint, the crime branch police have filed a case against the accused and apprehended Kalaiyarasan while Suresh Kumar is still being searched by the officials. On the front of how they cheated Pandian through the name of Raama Srinivasan, it has been reported that both the accused have used Srinivasan's visit to Sivakasi as their prospect to convince Pandian.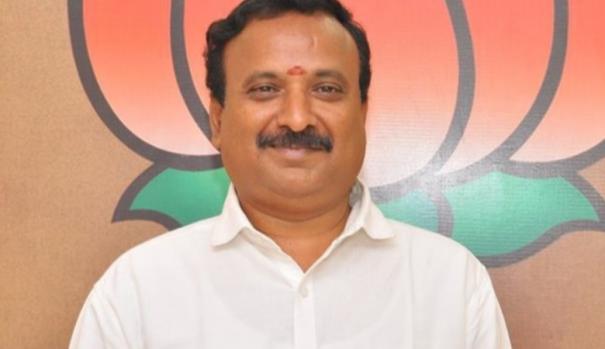 In 2018, Raama Srinivasan came to Sivakasi and was staying at a private hotel. As he came to the city, both Suresh Kumar and Kalaiyarasan told Pandian to come to the hotel with his son's certificates. Pandian went to the spot and Suresh Kumar and Kalaiyarasan were waiting at a temple opposite to the hotel. When Pandian arrived there, both the accused received the certificates and told him that Raama Srinivasan is speaking with the Railway officials. 
Both the accused further assured Pandian that a job in Railways will be provided in a month. However, after receiving money and certificates, nothing has happened with the assurance from the accused leaders and Pandian, despite taking efforts to get the money back, reported to Annamalai and finally to the crime branch police, which led to the arrest of one of the accused. 
Responding to the heist, BJP leader Raama Srinivasan said that this was false accusation against me and stated that he was not in the Railways. By asking why the Railway officials have to meet him at a hotel in Sivakasi, he asserted that he didn't know anything about this money transaction between the BJP leaders. He further said, "Irrespective of who is using my name, this action is condemnable and if the partymen committed a scam, the party will definitely take action and Tamil Nadu BJP president Annamalai is very determined to take action against such scams."