Recent directives and initiatives of the BJP-led Government of India (GOI), which are amounting to the imposition of Hindi on non-Hindi speaking states, Union Home Minister Amit Shah's pitching for the use of Hindi as a link language instead of English, and the move to make Hindi as a compulsory language up to class 10 in northeastern states have been raising serious concerns. 
In 2019, Amit Shah pushed for the 'One Language and One Nation' agenda and said that Hindi can only unite the country. Earlier in 2014, the BJP-led GOI took the initiatives meant for ordering government officials to strictly use Hindi in social media, government-sponsored celebrations of 'Sanskrit Week', accelerating the Hindi (only) promotion campaign through the Indian missions abroad, and directing state universities to teach Hindi as a mandatory subject in the degree courses majoring law and commerce. 
Though GOI has retracted or downplayed these directives related to the Hindi imposition after strong opposition demonstrated by the leaders of the non-Hindi speaking states of national importance, the Hindi imposition activities of GOI seem to be not stopped. When we see the way in which the activities were unfolded, it is very clear that whenever/wherever the chance or as a tactic of diverting people's anger on issues like skyrocketing fuel price hike, GOI is keeping on making a fresh attempt in a different tone to achieve its goal of Hindi imposition. 
Whenever the issue of language (Hindi) imposition comes to light, the people and leaders of Tamil Nadu state have been seen as a formidable force that opposes the move. In 2014, the opposition was further increased. Former Prime Minister HD Devegowda, the then Chief Minister of Jammu and Kashmir Omar Abdullah, leaders even from the Hindi speaking states like Mayawati, the president of Bahujan Samaj Party, and leaders from the Congress and Communist parties have also opposed the moves of Hindi imposition. 
At present, the opposition to these attempts has been further intensified and propagated to north-eastern states. The voices against the destructive role of Hindi on the local languages in the prominent Hindi speaking states are also being increased. Over the course of time, in Karnataka, the protests against Hindi imposition have raised to the level of removing Hindi letters in public places such as Namma Metro in Bangalore. Amid the pan-India image, public icons like Oscar winner AR Rahman, Carnatic musician TM Krishna and alike have also made their protest. 
In a similar political arena, there have been a lot of discussions in progress, both on the civil forums and on social media, and most of them are found to be among the Tamil activists and those people who bid for Hindi as a common language. On this platform, I wish to elaborate an intensive analysis and responses to a few of the pivotal points that are being raised in those discussions. Bid for having Hindi as a common language in India, can Hindi really enhance the unity and strength of India? Why cannot Tamilians accept Hindi as a common or national language?, and finally, Are Tamilians against Hindi?
Is it necessary to have a common language in India? 
People who are in support of Hindi say that they are 'ashamed' when a foreigner asks them why Indians communicate in English and not in their Indian language. There is nothing shameful in using English as it is a bridge that connects the whole world. An Indian can explain to the foreigners that 'we have multiple languages with an equal wealth of literature, history, and heritage' and Indian people understand at least two to three languages without taking any aggressive efforts of learning. Further, an Indian can say 'Namasthe' and we too have an amazing and sweet word to greet in Tamil - 'Vanakkam'. 
India is not a small country like Korea that possess people of the same ethnicity and language or Communist China with multiple provinces controlled by one central government. But, we have been divided as 'states' with given constitutional powers. We have our own democratic value of respecting languages. As our country is very large, we use English when required. Even in India, English has not been used by everyone as a bridging language. So, a foreigner can well understand our nation's strength of unity in diversity. I do not think an Indian can get a better chance than this to explain to a foreigner about unity in diversity, a phrase that better explains the true greatness and soul of our nation to others. 
Further, because of their proven proficiency in English, Indians are being invited to Korea, Japan, Taiwan, and even to the African countries, in addition to the west and America. The English language is always assisting 'Indians with necessary working skills' to get selected either to work or study abroad after clearing the exams namely TOEFL, IELTS, TOEIC, and GRE. People working in academic and scientific research are well aware of this fact. In terms of language skills, it is because of English that Indians are getting priority, where Hindi doesn't have any role in it. Countries like Japan and Korea are spending too much on hiring English teachers from the United Kingdom and the United States of America in order to improvise the English proficiency of their citizens. An added information is that the companies in China are paying around $3000 to $5000 for the Indian researchers for the correction of a single scientific manuscript written by a Chinese researcher. 
Will the usage of Hindi assure the unity and integrity of India? 
In this passage, I would like to validate one of the prolonged and widely prevailing arguments, which is the use of Hindi as a common language can bring unity and integrity to India. India by virtue is a union of many states, as even the broad diversity unites Indian naturally and therefore eliminates the necessity of another tool. Generally, giving importance to a language or religion, we cannot bring unity and integrity. People who propose uni-language for India will sooner propose 'one religion' and 'one state'. Eventually, they will undermine the secularism and federalism of India and so, we need to be very careful with them. 
Tamilians, who are enlightened by the veteran leaders such as Periyar EV Ramasamy and CN Annadurai, could smell this hidden agenda and so they have been against this 'one language policy' even before the Indian Independence. Someone who knows the pro-Hindutva agenda of the BJP and Rashtriya Swayamsevak Sangh (RSS) can easily understand their motives and hidden agendas. If they could impose Sanskrit derived Hindi, their next move would be the adoption of Sanskrit as the national or common language of India, Hinduism as the national religion, and Hindustan as the name of the nation. 
So, there exists a danger of destruction, instead of unity, as stated by the eminent modern historian and writer Ramachandra Guha (i.e) 'One should remember that Pakistan split and Sri Lanka plunged into civil war, because of the mistaken belief in a single national language policy.' Henceforth, all national languages should be given equal importance which can assure the unity and integrity of India. Here the word 'Unity' must be understood as a unit of multiple components with different characteristic strengths and purposes, and not as 'one' (a single component with defined strength and purpose). 
Why Tamilians cannot accept Hindi as a common language? 
To analyze and respond to the aforementioned question, I would like to bring the details of the 2001 census, as it has been cited by many newspapers and civil activists in recent times. According to the 2001 census, the population of people who speaks "Hindi languages" (not Hindi, the Devanagari script alone, it includes 19 other languages of the Hindi belt) is 43%. If we add four main Dravidian languages (Tamil, Malayalam, Telugu, and Kannada,) it is 22%. Similar to Hindi dialects in the Hindi belt, the people who speak Dravidian languages have a lot of similarities and they can understand each other's language. Can people who support Hindi accept any one of the Dravidian languages as a common language? 
Moreover, when Hindi was discussed to be declared as the national language of India (even now people in the Hindi belt are claiming so, later it was accepted as an official language with English, the status-quo) in 1946, Mr RV Dhulekar, a member of the Indian constitutional assembly who belong to the Hindi belt, declared, "People who do not know Hindustani have no right to stay in India. People who are present in the House to fashion a constitution of India and do not know Hindustani are not worthy to be members of this assembly. They can better leave." This is the way the Hindi belt moved. Who else can accept it? So, the members belonging to south India (not only Tamilians) started opposing Hindi in a fierce manner.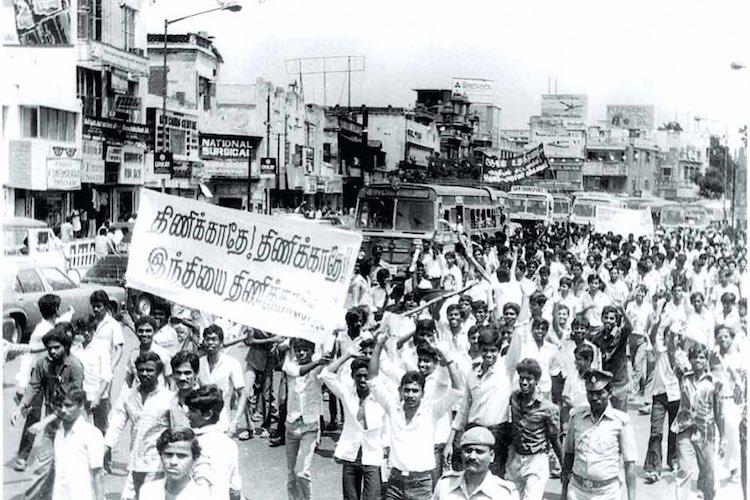 Further, English didn't kill Tamil or any south Indian language, but the usage of Hindi is killing so many north Indian languages, especially 'Bhojpuri'. I don't think that Hindi will allow similar languages to survive. In north India, the upcoming generation will mainly learn Hindi from their childhood, instead of their mother tongue such as Bhojpuri. Along the same lines, Hindi is dominating Marathi in Mumbai, even in the assembly. The best example is cinema, as we witness in south India, we have well established Tamil, Telugu, Malayalam, and Kannada cine industries, but on the contrary, north India mainly relies on Bollywood, a Hindi cine industry. Owing to the eradication of other languages, south Indians and specifically Tamilians will never accept Hindi as a common language. 
I also wish to raise another question to my fellow friends who have been proposing Hindi as a common language - if we respect all national languages similar to Hindi, why we took 55 years towards the recognition of Tamil, Kannada, Telugu, Malayalam, and Odia as classical languages? It was achieved only after the prolonged protests and demands. In the course of rising Hindi, leaders of the Hindi belt didn't even consider the genuine request, which demanded the recognition of other national languages. The history reveals the domination of Hindi over other national languages. So, the acceptance of Hindi as a common language is certainly a move that can decimate other national languages and subsequently, it will be detrimental to religious harmony (as predicted in the previous section). 
Are Tamilians against Hindi? 
For decades among fellow Indians and mainly those from the northern part of India, a fake image is being constructed about Tamilians as 'Tamilians are against Hindi'. We can throw the light on this image by validating the original scenario that prevailed among Tamilians as far as linguistics is concerned. Absolutely, Tamilians are not against any language, including Hindi. As Tamilians move to other states and countries, they are subsequently learning the languages of the particular state, including Hindi. Even in Tamil Nadu, people are free enough to learn their language of choice in addition to the official language of the state 'Tamil' and in some cases, people are allowed to exclude Tamil. 
Of course, the anti-Hindi imposition movement was headed by the leaders of Madras presidency and then by Tamil Nadu, it is inclusive of the leaders from Andhra Pradesh, Kerala, Karnataka, Odisha, Maharashtra, Kashmir, and West Bengal. For example, the anti-Hindi imposition (in fact, pro-English) convention was organized by the Telugu Academy in 1956. All India language conference was organized by Mr Rajaji, the former governor of the then Madras presidency and prominent leader of Congress who earlier supported Hindi, on March 8, 1958, and Madras state anti-Hindi imposition conference was held at Trichy on January 17, 1965. 
Till now Tamilians spearhead the language recognition movements in India and are followed by others. The best example is as follows: After a long time of demand, Tamil was declared to be a classical language in 2004, which was followed by Sanskrit (even though no one practices it in daily life except in temples) in 2005, Telugu and Kannada in 2008, Malayalam in 2013, and Odia in 2014. Also in the renaming of the British colonial name Madras as Chennai on July 17, 1996, it was followed by Bombay as Mumbai on August 12, 1996, Calcutta as Kolkata on January 1, 2001, Bangalore as Bengaluru on November 1, 2006, and Orissa to Odisha and Oriya to Odia on November 1, 2011.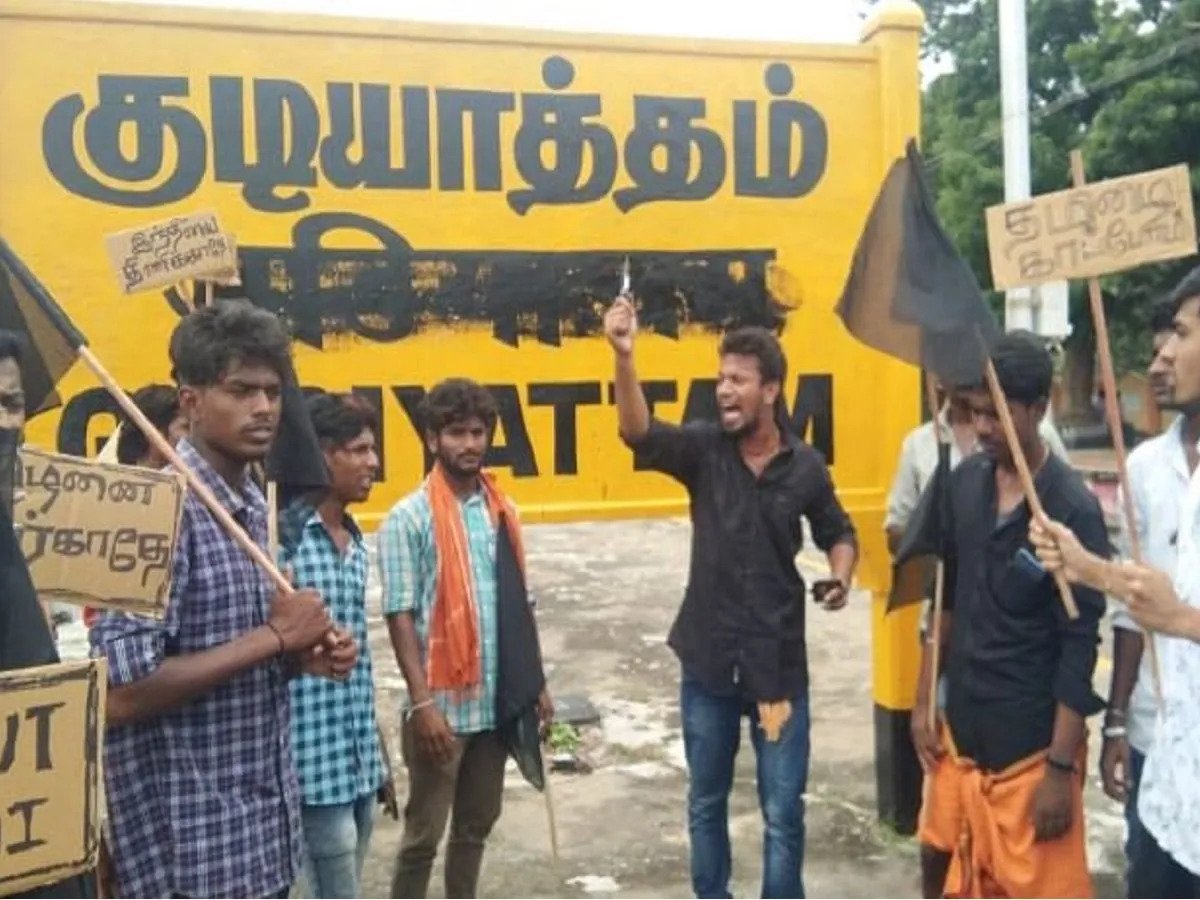 Tamil is the mother of all Dravidian languages and hence it plays a historical role. It has to be remembered that Tamil is not a national language like Hindi but it is an international language that holds an official position in multiple countries (Singapore, Malaysia, Mauritius, Sri Lanka, South Africa, Canada, the UK, Reunion Islands, etc...). So, by the consideration of heritage and international status of Tamil, friends of north India should at least try to undertake the protests of Tamils against the imposition of any other language, including Hindi, as a healthy opposition. 
Tamilians will also accept and value every human. Unlike other parts of India, Tamil Nadu has never witnessed ethnic or religious unrest. In fact, Tamil Nadu is a perfect representative model of India. Another best example is the acceptance of leaders from the Madras presidency as the leader of Tamilians and Tamil Nadu, which never occurred in any other states which were originated from the then Madras presidency. Without any moral base, a protest cannot run for more than half a century. 
I suggest to my fellow friends from other parts of the country, they should read the true history behind the issues. Unfortunately, most of the time, true history is being hidden or forgotten conveniently as far as the issues raised by Tamil Nadu either in the national or international scenario are concerned, including those of the Sri Lankan Tamil issue (mainly about the Indian intervention in Sri Lanka and the role of IPKF - Indian Peace Keeping Force), the assassination of former Prime Minister Rajiv Gandhi, and the ant-Hindi imposition movement. 
I strongly hope that the reality is far enough to destroy the myth and fake image phrased as 'Tamilians are against Hindi'. As we love our mother 'Tamil', we were brought up to respect the mother language of our fellow Indians. In this technological era, no one is potential enough to hide the history and truth as history guides us to the right path, always. 
About the author: 
Dr S Ramasundaram is a native of Chokkampatti, Virudhunagar district of Tamil Nadu, India. He received a doctorate in Nanotechnology applications in 2010 from Kyung Hee University, Seoul, South Korea. Formerly visiting scientist at Korea Institute of Science and Technology (KSIT), Ramasundaram is currently working as an Assistant Professor in the Department of Chemical Engineering at Yeungnam University, Gyeongsan, Daegu, South Korea. He did commendable service to the Indian community during the stressing period of the Covid-19 pandemic. He served in various capacities at the International Researchers, Students and Social Association in Korea. He is also a founder-president of Korea Tamil Sangam (KTS). 
He can be reached through email at ramasundaram79@hotmail.com