We may have a pile of inspirational figures from various backgrounds and I bet you that a large section of our inspirational store would be occupied by political leaders, reformists, and celebrities including actors and sportstars. Judiciary is a part of our life, however, most of us don't derive inspiration from the circle of the judiciary as most of the judges neither have social interactions even after retirement nor do we delve more into their success stories. 
While the judiciary holds exceptional from being an inspiration on a larger part, former Madras High Court judge Justice Chandru holds exceptional from the judicial circle by being a voice that can be heard against injustice even after his retirement and he has been making apparent social interactions on social issues and has a long track of fight against injustice and he still been celebrated as the doyen of the judiciary. Now, Chandru's life story has again come to the front, thanks to Suriya's 'Jai Bhim' as it was the effect of the movie that made the current generation delve more into Chandru's story and his fight for justice. 
'Jai Bhim' has released on November 2 on the Amazon Prime Video and the movie has successfully become yet another milestone for actor Suriya and it has paid enormous respect to former judge Chandru by picturizing the true event where Chandru fought for justice for the tribal community in 1995. Chandru, who was an advocate at that time, had courageously fought against human rights violations and this battle was related to a bleak story where a tribal woman, who belonged to the Irular community, fought in the court against the custodial torture given by the police to her husband, who would eventually die in the police custody. 
The movie talks about the custodial torture and caste discrimination faced by the tribal community. Jai Bhim has earned great reviews from across and beyond the borders and the entire movie team has been commended for their brave efforts of taking a sensitive subject and bringing the true events more real. Bankrolled by 2D Entertainment, the movie is directed by TJ Gnanavel and while Suriya plays the lead role, Prakash Raj, Rajisha Vijayan, Lijomol Jose, and Sibi Thomas had played important roles. As the movie has become a big hit, the netizens are searching more about former justice Chandru and his contributions and achievements. Let's take a look at Chandru's inspiring story, 
Who is Justice Chandru: 
Being flooded with respect, a justice for a common man has gained more respect through the movie. Chandru is an activist turned lawyer turned judge of the Madras High Court. Chandru is one of the reputed judges in India and has a historical track record. As a judge, he had disposed of 96,000 cases with several landmark judgements that turned the head of the country. Some of the landmark judgments include the ruling about the availability of common burial grounds and he underlined that the burial grounds should be accessible by everyone regardless of caste. 
Chandru had a history of fighting against caste discrimination and for the rights of backward and downtrodden communities. Most importantly, Chandru hadn't charged a single rupee while appearing for the cases related to human rights issues and he never had turned back from the battleground. He also had fought many cases on behalf of women, especially those from small towns, low-economic backgrounds, and marginalized communities. He had authored a book, titled 'Listen to My Case! When Women Approach the Courts of Tamil Nadu', which is based on his experiences. 
In his book, he recounts the stories of twenty women in the matters including right to life and the right to practice religion. After practising as a lawyer, he had become an Additional Judge of the High Court on July 31, 2006, and was made a permanent Judge on November 9, 2009. Some of his landmark judgments include the ruling that women could become priests in temples and the ruling that there should be communal reservation in the appointment of noon-meal organizers. 
Besides this historical track record, Chandru is well known for his simplicity and he retired as a Judge in March 2013. Significantly, he hadn't accepted any farewell on the date of his retirement and before demitting his office, he had submitted a final declaration of his assets to the then acting Chief Justice RK Agarwal. After his retirement, he left home by a suburban train and he caught huge attention when he said that he had already bought a monthly season ticket for the train travel.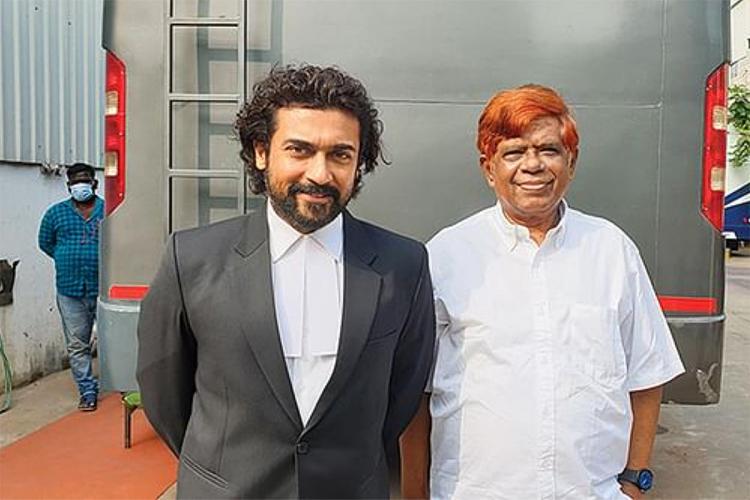 He broke the stereotypes during his service as he said he did not want to be addressed as My Lord in courts and he didn't use a red beacon in his car and he would be the only judge to write - 'No deities, No flowers, and No shawls' at the entrance of his chamber. While Judiciary is a tool and hope for the reformation, Chandru has been a reformist for the judiciary and earned an immense reputation, that has now been doubled through Jai Bhim, in which Suriya played as an advocate, for the first time in his career, depicting Chandru and his fight in 1995 for justice for a tribal woman. Chandru, despite getting retired, still lives as a trailblazer of the judiciary. 
Must-read: Suriya and TJ Gnanavel...Who is the real winner? Jai Bhim review!