In the middle of the ongoing protests in Chennai that have been accelerating against the Citizenship Amendment Act (CAA), National Register of Citizens (NRC), and National Populations Register (NPR), the ruling ADMK party has released the statement on Friday in which the party claimed that it has pressed the central government to avoid asking certain details in the NPR, that would be rolled by the BJP government in April 2020.
The statement was jointly released by Chief Minister and party's joint coordinator Edappadi Palaniswami and Deputy Chief Minister and party's coordinator Pannerselvam and both the top leaders had taken the prospect of appealing the people to observe communal harmony and to refrain from the false propaganda of the opposition parties. They also affirmed that the ruling ADMK government would work towards minorities including Muslims.
தலைமைக் கழக அறிவிப்பு

விஷமப் பிரச்சாரங்களை செய்து சுயலாபம் அடைய சதி திட்டம் தீட்டுவோரிடம், சிறுபான்மை மக்கள் விழிப்பாகவும், கவனமாகவும் இருக்க வேண்டுமென அன்போடு கேட்டுக் கொள்கிறோம்.

சிறுபான்மை சமூக மக்களின் நம்பிக்கைக்குரிய அரணாக கழகம் எப்போதும் செயல்படும். #AIADMK pic.twitter.com/PZQyR8YZI8

— Edappadi K Palaniswami (@CMOTamilNadu) February 21, 2020
In the statement, the party leaders had highlighted that they had written a letter asking the Center to avoid collecting the details like date of birth of mother and father, mother tongue, place of birth, Aadhaar, Mobile and Voter ID numbers while acquiring the credentials from the people for the National Population Register. The party has stated that NPR has become a part of the National Census in 2010 and it was implemented by the then ruling UPA government in which DMK party had allied at the Center.
By calling the minority people to stay vigil against the falsified campaign spurred by the opposition, the ADMK leaders asserted that the government won't entertain any activities against the minorities. The party leaders stated that the ADMK government is functioning on the principle of maintaining close ties with the neighboring countries and the Central government concerning the betterment of the state. The party has claimed that the National Register of Citizens (NRC) is not proposed for the entire nation. It has recently carried out in Assam and cited that the Center has already ratified that the NRC is not against the communities.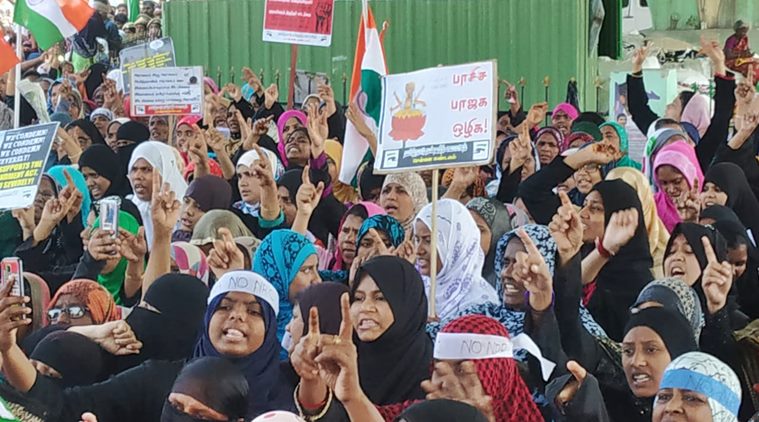 The statement has come at a crucial time when the Muslim communities have been staging the intense agitations in Washermenpet, Chennai that have been turning the city as another Shaheen Bagh. The protests at Chennai had hit the ninth straight day. Last December, the ADMK government announced that the NPR would be launched in the state in April 2020.