When dreams get fulfilled, you are happy. Sometimes, when you receive more than what you have actually dreamt, you are out of words to explain how you feel. This is Annamalai, an MBA graduate from Coimbatore. Being a differently-abled boy, I have been surrounded by lots of love that I don't feel my physical inability at all at any point, all credits to my mom and dad. Though our family doesn't have a political background, I am naturally interested in politics. 
Can you imagine a scene where a boy from Coimbatore travels to Tirunelveli to meet the biggest leader of the Congress party, Mr. Rahul Gandhi without any prior appointment or recommendation from anyone? I did exactly that. The age of my love for the Congress and India's hope, Rahul Gandhi, is five. I remember before few years when he attended an international conference, a young man criticized the Congress party like anything and asked Rahul the difference between the Congress and the BJP. Rahul answered him, "You are able to sit in front of me and criticize the Congress party. You cannot do this with Narendra Modi. That is the difference between the Congress and BJP". This is when I decided he is the leader to take India forward. 
It is my long-time dream to meet Rahul Gandhi. Especially for the past four years, I have followed his journey and his speeches so seriously that I have eventually become a fan of his. The fact is that I am not a member of the Congress party. But I firmly believe Rahul Gandhi is the only person who can defeat the hatred politics of the BJP with an even more powerful weapon called love. When I came to know that he was coming to Tamil Nadu for the election campaign, my eagerness to meet him has increased. Though my mind tried to convince me that it is impossible, a voice inside me asked me to try. After all, my life is a journey of struggles. 
When I knew that he is coming again to the southern districts of Tamil Nadu for the campaign, I took a clear decision to go to Tirunelveli to meet him. As soon as Rahul reached Thoothukudi, I took my mom along with me and we started to Tirunelveli knowing that he was going to stay there that night. It looks funny to even imagine now that I have gone directly to the hotel and said to the police "I want to meet Rahul Ji" without any appointment as if I was about to meet a neighbor. The police asked, "Do you have any letter?". We didn't have any. I got down from the car, sat down on my wheelchair and we stood in front of the hotel. It is the time I realized the height of Rahul Gandhi who is under 'Z-plus' protection. Though I didn't find any visible chance to meet him, I strongly believed that if he sees me, he would definitely take a picture with me. 
It was around 8.30 PM. After attending a public meeting in Tirunelveli, Rahul Gandhi was about to reach the hotel in some time. The policemen were in an extremely cautious mode. No vehicle or individual was allowed to be present in that street. I could hear the policemen getting informed through the walkie-talkie about the passage of Rahul's convoy at every point. Meanwhile, the policemen also had an eye on us. Why would the police not be suspicious of a person who, without any proper appointment, came all the way from Coimbatore saying that he wanted to meet Rahul Gandhi? 
From CID to a local inspector, they were all watching us and getting all our personal details. It was around 9 PM that Rahul has entered the hotel with plenty accompany him. When I saw that person sitting on the front seat with a smile, my heart was longing and believing that I could definitely talk to this man for at least a minute. It was from that moment my Satyagraha had begun. Many Congress leaders followed Rahul's vehicle to the hotel. From Mr. Thirunavukkarasar MP to Mr. Dhanushkodi Athithan, I stopped everyone passing by, told them my complete details, my love for Rahul Gandhi, and asked them to help me take a single picture with him. 
Everyone promised that they would convey the message inside the hotel. The reality was that Rahul was packed with a lot of events from the morning and he would eventually be tired for sure and so it was impossible to meet him. At that time, I saw a famous journalist Mr. Thiyaga Chemmel standing outside the hotel along with his colleague in Tirunelveli, Mr. Sudalaikumar. I went to him and told him about me and my intentions. He immediately asked his colleague to make a tweet mentioning Rahul Gandhi's account saying that I was waiting outside the hotel for 5 hours to meet him. The tweet was made along with my photograph. After 10 minutes, Mr. Thiyaga Chemmel got a call from Rahul's assistants. I got the appointment to meet Rahul at 8 AM the following day. 
We were there at the hotel by 7.20 AM the next morning and stood outside the hotel in the same way. After a lot of struggle, I got a call from Mr. Mahendran, a Congress party worker asking me to go inside the hotel. I have requested Mr. Mahendran to help me meet Rahul when he came to Coimbatore and he helped me now. We were asked to wait on the verandah of the hotel near Rahul's car. By that time, many senior Congress leaders started coming inside the hotel. I saw all of them for the first time and I had seen them only on televisions before. As time passed by, I started feeling that the time for achieving my dream was so close to me. 
Rahul came out of his room, reached the verandah and when everyone expected that he would go to his car, he saw me sitting in a wheelchair and came directly to me. The cameras started flashing and focusing on me like anything. After telling him my whereabouts, I told him, "Meeting you is my 5 year dream. I have waited here yesterday for 5 hours but couldn't meet you. I have a lot of things to share with you. Can I travel with you?". Rahul smiled and told one of his associates that I wanted to travel with them. He continued by saying "Since I am in the middle of a campaign, it is tough to travel now. But we will work something for it". He took a picture with me and went to his car as he was already late for the college event.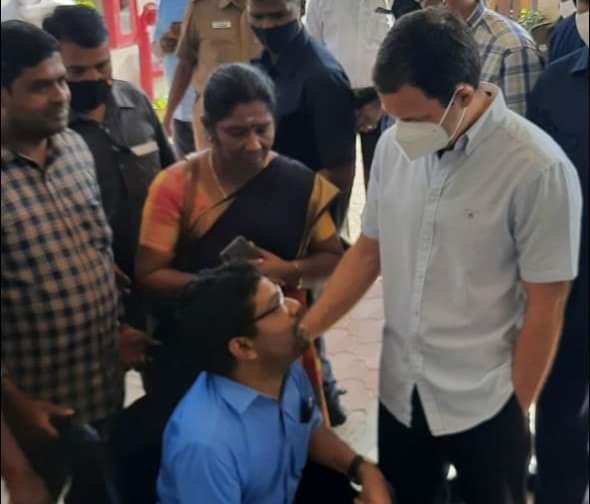 By this time, Ms. Jothimani, Member of Parliament, Karur appreciated me and spoke to me and my mother for a long time. Being a member of parliament, it was very surprising to see her talk to me with so much care without any ego or grandeur. We were happy that we could meet Rahul Gandhi and spoke to him for a minute coming all the way from Coimbatore without any appointment. After having our breakfast in a hotel, we were getting ready to get back home and that is when I received that surprise call from Mr. Mahendran. He said, "Please go directly to a marriage hall at Alankulam. By 1.30 PM, during his lunchtime, Rahul Ji wants to meet you again". Imagine my state of mind at that time. If Rahul could remember my request in the morning to interact with him and call me in the afternoon to meet him, how big a heart he should possess? 
We went to the marriage hall. After thorough verification by the security, we were allowed to go inside. It was a very big hall where the senior members, MLAs, and MPs of the Congress party were having lunch. Along with them, we were also served lunch. In a few minutes, the security guards of Rahul came to me and took me to him. My mind was wandering around many things when they took me and placed me right in front of my icon, Rahul Gandhi. My life was made! After I introduced myself, Rahul inquired me about my physical problems. The questions that he asked me after that took me into more amazement and increased my respect for him multifold. Here are some drops of my unforgettable 25 minutes conversation with him...  
Rahul Gandhi: Suppose if somebody tells me that I will not be able to walk from tomorrow, I don't know what my mindset will be. But you need the help of someone every day for your regular activities. How do you overcome all that and keep going to the next stages of life? 
Me: My mother is the sole reason for this. From my childhood, she taught me not to be in the back seat because of my physical problem and she encouraged me to be competitive with everyone else (When I told this, Rahul got up from his seat and greeted my mother). Also, my dad, relatives, and friends have never made me feel different. They all treat me as one among them (He immediately turned towards my mom and asked 'Is it? You have never made him feel different?' in a surprised tone). So I never worried in my life thinking about my physical inability. I just focus on my goal and go with the flow.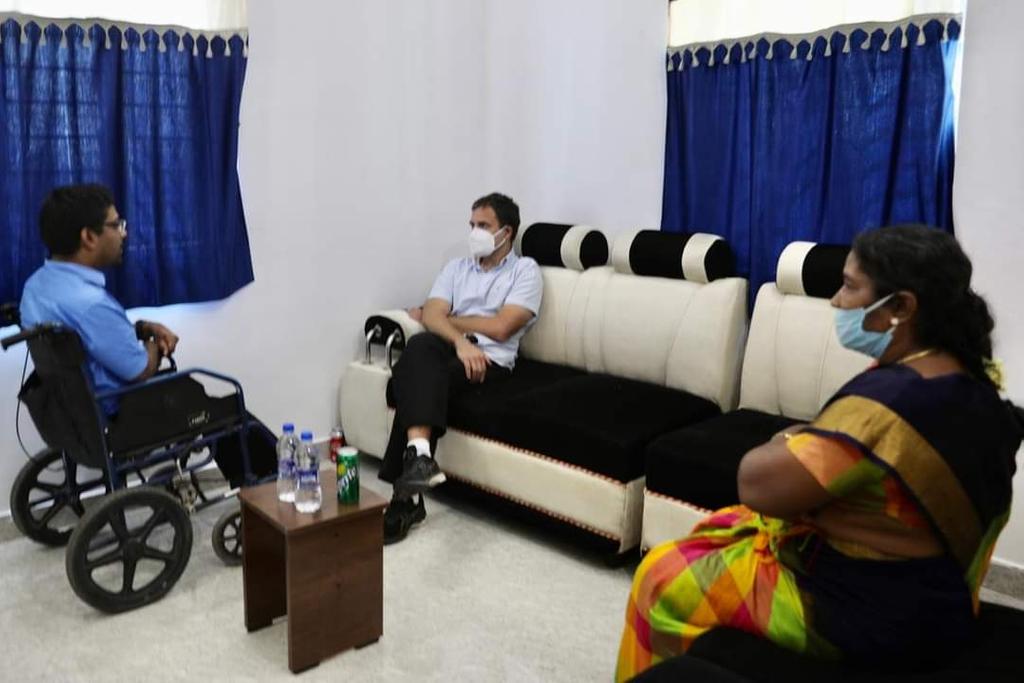 Rahul Gandhi: What do you think is your strength that balances your weakness? Because I firmly believe that if someone has a weakness, there will be a strength that acts as a balancing factor.  
Me: I feel my mental ability is my strength. It is the thing that balances my physical weakness. 
Rahul Gandhi: How do you say that? 
Me: I have a passion for writing. I'm well versed in Tamil and English. My interest in writing is my strength. I have a personal blog website. I am a freelance journalist. Also, I write regularly on my social media pages. I even have opened a YouTube channel and uploaded some videos. 
Rahul Gandhi: What are the topics that you speak about in your channel?  
Me: I have even made a video on you. The topic is "Why does the BJP fear Rahul Gandhi?" 
Our conversation was growing like this. He also spoke about politics to me. I was answering all his deep questions without being aware of the time. 25 golden minutes had passed. He had to get ready for the next event. He stood up and gave an emotional handshake to my mother. My wheelchair was initially facing him and when we were about to take a picture, he himself adjusted my wheelchair and got it in the right direction. When he placed his hands on my shoulders while taking a picture, I felt a divine vibration which I could feel even now while writing this. "I will definitely be in personal touch with you", he said. I was already flying. I thanked him with a smile and came out of the room.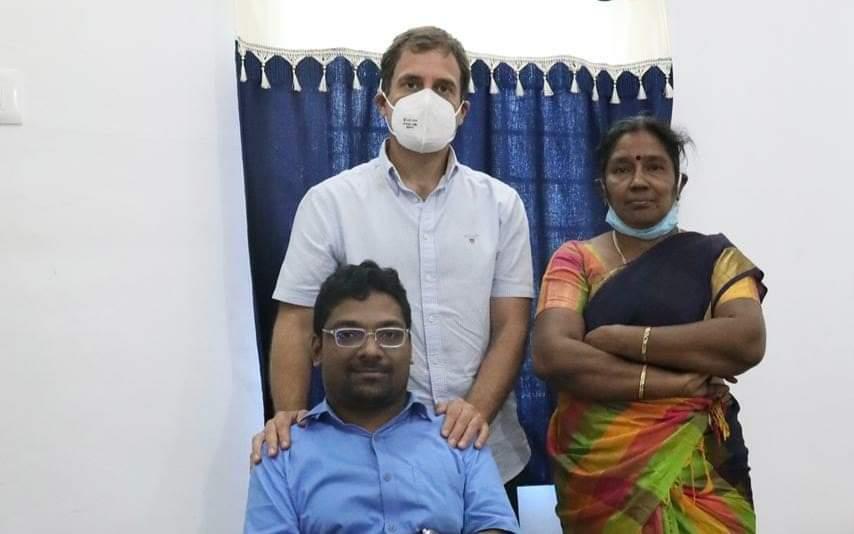 We have heard many leaders fulfilling the wishes of common people in the past. They would take a picture, spend a minute or two with them. But to give an appointment immediately after knowing me, to remember the request that I made in the morning for interaction and calling me in the afternoon, spending 25 minutes with me... These are something else that I have never heard of in my life. From my interaction with him, I understood how refined a human being he is. From the questions that he asked me, I understood how intelligent and deep he is. A person who respects the feelings of common people is the one that deserves to be a leader. And that is why I feel Rahul Gandhi is one of the best leaders India has ever seen. Be it tomorrow or the day after, I strongly believe that he would become the Prime Minister of India.