Beautification begins from self. When you take something very seriously and work towards improvizing it, you will reach heights. Joy Crizildaa is a costume designer and celebrity stylist in Kollywood who believes that by enjoying your work, you could be naturally professional. She has worked with some big names like Vijay, Sivakarthikeyan, and Vijay Sethupathy and is confident of making it further big. Here's a breezy interview with this beautiful and ever-energetic woman. 
1. What kind of a girl is Joy Crizildaa personally?
A happy, strong, and independent person. I am very jovial with everyone and many have said to me that I carry an infectious smile on my face always. I see that as the biggest compliment.
2. Women love to wear great costumes. What propelled you to become a costume designer for others?
I love to dress in a trending, appealing way with different colors and designs right from my childhood. Suddenly I felt "When am so much involved in making myself beautiful, why shouldn't I do that to others?". This thought gave me the motivation to pursue the dream of becoming a costume designer. I did my fashion designing course and became a costume designer. I never want to indulge in anything without having a proper knowledge. So I learnt well about the fashion industry before getting into it.
3. Do you remember your first day of work in the film industry?
Yes, I do remember. My very first movie is 'Rajathandhiram' starring Regina and Veera. I was a little nervous in the spot which is obvious. I had a fear of what the hero and heroine would say about my work. Only when they came out with the costumes and said they liked them, I felt relaxed. I was like a student waiting for the exam results. After that, I got used to the pressure and excitement. Though I could never forget my first-day experience and it was very memorable.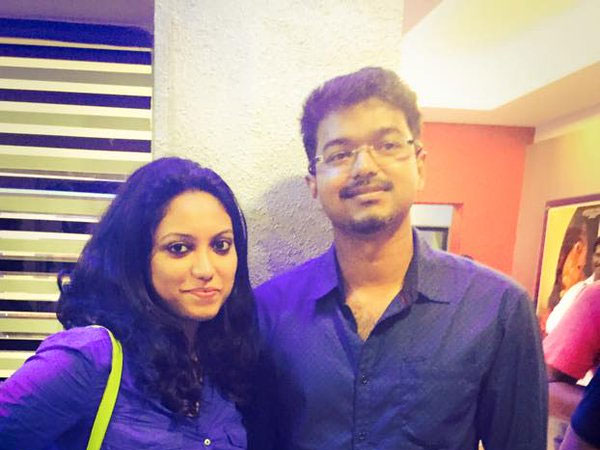 4. Describe your experience of working with Thalapathy Vijay as his personal stylist. 
I can talk about working with Vijay sir for days and days. Everyone knows that I am a big fan of Vijay sir. I used to collect even small photos, news articles about Vijay sir from newspapers in my childhood, and got scoldings from my Mom for it. I still remember saying to my school friends that I will take a picture with Vijay sir once in my life. But I have never even imagined that I will work with him. It's like a dream. I have learnt a lot from him. I heard from many that he is a humble and sweet person and seeing such qualities directly is such a blessing. He is truly sweet and down-to-earth. He is an energetic and fun-loving person. 
He never takes success to his head. I have worked as the costume designer for 'Jilla' and when I gave him a particular costume for the opening song, he came to me and said "Give me a shirt with the same color and design for my personal use". I was just overwhelmed and truly felt proud that my favorite hero likes my work. Then I worked with him as his personal stylist for some events. When I told him that am gonna open my own boutique, he felt very happy and appreciated me from heart. He gave me a 'Best wishes' card with his signature on it which I have framed and been preserving like a treasure. For a huge fan like me, it's a blessing to receive a greeting from him with his autograph for my own business. It's a great memory. And working with him is unforgettable.
5. Your husband JJ Fredrick's first directorial 'Ponmagal Vandhal' is all set to be released on Amazon Prime. What's the mood at home?
I am very happy, excited, and out of words. Whenever I see my name on the screen, I would feel happy. But for him, I feel 100 times more happy and proud. His dreams mean a lot to me than mine. I'll always stand by him and support him in all his endeavors. When I saw his name on the screen, I was in tears. The film is very emotional and we can all relate to it. First movie is like a first child. And to see my husband's first movie getting released, I feel like I am the most happiest woman in the world. I could see his hard work in every frame. I am waiting with fingers crossed and I wish him the very best.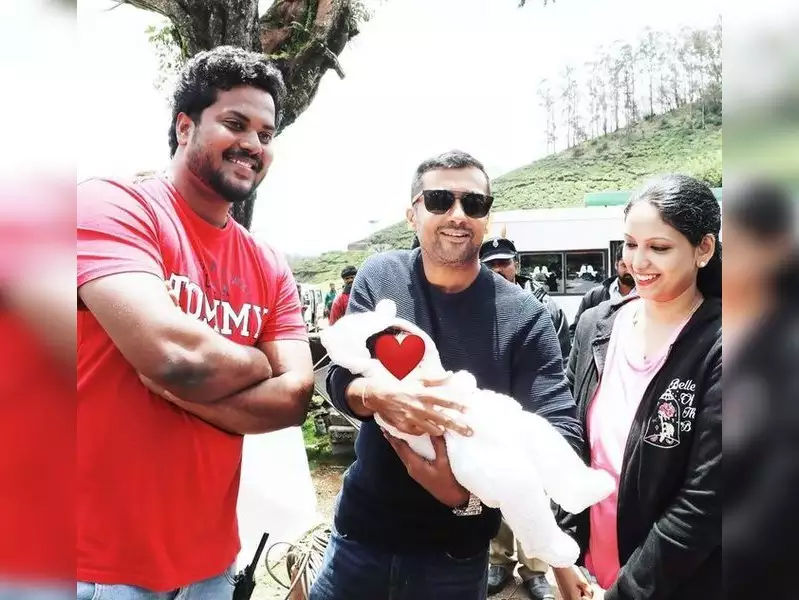 6. The transformation of a busy working woman to a mother. What does it take?
It takes a lot, especially for someone like me who's working round the clock with shooting, personal styling, and business. I like to work always and my focus will fully be on that. I travel a lot as my work demands. All these have stopped suddenly and it was a drastic change. There is now a little kid with me and it is a changeover as well as a huge responsibility. I am enjoying motherhood as it is precious and unmissable. I am handling my son myself 24*7 from day one and am loving it. I would tell every working woman not to miss this lovely phase of motherhood. Yes, it will be tiring but its fully worth it.
7. Tell us your personal bond with Jyothika on the sets.
I met Jyo mam for the first time in 'Ponmagal Vandhal' launch and it never felt like the first time. She treated me like a family member genuinely and took care of me. There is always a positive vibe while talking to her and I even told that to her. I would text her about her works and movies and she would immediately respond. She is a very caring person. I loved her crystal clear pronunciation during the dubbing of 'Ponmagal Vandhal' and I loved seeing that. I sent her a voice message immediately after watching the film specially to laud her dubbing work. Though she is a North Indian, the way she dubbed accurately in Tamil was tremendous. She is a strong woman and she does everything in a lovable way. Jyo mam is a sweetheart.
8. You seem to be on a little break. When can we expect the 'comeback' of Joy? 
A lot of people ask me this on Instagram. I took a break from the industry to take care of my family and right now, my son is my first priority. I can start working anytime but these cute little moments with my son are so valuable. My son keeps me busy and the way he talks and do lovable stuffs makes me forget everything. I need this break and am happy about it. My comeback will be very sooner, say few months and it will be with a bang.
9. Who are the people close to your heart in the industry? Few words about them.
I become friends with people easily. Everyone in the industry have treated me with care. Sivakarthikeyan is a good friend and he treats me like family. Siva's entire family is close to my heart. GV Prakash is my close buddy and Saindhavi is like my own sister. She is there for me anytime and treats me like a kid. Nikki Galrani is my very first friend and I have a very serious bond with her. Lakshmi Menon and Athulya are very close friends to me. Athulya and I are like Dora Bujji and our followers on Instagram know that.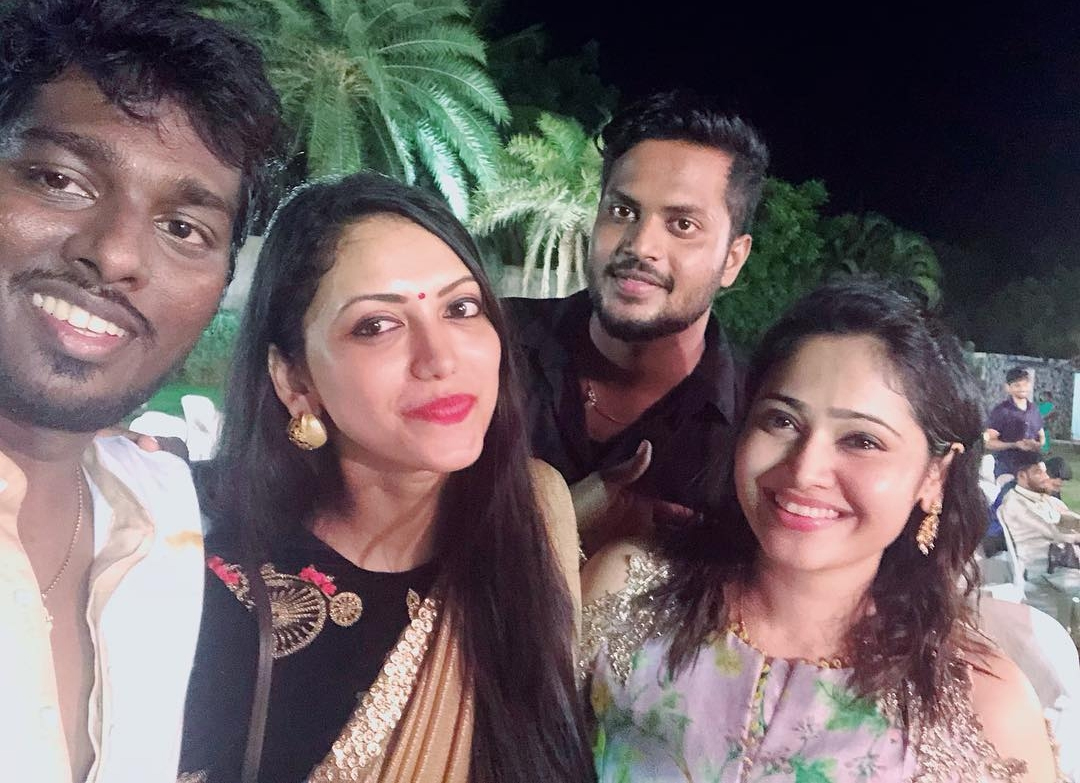 We behave like kids and I will forget everything around when she is with me. We traveled a lot together. Athulya is like an younger sister to me. Nisha Ganesh and I became friends because of motherhood. Suja Varunee and Akshara Gowda travel a lot of distance to take part in every event of my life. Priya Atlee and Atlee are my neighbors and very sweet friends. I am blessed to have a lot of true friends in the industry who would turn up for me anytime. I would like to say sorry to them as I couldn't talk to them much and respond to them immediately in recent days due to my responsibilities. I miss them.
10. What is 'actress' Joy Crizildaa still waiting for?
You are not kidding me know? It feels good to hear the term 'Actress Joy Crizildaa'. I am a mother now and you are asking me this question. Many directors have asked me in the past to act in films but I never thought of it. I would always love to be behind the camera and not take any risk. Let me be a costume designer forever and enjoy the works of all the wonderful heroines out there.