With the view of standing with the students and teachers of the Jawarharlal University who were brutally attacked by the masked men and to urge an immediate arrest of the unidentified goons, the students of some of the top-ranking universities in Chennai had staged protests on Monday and they unanimously demanded the resignation of JNU's Vice-chancellor.
Students of Indian Institute of Technology Madras, University of Madras, and Presidency college have expressed their solidarity along with thousands of students across the nation and they strongly condemned the arson unleashed by the masked men in JNU campus on Sunday night that had left 34 students and teachers with severe injuries.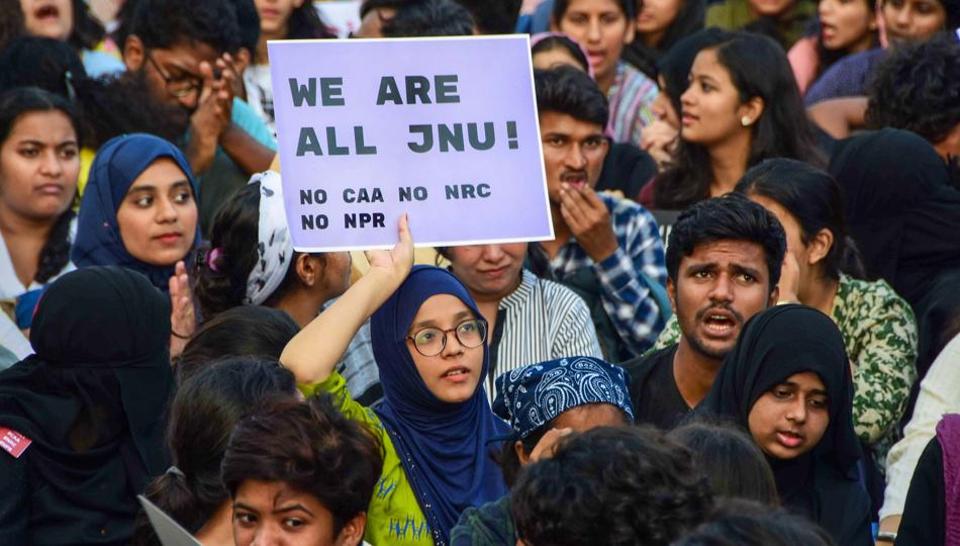 The reports say that the students of IIT Madras hosted an on-campus rally and they have gathered at the Central Lecture Theater and rolled out a rally from Gajendra Circle to the Himalaya lawns on the premises. The students who belong to Chinta Bar, one of the student bodies in IIT Madras, have said that they rallied by raising slogans to condemn the attacks on the students by ABVP - BJP student wing and to express solidarity to the injured students and teachers. They stated that JNU's vice-chancellor Jagadesh Kumar and the Central government are responsible for the anarchy.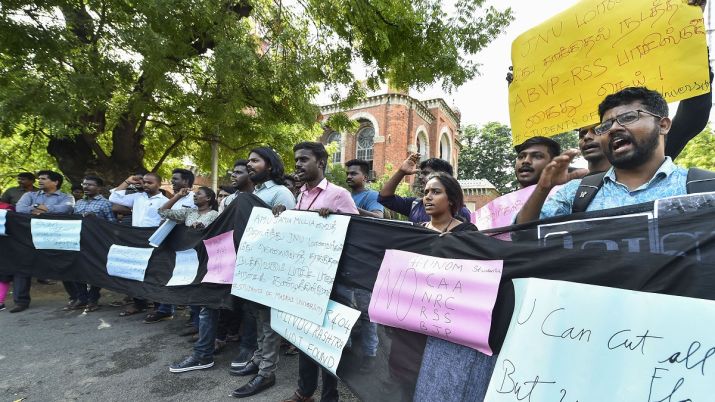 Along with IIT Madras, the students of the University of Madras held protests on the campus and they demanded immediate action against the ABVP for instigating the attacks and they added that they will continue the protests on Tuesday. One of the senior DMK leaders and the party's Lok Sabha MP Kanimozhi met the student of the varsity and expressed her solidarity.  Similarly, the students of the Presidency college staged their protests against the attack on their JNU counterparts near Chennai's collector office.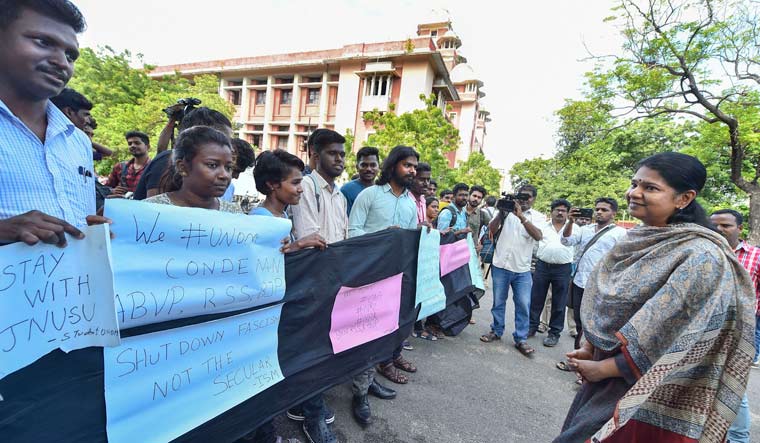 On the other hand, around 400 residents of Chennai from various backgrounds had gathered at Valluvar Kottam on Monday and they rallied with candlelight and they were seen sloganeering by stating that "my daughter is going to JNU next year, Will she be safe if she dissents against the government?" and the people have read the preamble of the Indian constitution together. The Chennai police department had arrested around 400 members of Makkal Athigaram who were protesting in Chepauk, Chennai against the JNU attacks and those 400 include juveniles and children and they were acquitted on Monday night.
Also read the threads:
https://www.thenewstuff.in/jnu-violence-wardens-resigned-and-heres-what-jnusu-had-say
https://www.thenewstuff.in/outrageous-scenes-grounds-prestigious-jnu